Jewson, the UK's leading supplier of timber and building materials, is able to offer an unrivalled range of products through its national network of over 500 branches
Building sustainability
Jewson, the UK's leading supplier of timber and building materials, is able to offer an unrivalled range of products through its national network of over 500 branches
With more than 400,000 products available and direct access to other specialist products throughout the Saint-Gobain Building Distribution Group, Jewson is able to provide a level of service and expertise beyond that of any conventional builders' merchant or distributor. From Chain of Custody certified timber to renewable energy products made available through Jewson's sister brand Greenworks, the merchant's commitment to sustainability is paramount.
As the UK's largest importer of timber and timber products, Jewson is responsible for ensuring that over 500 of its branches nationwide are supplied with timber. In addition, 170 branches carry Chain of Custody (CoC) certification and therefore, they need to receive an ongoing and controlled supply of CoC certified timber to cater for customer requirements.
In order to make the provision of CoC timber as efficient and sustainable as possible, Jewson has two dedicated distribution hubs strategically located in key ports throughout the UK: Hull and Newport. This unique supply chain solution, entitled Jewson Internal Timber Supply (JITS), provides end-to-end control of the supply chain and the locations uniquely support a reduction in lorry miles and ultimately CO2 emissions. In addition, certified timber entering Newport is supplied to branches in Wales and the South West of England, while certified timber entering Hull can easily be distributed to the North of England and the Midlands.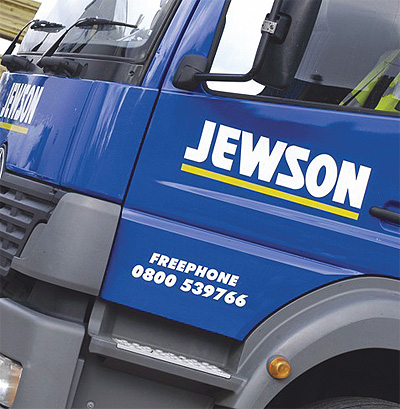 A third port in Sheerness has just been incorporated into Jewson's supply chain to generate further efficiencies for the JITS programme. Located beside the mouth of the River Medway on the northwest corner of the Isle of Sheppey, the third port will facilitate distribution of CoC certified timber to the South of England, including the Thames Gateway and the site of the London 2012 Olympic Park. As a result of Sheerness, it is anticipated that Jewson will save approximately 225,000 lorry miles each year.
Stephen Bacon, Jewson's supply chain director, outlines the organisation's credentials: "Jewson has many years experience working with a wide range of customers throughout all sectors of the construction industry; from housebuilders and developers to construction businesses, local authorities and housing associations, each sector has its own level of commitment to sustainability. Therefore, it is essential that we can deliver everything from the core product range including tools and equipment, as well as more innovative products, such as rainwater harvesters, solar energy systems and underfloor heating. What's more, every solution is backed by the experience and understanding of the Jewson team.
In line with expansion plans for 2008, Jewson is currently implementing a multi-million pound investment programme that will see the company open additional branches throughout the UK and develop new supply chain opportunities to increase the efficiency and sustainability of its output.
"We're always looking to increase our coverage across the UK and improve our service offering whilst taking environmental issues into account" says Stephen. "We've established a solid reputation for delivering bespoke supply chain solutions for our customers and we intend to grow this element of the business. From fully utilising the JITS system to providing customers with bespoke stores facilities, Jewson is able to deliver an effective sustainable solution. In addition, the growth in demand for sustainable products combined with our ability to supply them, means that Jewson is best placed to meet the challenges and targets currently placed on the construction industry."
This 'green' agenda relates to the rise in companies turning their attention to sustainable and ethical sourcing. Not only does Jewson focus on its own CSR policies, but its rigorous procurement function provides the organisation with the confidence to communicate the merits of its sustainable supply chain to an external audience. "We're increasingly asked for greater visibility with regards to our procurement function, and rightly so," explains Stephen. "More of the timber we import originates from fully certifiable sources where the forests have been proven to be well managed. Our procurement function enables Jewson to provide timber that has been certified by all the schemes in support of the official Government procurement policy and as appraised by the Central Point of Expertise on Timber. To further support this, Jewson has recently made four branches in the Thames Gateway area 100 per cent certified, which means that they now only supply PEFC and FSC certified timber and sheet materials."
However this isn't done in isolation and Jewson has worked hard at developing relationships with all of its suppliers to ensure transparency and that the correct processes are adhered to. Stephen concludes: "Chain of Custody relies on independent auditing processes that rigorously document and track certified timber from the forest to the final point of purchase. Without the support of our suppliers this would not be possible so through regular communication, we are able to ensure that the robustness of CoC is maintained and that the timber being delivered into us is 100 per cent sustainable."
It is evident that Jewson's access to a comprehensive distribution network will support long term growth. Its access to sustainable products and its ability to deliver comprehensive supply chain solutions both internally and for its entire customer base highlights an unparalleled flexibility now required from builders' merchants. What's even clearer is that organisations such as Jewson now have to work together with suppliers and their customers if they are going to deliver long term tangible benefits and a complete service.