From its eight plants in the UK, Joseph Ash Galvanizing continues to do what it has done better than most for the past 160 years, which is answering the steel finishing challenges faced by its diverse mix of customers
Galvanised by growth
From its eight plants in the UK, Joseph Ash Galvanizing continues to do what it has done better than most for the past 160 years, which is answering the steel finishing challenges faced by its diverse mix of customers
Since Joseph Ash Galvanizing last featured within the pages of Construction & Civil Enginnering the dynamics of the business have shifted ever so slightly. While the company remains the UK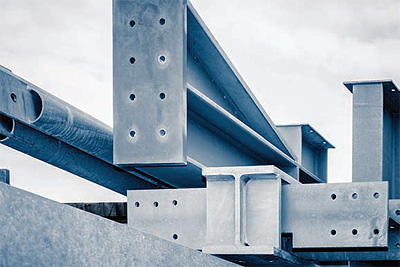 leader in the field of steel finishing services including galvanising, spin galvanising, shot blasting and powder coating, in the time since our last conversation it has gone on to acquire the business of Premier Galvanizing.
"The smooth acquisition of Premier Galvanizing and its plants in Hull and Corby in December 2015 has helped to open up new geographic areas in which we were previously not present or trading," begins Steven Hopkins, Managing Director of Joseph Ash Galvanizing. "As well as providing a good opportunity to share best practice, the acquisition has allowed us to inter-trade between our own plants. An example of this can be seen at our Chesterfield plant, where we have a 16.5 metre bath designed for structural steels and lighting columns. Use of this bath can now be offered to the local customers of Premier Hull and Premier Corby, as well as our Medway plant, thus creating synergies that benefit all parties and sites involved."
Over the last 18 months the company has carried out significant upgrade and extension projects on its pre-existing facilities, namely its Walsall and Medway plants. In the case of the Walsall plant, work was carried out to increase factory floor space by 25 per cent. In order to achieve this an older lean-to bay was knocked down to be replaced by a new bay that has enabled the plant to further automate its crane system in order to increase work capacity, efficiency and weekly output. By increasing the number of cranes that can be used in the system the company has also achieved a remarkable speeding up of the entire production process.
In the case of the Medway plant, and phase 1 of its own upgrade and extension, what Joseph Ash Galvanizing has done is construct a new office block for its administration and sales teams, and incorporated new changing facilities for its operators, and a new hardstanding bay for trucks. Prior to work being carriedout said facilities sat within the factory space, meaning that with extension work being completed the plant now has significant additional capacity available to increase its own throughput rate. Phase 2 of the Medway expansion will begin at the end of 2017, when work will commence on further improving the heart of the plant's production process, while at the same time new facilities will be installed that will create significant, long-term environmental benefits.
Technical expertise and customer care have been the guiding principles that have steered the company for almost 160 years, and have allowed it to become a preferred supplier of galvanising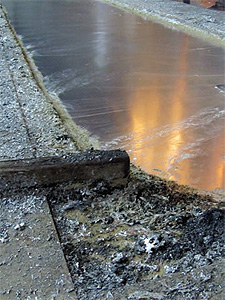 solutions to customers in a variety of key industries. "Rather than one particular sector driving our growth, we are experiencing a scenario where business across the board has remained steady," Steven states. "Within the rail industry we have been gaining work on a consistent basis, mainly as a result of the nationwide electrification programme for the network. This programme requires miles and miles of electric cable to be strung across gantries up and down the country's track network, which means that there is a great amount of steel required. There has been a steady period of investment in the rail sector as a whole in the UK, in the last fiveto- six years specifically, and whilst the Department for Transport has just announced cancellation of certain line projects, in practice we would have expected a gradual 'drip' feed anyway so I doubt we'll notice any difference. We are also finding ourselves increasingly being tasked with carrying out steel-related works on car parks being built at major rail stations.
"Meanwhile, some of the other markets that we are securing work from include the energy sector, particularly when it comes to supporting solar power projects. These projects, which involve a fair tonnage of steel work to support solar panels, are typically overseen by our sister company Hill & Smith. We also have another sister company called TopDeck, which manufactures steel car parks which we galvanise as well. Other areas of the construction market have been proceeding nicely, as have a number of smaller niche markets where the trend seems to be to move away from painting, into galvanising. Such occurrences are especially pleasing as it means that the galvanising industry is continuing to win market share against other forms of corrosion protection."
Each project taken on by Joseph Ash Galvanizing is characterised by its complexity and intricacy. "We will often be delivering products direct to a customer's construction site, so we need to provide extremely precise delivery schedule times, literally to the minute, if we are to avoid being the cause of any delays," Steven adds. "We have also found that safety standards throughout our various industries continue to be heightened. We work hard to respond to these changes with one example of this being the fact that, in the last 12 months, we have secured bronze certification under the Fleet Operators Recognition Scheme (FORS). This is specifically related to the management and training of transport fleet teams, and we are already moving forward to secure silver certification in the near future."
Looking ahead to the remaining months of 2017, Steven anticipates the galvanising market to grow by approximately seven-toeight per cent compared to the previous year, with average growth of around five per cent, year-on-year, thereafter. "The good thing for us is that there is no sign of uncertainty in any of the markets in which we operate when it comes to future work," he concludes. "This bodes well for our plans to achieve further organic growth going forward. At the same time, we will continue to invest in our plants with a keen eye on improving efficiencies, and our people. The nature of our work provides for multiple opportunities for our people to progress as we look to source the next generation of senior managers and developers. From safety, engineering, sales, production, chemistry and metallurgy, to HR, IT, marketing and finance, there are a number of potential specialisations within Joseph Ash Galvanizing and this provides an excellent opportunity for our 550 employees to aspire to grow within the business."
Joseph Ash Galvanizing
Services: Steel finishing services