Galvanized growth
Joseph Ash Galvanizing offers an unparalleled level of service to a range of customers in the UK and has recently taken positive steps towards cementing its leading position in the industry
Behind Joseph Ash Galvanizing (JA) sits a long and successful history of partnering with steel goods manufacturers, which stretches back to the middle of the 19th century. Set up in Birmingham, JA responded to the rise of companies manufacturing products such as corrugated iron sheeting and agricultural feeders in the city, all of which needed galvanizing to perform in their field. Today the company operates from eight sites in the UK, with a coverage that includes much of the country's major industrial areas and has become a leader in galvanizing, as well as providing specialist services in powder coating.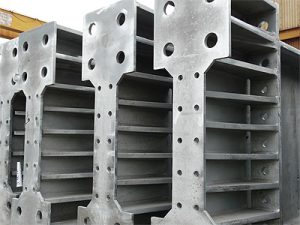 "We have a wide range of customers from a number of market sectors," begins Steven Hopkins, Managing Director at JA. "These include construction, so structural steel, balconies, industrial flooring and walkways; security – fencing and CCTV poles; infrastructure – everything from highway barriers, lighting columns and bridge parapets to rail electrification gantries and masts; and agriculture, including barns, feeders, stalls and gates."
From its eight sites, the company offers a range of services that is unrivalled in the UK. For instance, in Chesterfield, JA has a 16.5 metre long bath making it perfect for most structural steel lengths and lighting columns. In Telford, it has the widest bath in the country, alongside a spin facility for small components, and in Bilston it has the deepest bath in the UK providing a highly efficient way of galvanizing fencing and barrier sections. The site in Medway serves an area from Kent to Hampshire, Berkshire and Essex with 15 lorries and is the only Akzo Nobel approved galvanizer and applicator for powder coating in England. Two additional JA sites are in Walsall, covering the West Midlands from Bristol to Staffordshire, and Bridgend, which serves the Welsh market.
Despite vast coverage being achieved through these six sites, a significant portion of the country east of the M1 was being missed out, prompting the acquisition of Hull-based Premier Galvanizing. "There was a major gap in our coverage in an area too remote from any of our existing plants to be effectively covered given that we pride ourselves on collecting and returning our customers' materials on a one to two day cycle," explains Steven. "Premier's two plants in Hull and Corby, sit centrally in this area and have a fantastic reputation for service that we could not hope to match from afar, so its acquisition was the only logical route to entering this market."
Aside from simply opening the doors to new geographies for JA, the acquisition of Premier also represents significant benefits for both parties, as Steven goes on to outline: "The other benefit of this strong reputation is the safeness of our investment in the company and this has influenced our decision to allow the business to run independently of JA in order to ensure that its service values and identity continue to be managed by the successful local teams that have built them. Customers should therefore have no doubts about ongoing excellent service that they will continue to receive from these two great businesses. What JA can offer indirectly is some technical support and the financial security of a larger group, and directly we will be able to offer them the ability to process much longer or wider fabrications."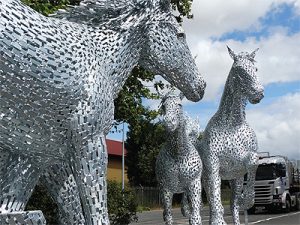 Offering a highly technical and specialist service is fundamental to JA's business plan and one particular accolade that demonstrates this commitment is its Akzo Nobel approval. Under normal conditions a galvanized coating can be expected to last between 25 and 100 years, but this can be extended by a polyester powder coating (PPC), which also opens up a range of colour options for the process. "Applying PPC to galvanizing however is a job for an expert and to do so properly requires nine different stages in the chemical processes prior to electrostatic application of the powder and curing in an oven," highlights Steven. "Although one or two galvanisers in the UK offer a PPC product, our Medway site is the only one in England that can do the job to Akzo's exacting standards, which include a rigorous sample testing regime every single day."
Core to JA's strength within the market is its dedication to service and safety. With a fleet of over 70 vehicles helping it to perform to its collect and deliver service on a national scale, the firm is currently seeking FORS recognition to meet rising demand in London and other high-profile construction sites with its unrivalled breadth of services. "As well as this, safety is always at the top of the list for us and with only a few days to go we have our fingers crossed that we will achieve JA's first ever year with zero reportable accidents in 2015," comments Steven. "With 500 people handling millions of often heavy and awkward items annually, we regard this as a major achievement."
With a market that suffered painfully during the economic downturn and has only started recovering in the last couple of years, JA's robust offering to the market is critical to its ongoing success. Steven comments that maintaining this unique safety record, which it has worked towards for ten long, hard years, as well as taking advantage of the wealth of knowledge sharing opportunities that the new Premier acquisitions presents, will be the business's major focus over the coming years. Doing so, whilst continuing to offer such a wide range of services and depth of customer service, will be key to JA securing its future as a leader within the UK industry.
Joseph Ash Galvanizing
Services: One of the UK's leading providers of steel finishing services