The son of a renowned chemist, Joseph Ash established the business to provide steel finishing services to UK industries, with initial expansion through the railway sector leading to a dominating position in the construction industry
A to zinc
The son of a renowned chemist, Joseph Ash established the business to provide steel finishing services to UK industries, with initial expansion through the railway sector leading to a dominating position in the construction industry
With sister companies in France and the US, Joseph Ash Group is part of one of the world's largest galvanizing companies. The galvanizing process is a must have for corrosion protection on steel items, and after 158 years of trading, the company has secured a wellearned standing. "As a business we are heavily dependant on the construction industry, an industry that was hit hard by the recession. However, it is definitely a reviving market, and there are positive signs that it is picking up," says marketing manager Mick Jackson. In line with the expectancy of a buoyant future, 2014 proved to be far busier than 2013, boosted by predictions of a 19 per cent increase in structural steelwork market levels by 2018.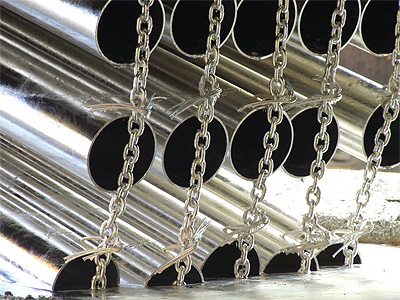 "First and foremost we are a hot dip galvanizer offering corrosion protection, but also shot blasting and powder coating facilities. We provide an additional shipping service using our own transport fleet of both rigid and articulated vehicles, based at our numerous plants across the UK," Mick points out. With clients operating on a countrywide basis, the location of the businesses facilities provides the ideal spread to reach its customers. "Since the outset, we have been driven to become a company that offers more than the normal galvanizer, going that extra mile to help our customers in what they require. We are able to coat anything that is made of, or fabricated in steel, which opens up a large market, and as one sector becomes quiet, another sector may be slightly on the rise, be that agricultural, infrastructure, transport, or general engineering," adds Mick.
Construction and infrastructure are the company's biggest markets, undertaking projects that can range from pipe work and tubing to lighting columns, motorway barriers and street furniture. Second to that is a healthy interest in the agricultural industry, both buildings and equipment such as gates and troughs. Beyond its standard options, if customers have a special requirement such as marking, stenciling, bundling, export packing, containerisation, or simply room to trial erect its products before site, then Joseph Ash endeavours to offer it. "It is a combination of these added services that provides our strength," says Mick.
From a compliance perspective, certification is of key importance to customers today. As well as holding vital British and ISO Standards, the company is the only steel finisher in the UK to be granted approved galvanizer status by Akzo Nobel. The plant that holds this status, in Sittingbourne, Kent, was acquired in 2013, and as Mick highlights: "Being able to quote and highlight such awards puts us in a great position that is further supported by our RoSPA Gold Award for Health and Safety, as well as holding the international occupational health and safety management system specification OHSAS18001, a first for the UK galvanizing industry."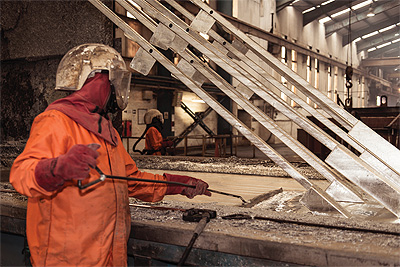 The acquisition of the southernbased Medway plant enabled the business to close its operation in Poplar, which had suffered since the migration of its main customer base to areas outside of the main M25 conurbation. "The majority of customers that were trading with the London division have been retained, but furthermore, we have been able to make large savings on transport costs. Relationships to any business are the Holy Grail, we don't look at our customers as just a revenue stream, we actively want to engage with them, and build up a trading relationship, whether through a multi million pound contract or a £150 minimum charge order," says Mick.
From its head office the business provides a technical support division, which is manned by technically experienced personnel, positioning it ahead of the many businesses relying on the Galvanizers Association for answers to the most complex questions. "We are able to answer any queries or provide technical information that customers require on galvanizing or specification, with just one call. We want people to be happy with the service that we offer, and we want our name to spread across the market place, building on the reputation that Joseph Ash is the must go to galvanizer in the UK," Mick explains.
Conforming to the latest environmental conditions such as emission and control, investment into plant and equipment is ongoing, working to ensure it operates in line with the integrated pollution prevention control (IPPC) directive. The process of galvanizing is completed using Zinc – a naturally sourced product, but importantly for the environment, Mick highlights: "Depending on the application, once an item of steel has been galvanized, it can be forgotten for the next six decades in regards to maintenance." The growth of volumes and margins, and the provision of unbeatable quality and service remain the underlying focus for the business.
Capital projects are expected to provide opportunity for expansion, with new services and facilities being added to a number of thecompany's sites. "Investment into capital projects will continue with the expected recovery of the UK economy, particularly within the steel sector. Our fixed plants provide ample coverage of the bulk of the UK, and capital projects will ensure that we have the capacity to continue winning new business and going after new business," concludes Mick.
Joseph Ash Group
Services: Steel finishing services