Solutions-led Joseph Gallagher Ltd continues to deliver some of the most complex tunnelling works in the UK
At the cutting edge
Solutions-led Joseph Gallagher Ltd continues to deliver some of the most complex tunnelling works in the UK
Joseph Gallagher Ltd (JGL) was first founded by the miner of the same name back in 1982, and has spent the last three decades building an unrivalled tunnelling service for the UK market. Growth has been driven by the purchase of several key businesses over the years, namely Specialist Plant Associates in 1994 and NRC Plant in 1999, both of which added tunnelling expertise and plant and crane capacity to the organisation's capability, Iseki Microtunnelling in 2009, which now services a fleet of 30 microtunnelling systems and Johnston Trenchless Solutions in 2010, which adds directional drilling and other non-disruptive technique capabilities. However, whilst these strategic acquisitions may have played a key role in JGL building the capacity to become the UK's foremost tunnelling subcontractor, it is its deeply ingrained expertise that has enabled it to maintain such a leading position.
"At its core, the company is an engineering business," explains MD, Steve Harvey, who leads JGL alongside Chairman, Joseph Gallagher. "We are a very hands on subcontractor and are technically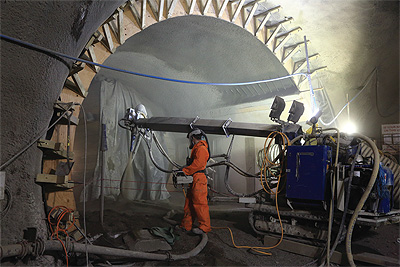 very good at what we do, we're open and honest and are keen to engage with clients to develop the very best solutions at the best value. Our approach has ensured that we have not lost a single client in 34 years."
It's a position in the market that today sees JGL taking on some of the most complex tunnelling works for major clients up and down the country. "We're heavily involved in the London Underground, where we do a lot of technically very complex hand excavation works," Steve outlines. "This has included significant work on Crossrail, and we are currently working on underground station works at Bond Street, Paddington and Vauxhall, with another contract about to start at Bank Station. We also do a lot of work for water authorities, such as an ongoing project to construct a number of shafts and a 4.65m diameter segment tunnel with Costain-Vinci on Glasgow's Shieldhall Strategic Tunnel project."
Amongst its projects on the London Underground is the nearly completed Bond Street Station Upgrade tunnelling works, which recently won the prestigious Global Tunnelling Project of the Year (under $500m) Award at 2015's New Civil Engineer International Tunnelling and Underground Space Awards. This challenging project was constructed working with the Costain-Laing O'Rourke joint venture and London Underground. "We're also on the Bakerloo Link at Paddington at the moment, which links Crossrail to Paddington," highlights Steve. "The solution we're employing there, which we developed with Costain-Skanska, allowed us to collectively win the job, and the work being carried out is being held as an example of quality for the industry."
Continuing its extensive work on the tube network, JGL will soon be starting another complex project for Dragados at Bank Station. Steve notes that JGL won the contract on the basis of the company's approach to health and safety, as well as its technical capability. Unsurprisingly, health and safety occupies the number one spot on the firm's list of operational priorities, but JGL's commitment to it is exemplary. "Unfortunately, we had quite a serious incident on site a couple of years ago where an employee sustained quite a severe injury as a result of another making the wrong decision about something they weren't asked to do," Steve goes on to explain.
"This prompted us to bring in Alkoomi, a behavioural safety leadership specialist, who have helped us to develop a programme within the Group of exceptional leadership and behavioural safety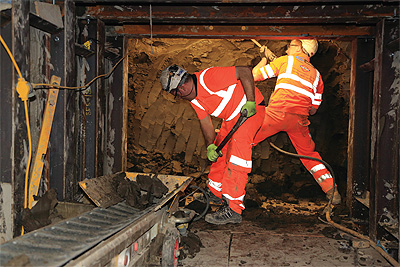 education and training – helping our people to make the right choices. This is led from the top by Joseph Gallagher and myself, but it has been quite a powerful force as those within the business who hold the right attitude and take the right approach to safety are delivering our Behavioural Safety workshops to others.
"We call this approach our LIFE culture (Living Incident Fee Everyday.) The keystones to our safety agenda are mutual respect and to be relentless even when set backs are suffered and we find that leadership from the very top helps keep our people enthused even when we suffer a setback."
Such is the role that health and safety plays within JGL that it has partly informed a key strategic decision to branch out into other areas of civil engineering and concrete structure works. By training its people in delivering such works, particularly for the residential market in and around London, JGL is able to retain its staff, and subsequently their knowledge, and keep them active throughout quieter periods of tunnelling activity.
"There is a bit of a lull in the tunnelling market at the moment," Steve adds, explaining that civils works have been able to balance this out in the meantime. "However, towards the end of 2016 we really see it starting to pick up with things like the Northern Line extension and the Thames Tideway tunnel. Longer term, HS2 is gaining pace and is likely to provide enough work for all the major civils players in the country, there's also the potential of Hinkley Power Station, Crossrail and Wylfa Power Station in Anglesey on the horizon. In fact, I think we're currently seeing the most visible long-term programme of tunnelling that there has been in the UK for a very long time."
The future then for JGL is looking positive. Continuing ongoing works, gearing up for new projects and looking to secure an eight-year construction framework with London Underground are all key parts of the business' strategy moving forward. Steve also notes two significant overseas opportunities in Sri Lanka and the USA where contractors have approached JGL specifically for its expertise. "Strategically, we run five year business plan cycles which work towards five to ten per cent annual growth, but we keep a wary eye on the market and what's happening to flex and amend this accordingly in order to remain competitive," he concludes.
Joseph Gallagher Ltd
Services: The UK's largest tunnelling subcontractor