Founded in 1976, Junttan Oy has more than 30 years of experience in the development and manufacture of leading piling equipment
Piles of opportunity
Founded in 1976, Junttan Oy has more than 30 years of experience in the development and manufacture of leading piling equipment
Since inventing the concept of a fully hydraulic piling machine in the year of its inception, Junttan has not only remained at the forefront of hydraulic piling machinery development, but has become the global leader in hydraulic pile driving and piling equipment. "We specialise in the design, manufacture and service of hydraulic piling equipment; the product range comprises of piling rigs, deep stabilisation rigs, hydraulic impact hammers, rotary heads and power packs," says Kari Pollanen, product manager of piling. "Our customers include major world leading contractors as well as smaller local firms that are specialised in piling and our equipment is working in more than 45 countries on all continents."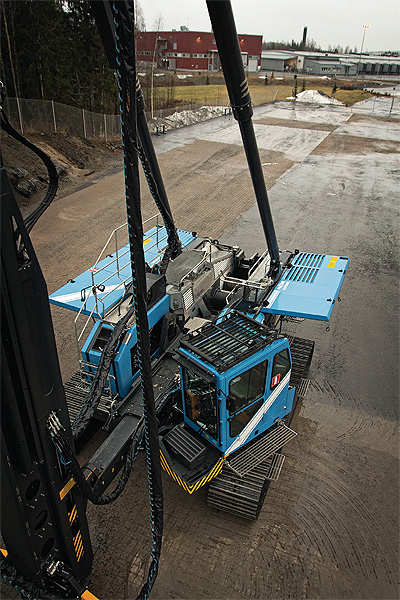 Based in Kuopio, eastern Finland, Junttan believes its success stems from its reliability in delivering the most dependable of equipment. Committed to high standards, the company's high quality equipment and machines have been used by leading construction companies to ensure success for the most challenging of foundation projects. The most notable construction sites that Junttan machinery has been used on includes the new terminal buildings at the John F Kennedy Airport, the Panama Canal, facilities for the Salt Lake City Water Olympics, harbours in China, skyscrapers in Manhattan, and, more recently, the Corinthians Stadium in Sao Paulo, Brazil, for the World Cup.
Another major contract for the company was the Eastern Alberta Transmission Line Project in Canada. With an estimated cost of $1.8 billion, the construction of the 485 kilometre, 500 kilovolt (kV), direct current (DC), Eastern Alberta Transmission Line (EATL), which runs between Brooks and Gibbons-Redwater, north-east of Edmonton, Canada, as well as two converter stations, began in December 2012. Construction activities include right-of-way clearing, installation of tower foundations, tower assembly and tower erection and the construction of the two converter stations. Resourced by Northstar Energy Services, the main contractor for the $42 million transmission line foundation project, during the installation of 18,000 piles and 3400 cap assemblies, Junttan used more than 150 personnel and nine Junttan Piling Units (PM20, PMx22, PM23, PM25) to help ensure the job was a success. With the entire system anticipated to be in-service by 2014, the successful completion of the EATL project will cement its place in history as one of Alberta's best electricity transmission and distribution projects.
Trusted by customers across the globe, Junttan's state-of-the-art piling equipment combined with its unrivalled customer service, has led to a solid foundation that goes above and beyond conventional solutions. "For over 35 years Junttan has been the forerunner in piledriving products. We have actively developed new products and taken the industry as a whole forward with new thinking and innovations. Research and development (R&D) is very important to us and we are constantly putting more effort into our own R&D department, both in our personnel and our co-operation with third parties. We are also known for working closely with contractors and for developing our products and services by listening to the evolving needs of our customers," says Kari.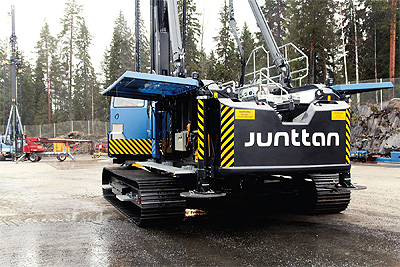 As it strives to deliver the optimum in versatile, comprehensive piling solutions, Junttan remains focused on the efficiency, usability, maintainability and safety of its equipment; to ensure its values aren't compromised, the company uses the very best components and carries out stringent tests. The most recent product to be developed is the J-reX (PMx28), which offers a powerful solution for driving long piles (max 28 metres). Instead of improving or developing an existing model, the J-reX was re-designed from the ground up following a wealth of customer feedback, which has resulted in a machine that combines productivity, long life and strong resale value, as well as efficiency of use, easy maintenance and versatility. "J-reX handles long piles as smoothly and rapidly as our smaller x-series rigs. The PMx28 is also equipped with an intelligent pile driving data management system to ensure both quality and precision in the piling process," confirms Kari.
Despite a core focus on quality and innovation, Junttan has always prioritised its customers needs through a high quality team of customer care professionals that are ready to deliver technical support, spare parts or reliable maintenance and repair services on the field. Experts in the piling industry, Junttan's dedicated and competent personnel ensure that their customers' machinery is operating to the best of its ability and that they are taking advantage of the technology available. "Our goal is to steer our operations in an increasingly customer-orientated direction," highlights Kari.
With its piling equipment in use all over the world and a strong market presence in Europe, North America, Australia and Russia, the future looks positive for Junttan as it is presented with growing opportunities in Middle Eastern areas such as Abu Dhabi, Bahrain, Kuwait, Qatar and Saudi Arabia. "Russia and North America have long been our most valuable markets, which still remains the case. We are also seeing that Scandinavia and Europe are finally starting to rise from the economical collapse, so we are seeing a positive upturn in the whole market," concludes Kari.
Junttan Oy
Services: Piling Equipment Manufacturer