Junttan Oy has more than 30 years' experience of developing and manufacturing the industry's leading piling equipment
Piling on the pressure
Junttan Oy has more than 30 years' experience of developing and manufacturing the industry's leading piling equipment
Junttan, whose heritage can be traced back to the 1960s, specialises in the design, manufacture and marketing of hydraulic piling equipment. The organisation invented the concept of a fully hydraulic piling machine in 1976, and since then has been at the forefront of the development of hydraulic piling machinery.
Today, Junttan piling equipment is used on every continent and in over 45 countries around the world. The company's extensive product range comprises the world's leading piledriving rigs, pile drilling rigs and deep stabilisation rigs, as well as hydraulic impact hammers, hydraulic rotary heads and hydraulic power packs. Junttan Oy is located in Kuopio, in eastern Finland.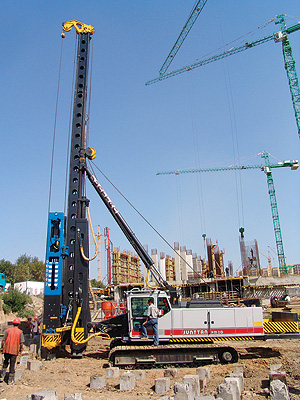 Advanced, leading construction companies use Junttan machines to realise even the most demanding foundation projects wherever they are. Indeed, Junttan machines have been used on ambitious projects all over the world including construction sites in the Panama Canal, harbours in China, new terminal buildings at the John F. Kennedy Airport, facilities for the Salt Lake City Water Olympics, highways in Germany, shopping centres in Spain and skyscrapers in Manhattan.
A reliable company, Junttan knows exactly what customers need – equipment they can rely on. Junttan makes only the most dependable equipment and to ensure high
standards the company sources materials and components from only the best suppliers, while maintaining a strong focus on quality and product testing. As a rule all equipment Junttan sends into the field has to be a reliable, first-class product that will deliver years of efficiency and highlevel productivity.
The Junttan range is designed to excel in a wide variety of piling tasks. Each model has its own strengths, incorporating features and capabilities to meet the needs of the customer and industry. In order to further increase customer satisfaction the company places great emphasis on close cooperation, developing a detailed understanding of the customers' individual needs.
Aware that no company can afford to 'stand still' if it is to meet the needs of industry, while achieving success, Junttan is constantly re-inventing. By ensuring its piling rigs are always equipped with the latest technology, the company constantly raises the standard for the next generation of machines. What's more, high efficiency, a common-sense design and strict adherence to quality of build mean Junttan machines guarantee top performance and reliability on each and every job.
Junttan's strategy is to combine performance with the ability to adapt to different piling systems and with a high concern for protection of the environment. 'We think of excellence as a journey, not as a destination' says the company's website.
Aftersales is another important area for Junttan and the organisation doesn't forget a machine once it has left the factory. Support from the people who designed the equipment is never far from the customer. Junttan is proud of its strict adherence to delivery schedules and effective aftersales services, as well as providing a high quality machine at a competitive price. This results in customers having long-term confidence in the company's ability.
Junttan's product range comprises the world's leading pile-driving rigs, pile drilling rigs and deep stabilisation rigs, as well as hydraulic impact hammers, hydraulic rotary
heads and hydraulic power packs. Junttan piling equipment is respected throughout the world for quality, reliability and performance.
Junttan piling driving rigs can be transported without special arrangements in one piece, thanks to their small transport dimensions, and without having to remove the hammer. State-of-the-art technology is used in the design of Junttan's piling rigs and the low centre of gravity, expandable tracks and movable counterweight ensure excellent rig stability. This allows greater leader gradients for raked piling. When
equipped with suitable accessories, Junttan pile driving rigs can also be used to install pre-drilled and driven as well as driven cast-in-situ piles.
Strict attention has been paid not only to efficient operation of the rig, but also to the safety and comfort of the operator and to ease of service and maintenance. Junttan pile driving rigs are friendlier to the environment and more practical than conventional diesel hammers and mechanical piling rigs, as they generate less noise and reduce vibration and harmful emissions. A further advantage of the range is the possibility to use biodegradable oils in the hydraulic system.
Junttan is a fast growing company with an international name, so in order to ensure it meets growth projections the component manufacturing and welding departments of Junttan Oy were sold to Komas Oy on the 14th of May 2007.
Komas Oy is a systems provider with activities in machining, assembly, hydraulics and surface treatment services. Prior to this deal, the company already had seven outlets in Finland and one factory in Poland. Komas Oy will continue to work at the present premises of Junttan Oy in Kuopio, Finland. Junttan will also remain in the same building, focusing on its core competencies – final assembly product development, marketing and maintenance services.
This contract will play its part in ensuring that Junttan meets its growth projections and the deal fits well into Junttan's ambitious growth strategy.