Following the construction of a new foundry, privately owned Czech firm KASI, spol. s r. o. is developing its foothold in surrounding countries
Concrete plans
Following the construction of a new foundry, privately owned Czech firm KASI, spol. s r. o. is developing its foothold in surrounding countries
Established in 1992 with the aim of being the sole supplier of a broad range of sewage related products for concreting plants, KASI today is a leading manufacturer of sewage castings, street and yard grilles, adjustment rings, manhole covers, manhole steps and covers for plastic pipes for the construction industry. "KASI is a privately owned Czech company, with two private owners. We have five main work shops inthe Czech Republic, which is a major strength for us as it is our main goal to deliver local production to local industries and businesses," explains Jakub Albrecht, sales manager of KASI. "Our main focus is on manufacturing, however we are also a design and sales company with a wide range of products that are mostly equipment for concreting plants and companies in need of manholes, gully elements and pipes."
Elaborating further on the history of the company, Jakub adds: "In the beginning, the business was centred around producing parts for concreting machines and plants. We then designed our own system technology and increased our activities, which at first only involved sales for manholes. However, both owners understood that the future was in manufacturing and they began preparing facilities that led to KASI producing almost 90 per cent of products ourselves. This has been our strategic plan for 21 years and now we have our own workshops and casting foundries; we acquire raw material and produce independently. The only items in our product range that we don't produce are specialised products, as own production is not an efficient option."
Dedicated to delivering an efficient, high quality product to its customers, KASI decided to stop buying from China and India and instead begin independently supplying to its customers in 2005. This transitional period resulted in a decrease in sales and the company proving its abilities once again to companies it had previous relationships with. "When we stopped buying from China we developed a brand new foundry in the Czech Republic, which was completed in 2011. It is one of the five most modern foundries in Europe and has the most state-of-the-art technology in the country," enthuses Jakub. "It is capable of grey and ductile iron production, and is equipped with furnaces from UK, moulding line from Germany, an automatic vibrating transporting system, sand shop and automatic pouring device. All of this modern technology is connected by computers that communicate with one another; this enables us to produce a capacity of 22,000 tonnes of metal a year, which is similar capacity to countries such as China, In ia and Turkey where they have more than 1000 employees. We produce the same amount at greater precision with 140 employees."
Committed to continual improvements, KASI constantly adjusts and enhances its products to offer customers the best solution for their requirements. Notable innovations include adjustment rings that are used as manhole cover underlay to adjust covers at road level. Built in accordance with EN 1917 standard, the company offers three types of rings; differing in shape and bearing surface size, each ring type is chosen in relation to its underlying parts. For example, adjustment rings BAR, BARZS are used for frames and cover plates produced in accordance with DIN V 4034-2 precast reinforced and unreinforced concrete components for soakaways and well shafts, while BAR-V, BAR-VS are used in accordance with DIN V 4034-1 prefabricated concrete manholes, unreinforced, reinforced and steel fibre for drains and sewers.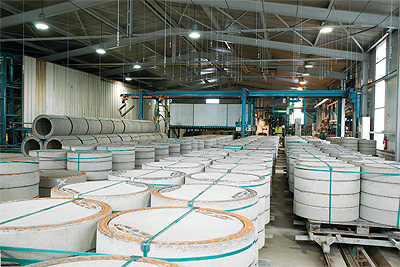 With a core client base of approximately 13 cementing companies in the Czech Republic, KASI's strategic decision to build a new foundry three years ago has resulted in the innovative firm expanding into surrounding countries such as Poland, Austria, Germany and Slovakia. Furthermore, with eastern and southeastern countries beginning to develop sewage infrastructure for the very first time, the company is keen to take advantage of these opportunities for further growth. "The new foundry meant our capacity was raised, so the last two years have really been about getting back to where we were before through contacting old partners in Germany, Poland and other countries, while also expanding our reputation in areas such as Russia, the Ukraine and Baltic countries as well as Slovenia, Bosnia, Romania and Croatia. Other companies may have suffered in the recession, but to us the market is open as we didn't have the capabilities to move into these markets before."
Having built the foundations to become a wholly independent firm, the future looks optimistic for KASI as it continues to enhance its products and expand its foothold into new areas. Despite reaching its strategic goal, the dynamic firm sees opportunity for further growth, responding to market demand with the construction of a new warehouse and production hall. Investing heavily in new technology and machinery, the new production hall will be place for polyurethane application to open more technical and technological opportunities in the future.
"We want to optimise our product range, which is why we are installing cutting-edge technologies into our new warehouse and production hall. We also want to prepare rectangular manhole covers as we currently focus on round covers that are used in inland Europe, however rectangular covers are used in other areas such as the UK. We haven't produced these yet, but we see an opportunity is there and we want to optimise it," concludes Jakub.
KASI
Services: Leading manufacturer of sewage products