Keller Holding is a worldwide group specialising in construction and geotechnical contracts
Global strength and local focus
Keller Holding is a worldwide group specialising in construction and geotechnical contracts
Keller Holding specialises in soil and foundation solutions for the construction industry including heavy foundations, ground improvement, speciality grouting, anchors and minipiles, retention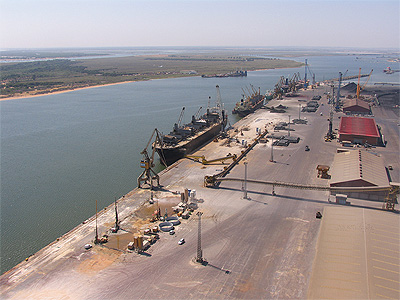 systems, cut-off walls, as well as instrumentation and monitoring. Its services have proven crucial on a number of massive projects including; the UK's Olympic Stadium, the Port of Huelva in Spain, the Saudi Kayan Petrochemical Complex in Saudi Arabia and Amsterdam Central Station in the Netherlands, with approximately 6000 projects per year being worked on. However, while the organisation has ambitions to further spread its reach around the globe, Business Development Director Dyrik Wellershaus insists the success is based on local knowledge: "The people on ground have years of experience, knowing 'their' soils and are the best ones to work on the particular project. This has helped us grow and our focus is to continue driving that forward. On the other hand, I cannot emphasise enough that getting the support from all over the Keller World means there is the strength to deliver large and complex projects. If a project needs to be delivered in an extreme short period we are able to provide a sufficient number of rigs to achieve the client's timeline."
The emphasis on innovation and different thinking also applies to the company itself. In July 2017, the Austrian arm of the group Keller Grundbau was involved with clearing the River Emscher in western Germany (charmingly referred to as 'Europe's foulest river' for a time) as part of a 4.5 billion euro project, including sewage pumping stations and an underground system of tunnels designed to divert away waste from the river. This scheme is due to be completed in 2020. However, the project could have been massively delayed, due to the fact that the ground that needed to be drilled into could not be reliably checked for unexploded ordnance. In order to check this safely one of the team's technicians came up with an original idea – freezing the ground with liquid nitrogen!
It was not quite as simple as just freezing the ground, the technicians involved needed to consider different conditions, including sludgy backfill, sand and clay, as well as dealing with contaminated soil. After some adjustments, the experiment was a success and the technique can now be legitimately used in the event of this occurring in the future.
Acquisitions
Design and Engineering is one of Keller's major strengths, having employed strong and enthusiastic geotechnical engineers. The Emscher project is an effective illustration of how creative thinking and technical know how can solve seemingly insurmountable problems.
The other way Keller Holding has been able to develop growth and broaden experience is through acquisitions in various countries. In January 2017, the group further cemented its influence in the Brazilian market with the purchase of the Tecnogeo Group. Dyrik emphasises that this is part of the larger business strategy: "Acquisitions broaden our portfolio. The company we buy contributes to a larger market share and helps you have more of a presence in the area. The management of Tecnogeo is well established in Sao Paolo and Rio, and transferred their knowledge to the Keller Brazil Business Unit. Tecnogeo's clients were informed about this positive merger for the Brazilian construction industry and the good network was shared. In the meantime, the company operates and is established as one," he reiterates. The investment was followed by another significant one with Finnish business Sotkamon Porapaalu Oy: "Buying Sotkamon Porapaalu Oy gave us access to the skilled people and engineers working there and we can offer a further technology in Scandinavia.
"It is our goal to grow organically and the many big projects in the pipeline are the way to achieve this. But acquiring geotechnical companies is also a positive growth driver. You evaluate the targeted company by doing research over their equipment fleet, their personnel and the figures as well as the order book."
Projects
While Keller has a wide array of projects to work on, one of the largest is Keller Grundbau's work on the Kolralm railway line in Austria. This is one of the group's larger and challenging contracts, worth 32 million euros. Once this is completed in 2023 it will reduce travel time from Graz to Klagenfurt from three hours to less than one, providing significant benefits to people and businesses. Keller's role in this is significant: "Keller Grundbau will be carrying out ground engineering works on two tunnels in the St. Kanzian area, believed to be the biggest construction challenge on the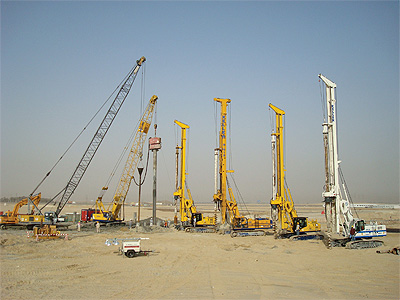 line," he outlines, before providing an update on progress. "The first tunnel is now complete, having executed it in a cut-and-cover method, constructing bored piles as a retaining wall at a depth of 22 metres. Jet grouted columns were then added to reinforce the bottom of the excavation and ceiling columns added between the bored piles.
"Piling has also started on the second tunnel where we intend to complete the works in February 2018. When our construction is all complete it will include 2000 no. 1.2 metre diameter bored piles totalling 58,000m and 75,000m of jet grouted columns. Other techniques involved are anchors, nails and shotcrete."
Efficiency
The team can also call on advanced technology: "Our technicians use new generation Keller KB6 rigs with TW700 pumps, monitors and nozzles. The new equipment makes Soilcrete construction more efficient, allowing them to jet grout faster, with less cement and less disposal cost, without compromising strength. All the rigs use GPS technology and that has doubled the speed of communication. Thanks to advances like this jobs like the Kolralm railway are progressing well and on schedule," he happily announces.
A couple of other major projects are in tender stage and keep Dyrik and his team busy. There are a lot of potential opportunities that Dyrik cannot discuss at the moment, though he does provide a few hints: "Worldwide we are looking at forming joint ventures that the Keller Group is collaborating on, while Keller UK is part of some larger UK infrastructure projects. That is also on our radar."
Expansion
Keller is looking toward the future. While the structure is already in place, the group is always looking to improve and build on its achievements: "We want to expand turnover and profit, growing through acquisitions but also organically. Around the world, the oil and gas sector is back on track but there are also other sectors with massive potential. For example, if you have a refinery, chemical plant or big silos. If the group can hit its targets there is the potential to grow turnover massively," he envisions. This is not just a hopeful target, with Dyrik pointing towards a clear game plan by the organisation: "The group is developing ways to further grow in developing markets such as Africa and Latin America, while there are also opportunities with new initiatives such as the construction of Near Shore Marine facilities. Ships are getting bigger, and to accommodate them ports need to be rehabilitated and deepened."
The expansion of the business also applies to the group's home in Germany, with new offices in both Hamburg and Hannover. It is fascinating to see the evolution of a company and how it achieves this in conjunction with other organisations around the world. While a lot of people talk about 'synergy' this is a great example of the process in action and if all goes as planned then there will be more companies, countries and people that will benefit from Keller's ambitious plans.
Keller Holding
Services: Construction company and geotechnical contractors