As a family owned business, Kelly Formwork has grown from relatively small beginnings to its position today, boasting an enviable client list
Delivering promises
As a family owned business, Kelly Formwork has grown from relatively small beginnings to its position today, boasting an enviable client list
Kelly Formwork (UK) Ltd is a wellestablished civil engineering and construction company with a wealth of proven experience and expertise. Established in 2005, the company owes its success to a combination of both the 25 years industry experience of its managing director and founder Daryll Kelly, as well as its hand selected, skilled employees.
The leading contractor in the field of civil engineering projects has undertaken some of the biggest and most prestigious works in the UK, whilst maintaining a health and safety record second to none, introducing value engineering, and always achieving programme goals. Promoting a `hands-on' style of leadership, the company ensures the highest level of workmanship and the attention to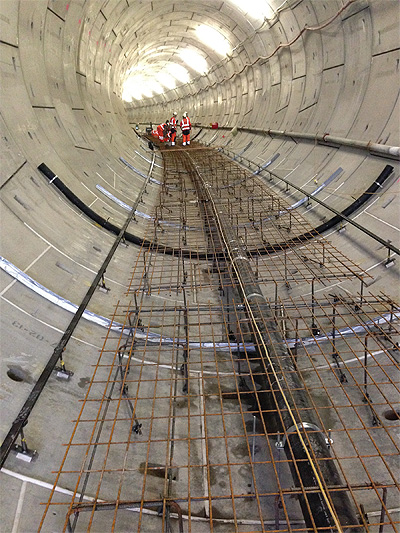 detail, which its clients have come to expect. Concentrating on formwork, steelfixing and concrete, it servicescover a variety of substructure activity from groundwork and bridges to substations and top down construction. Beyond that, a heavy involvement in superstructures has seen the business develop an expertise in reinforced concrete frames, office blocks and high-rise apartments to name just a few.
To successfully operate a business in the industry today, recognition must be paid to a number of sensitive factors such as the environment and the wellbeingof its employees and the public. As such the company maintains a full commitment to sustainability, deploying the highest standards of health and safety, corporate responsibility and reducing environmental impact. Local communities surrounding any site are important to Kelly Formwork and there is a strong focus on corporate and social responsibility.
Health and safety compliance is regarded as a top priority within the company, which has become renowned for its extremely safety conscious approach, deploying the highest standards of health and safety across the entire business. By operating a continuous training programme in-house, it ensures that the workforce fully understands and implements the principles of safe working practices. Maximum compliance with existing and planned legislation is achieved through the constant review of methods and procedures. Not only are operatives trained to the highest standard, but also all are CSCS / CPCS NVQ assessed. The value the business places on training is further supported in its commitment to the ever-developing supply chain sustainability school.
Diligently striving to maintain the highest health and safety standards, Kelly Formwork has achieved one million 'man hours worked' without a reportable incident at its Crossrail Bond Street project to-date. The contract, which forms part of Europe's largest construction project, incorporates two new ticket halls at Bond Street. The first of the two to be completed was the western ticket hall, which saw the business utilising top down construction techniques to achieve a 25 metre deep reinforced concrete structure. Despite the numerous challenges encountered due to the site's location, requiring careful planning of all material deliveries and the constraints on formwork design due to craneage not able to be utilised in the top down mode of construction; the phase of the project was delivered six weeks ahead of programme, within budget, to specification and satisfaction.
This substantial reinforced concrete substructure comprises five floor levels deep, with floor heights of 4.5 metres and floorplates of 30 metres by 60 metres enclosing a floor area of 1800 square metres per floor level, with the basement levels finished to a high specification concrete finish. The scale and complexity of this project offered Kelly Formwork a fantastic opportunity to innovate, develop job specific techniques, and to record the lessons learned and experience gained during its construction. This was in line with the company philosophy of self-delivery and ensuring that it maintains the highest level of expertise in-house, allowing it to always be able to offer its clients' unrivalled knowledge and innovation on projects.
Resulting from its reputation of providing innovation on complex sites, the business has already seen itself engaged by other contractors to consult on best practice and add value to the client offering. With a growing market share and reputation, Kelly Formwork has excelled at a time when market conditions have been at their toughest. The delivery of works for a new eastern ticket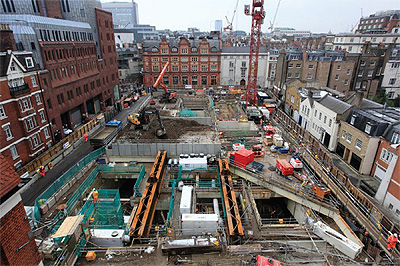 hall consisted of the construction of a capping beam to the perimeter of the site plus two shafts going down five storeys using top down construction. Much of the works were constructed on a 24/7 programme basis, dramatically fluctuating labour requirements to suit the needs of the programme and availability of work. Despite works commencing late, the contract achieved completion early.
Another significant projectunderway for Kelly Formwork is for its client Costain and required a different approach. The £5m Paddington New Yard contract consists of two separate jobs with two separate clients, the first of which is the new tarmac concrete batching plant, consisting of 16m high aggregate bins and various different one off structures in order to support the conveyor. The conveyor starts from a top down structure called a Bottom Discharge unit, which is being constructed under the bus deck.
The second stage to the scope of works is a seven metre high level 8000 sq/m bus deck. The deck is set up on all different levels of ground including a cobbled ramp, the soffit of the slab is on a longitudinal and cross fall. This is made up of longitudinal beams sitting across primary beams. Thedeck is supported by high-level radius columns, which sit on top of three metre high walls. On top of the deck Kelly Formwork will be installing 30t pre cast parapets units, which stitch in to the slab. Whilst work commences across this very narrow but long site, access has to be maintained to Tarmac's concrete plant.
KeKelly Formwork is also working on the 1.2km Thames Tunnel from Plumstead to North Woolwich. Appointed by HMJV to complete the 1st Stage Concrete works in two phases spread over four tunnels, the first phase of the project required Kelly Formwork to complete all first stage concrete works in tunnels one and two. This consisted of installing compliant UTX and Drainage ducts within very strict tolerances, installing reinforcement and pouring concrete and upstands with a single line pump over one of the longest distances recorded in the UK. Kelly Civils Ltd received a lot of media attention with both Crossrail, the client, Schwing Stetter and NCE Magazine. This was the first ever first stage concrete works Kelly Civils undertook for Crossrail and was a complete success.
Kelly Formwork
Services: Civil engineering and construction contractor