With a unique approach to the market coupled to a personal commitmentto quality and service, Kendrick Homes isperforming well in a growing housing market
An exclusive development
With a unique approach to the market coupled to a personal commitmentto quality and service, Kendrick Homes isperforming well in a growing housing market
Established 135 years ago by William Kendrick, Kendrick Homes has developed over the years to be a prominent player in the West Midlands house building market. Still owned by members of the Kendrick family, the company builds an average of 75 units a year with the view to reach 100 across nine sites over the next two years. Its house prices range from £99,000 to £750,000, averaging at £325,000. "We do everything from land purchase up to sales," outlines managing director, James Rennison. "We have a land buying department, an architectural and engineering department, our own quantity surveyors, contracts managers, a marketing manager and a sales team, so we can be completely autonomous. Most sites we manage from purchase to point of sales." With the housing market currently growing out of the economic downturn, Kendrick Homes is experiencing a period of growth buoyed by a positive approach to quality and service, and the Help-to-Buy scheme.
"Being registered for Help-to- Buy has helped with 35 per cent of our sales over the last year," explains James as he discussesthe successful levels of sales the company has recently achieved."The end of our financial year is in June and we've already achieved our sales targets for this year. In terms of next year, we already have forward sales on approximately 20 units, which is very promising considering we have a target of 85 units. So we're happy with the market in general at the moment."
There are number of strengths that put Kendrick Homes in a competitive position within the market, not least is its commitment to delivering high quality product and service. "We're a personal company," notes James. "I can probably tell you most customers' names and what plot they live in. Our staff continuity gives customers confidence that they're working with the same person for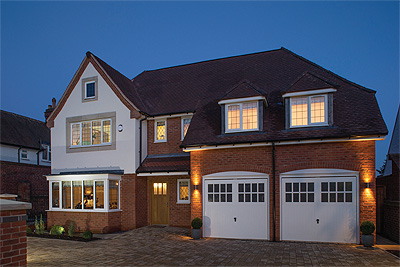 the term of their purchase. We also sell our houses fully equipped, what a customer sees in a show home is what they get and I don't think I've ever heard an adverse comment on our specification." Product quality is assured by thorough management throughout the build process, plus a stringent handover procedure that involves individual inspections from the site manager, a director and a quality surveyor.
Perhaps even more unique for a house builder is its approach to exclusivity. Kendrick Homes makes sure that on any site there is a range of building types used, with any duplications taking on aesthetic differences to make them unique. "I'd like to think that a customer is buying a one off home," emphasises James. "Some of our houses are completely one off, because we've made that house bespoke to the site. I think people like the idea of that nowadays, it's one short of a self-build." Possessing its own in-house design department greatly facilitates this approach to house building, but as James explains: "It requires far more resource intensity than normal house building."
Kendrick Homes recently completed a site of nine units in the Worcestershire village of Inkberrow. The site consists of five £700,000 houses, some with paddocks, two affordable housing units for a housing association and two that were sold to the Addington Trust. "We had a gentleman's agreement, with the late farmer from whom we purchased the land, that we would sell these two properties at cost to the Addington Trust for people who work in agriculture but can't afford to live in the area. A young trainee vet is living in one of those." A recently commenced site in Bromsgrove, which consists of 24 units, also includes four that will be sold to a housing association. Commenting on Kendrick's involvement with housing associations, James adds: "All of our housing association houses are built with the same external materials as all our other houses. You would struggle to spot which are affordable and which are for private sale, as we make a big effort with them."
Despite strong market conditions and a positive performance, Kendrick Homes still faces a number of challenges. A recovering supply chain has been causing problems regarding project programming for a number of months, and the brick supply is still causing issues. James points out that to try and get around this the company has been ordering bricks during the planning phase to cover long lead times on bricks. New building regulations introduced this year regarding window and insulation standards have also been creating upward pressure on the company's costs. A tightening criteria and lengthening lead times within the planning process have also compounded general challenges within the industry.
However, James is confident that its strong sales performance helps reduce the impact of many challenges. As the company looks ahead, he highlights its objectives. "In real terms, we wantto see a growth of around ten per cent a year. We have done seven sites this year, will do eight next and nine the next. We grow organically, so we rely very little on bank finance, so our bank balance very much supports our development." Ultimately, it is Kendrick's attitude to delivering quality product and service to its customers that will secure its future success. Summing this attitude up James says: "Our acid test on any of our house, or any of our sites is, 'Would we live there ourselves?' If the answer's no, we don't buy the site."
Kendrick Homes
Services: Housebuilders and developers