Having established its modular buildings division (SmartBuild) just a year ago, KES Group is experiencing major growth, due to its extraordinary in-house manufacturing capabilities, while continuing to develop renewable energy solutions under its Energi division
Neat and efficient
Having established its modular buildings division (SmartBuild) just a year ago, KES Group is experiencing major growth, due to its extraordinary in-house manufacturing capabilities, while continuing to develop renewable energy solutions under its Energi division
Keen on preserving its much-cherished origins, KES Group has its head office in County Tyrone, from where it manages and coordinates the construction of modular buildings and sustainable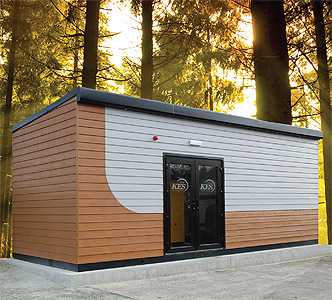 energy projects. Complemented by an Omagh-based state-of-theart manufacturing facility, where the magic happens, as well as a regional sub-office in Dublin to serve its ever-expanding customer base, KES Group is one of the hottest names in the modular building industry. The business is divided into two very distinct divisions – SmartBuild, which covers the construction side, and Energi, specialising on the supply and installation of a wide range of renewable energy systems and packaged plantrooms to the residential and commercial sectors.
Through SmartBuild, set up only a year ago, KES Group has proven its expertise in the manufacture of ultra-high specification, fully relocatable buildings, engineered with maximum flexibility and efficiency across a number of sectors. These are constructed in the controlled environment of KES Group's factory using SIPs (structural insulated panels) for greater efficiency and adaptability. The SIPs are pre-insulated wall and roof panels, representing an advanced form of timber frame construction, which enables the off-site construction of SmartBuild buildings. Offering excellent insulating performance from a thinner wall panel with low U-values, reduced cold bridging, and superlative air tightness, they contribute to the cost-efficiency of the constructions, also being an environmentally-friendly option.
Certainly, the consideration for the planet's wellbeing sits high on KES Group's list of priorities, as the company is adamant that increased performance and competitiveness should not come at the expense of the environment. The organisation has grown into an industry leader in eco technology for business and domestic use, which allows it to deliver significant savings for its customers, while protecting the Earth for the future generations. It is, therefore, no surprise that it strives to use sustainable materials whenever possible in its processes.
Aiming to be an end-to-end solutions provider, SmartBuild covers all bases with its services, including the planning, design, construction, and fit-out of the buildings. The company has become known for its devotion to gaining an in-depth knowledge of the customers' requirements and the potential challenges to a given project. Emphasising this, it creates bespoke design for every individual initiative it engages with, and upon manufacturing, delivers the building to the site, cranes it into position, and fixes it for complete reassurance. In addition, each individual steel-framed module is fully-fitted with electrics, plumbing, heating, and internal finishes, to complete the experience and give the customer peace of mind.
KES Group's Energi division is, in fact, the older of the two, and the company has garnered a solid amount of knowledge and expertise in the devising of innovative sustainable energy solutions. KES Group supplies a range of biomass boilers manufactured by Austrian biomass experts, ETA. ETA produces class-leading boilers and has a global reputation for performance and reliability.
Identifying the requirement to house the technology, KES Group has also developed its own range of modular, self-contained plant rooms. It takes pride in its ability to design the interior of a plant room in a way that will facilitate the easy maintenance and monitoring of the equipment stored there. Just like with any KES Group product, the plant rooms are designed according to the individual needs of the client and would normally represent a single or double-skin construction featuring a galvanised steel frame, a steel plate floor, powder-coated aluminium or fibre cement walls and roof, insulation to all external walls, and high-spec doors.
Solar panels
Perhaps better known for its solar PV panels, Energi has perfected their development over time, offering lightweight, quick to install, and low-maintenance panels that deliver efficient, comfortable, and cost-effective performance. Adding extra value to the service, the business performs regular 'health checks' to the panels to ensure that they deliver optimum results continuously.
Project success
Unsurprisingly, KES Group has picked up various awards during its existence thanks to its admirable efforts to promote sustainability. Earlier this summer, it received the 'Excellence in Energy Services to the Public Sector' award for the work it does across Ireland. Its appetite whetted by the accolade, the company has stated an intention to continue working tirelessly with the public
sector to provide even more innovative technologies, which will reduce organisations' heating and electricity bills, and create a greener working environment.
The most comprehensive way in which Energi's capabilities can be demonstrated, is by looking at the actual projects it has delivered. One of the recent flagship developments for the business was the design, manufacture, and delivery of several 1MW gas heating package plantrooms to a project in Dublin, completed over only a six-week construction period in June 2018, due to Energi having all its trades in-house – a clear advantage over its competitors, allowing it to produce ready-touse buildings.
We would certainly run out of space if we had to list all of the contracts KES Group has won since the beginning of this year alone, as there truly are so many of them, mainly for SmartBuild. The company announced the two latest projects it will be part of, in the last days of July, when it revealed that it had been awarded contracts by Bradley Transport and Alpha Accident Management. The former will see KES Group construct a 1033 square foot modular office building, which will house two receptions, a conference room, a kitchen, an accessible WC, a store room, and a large office, while for Alpha Accident Management, it will design and build a 1861sqft modular office space, branded and kitted out with a kitchen, gym, WC/Shower room, private office, sales office, reception, meeting room and accounts office.
Future opportunities
Reflecting the company's immense growth in recent times was the decision to invest in a new multimillion-pound, purpose-built manufacturing site at Strabane Business Park, which will bring the SmartBuild and Energi Divisions under one roof for KES Group. For the realisation of this goal, KES Group approached Invest NI when it figured out that its current facilities could not support the increased demand for its services. The 40,000 square foot factory is projected to house eight production lines and is expected to create up to 70 new jobs, becoming a valuable asset to Strabane and the local community.
Energetically exploring new opportunities all the time, KES Group looks determined to grow in the years to come, while continually optimising its services, in order to accurately address the needs of its customers, as well as the leading market trends. With a new and modern facility in construction, the company is sending unambiguous signals that it is expecting a lot of work to come its way in the near future.
KES Group
Services: Modular buildings and renewable energy solutions