Famous the world over for its 'finger lickin' chicken', KFC has bold ambitions for its UK & Ireland restaurant estate which it is meeting through an innovative growth strategy
Thinking outside of the box
Famous the world over for its 'finger lickin' chicken', KFC has bold ambitions for its UK & Ireland restaurant estate which it is meeting through an innovative growth strategy
It was in 1965 that the Kentucky Fried Chicken (KFC) concept was first introduced to Britain, with its first restaurant opening in the city of Preston. Since then, KFC has expanded its UK and Ireland restaurant network, closing out 2018 with no fewer than 943 locations and boasting sales of over £1 billion per year. In 2018 alone, the business experienced a growth rate of 33 net new stores (43 gross), which was the highest it had experienced on these shores in some 15 years. Like any good brand, however, KFC's growth ambitions go further than its present-day success, with a clear target in place to have over 1000 restaurants in the UK and Ireland by 2020.
The person tasked with meeting this goal is KFC UK & Ireland Chief Development Officer, Chris Holmes. "My primary responsibility is to successfully grow love for the KFC brand and to drive access to our restaurants by opening somewhere in the range of 40 and 50 new locations per year," he details. "We estimate that we currently penetrate about a third of the UK population, which means there are still a huge amount of people that haven't tried our chicken yet. We are working flat out to reframe the brand to attract these people, by confidently finding our voice in today's culture, building new missions and evolving the perception of KFC, whether that be through the introduction of new technology, the championing of our fresh, hand breaded chicken and the increased nutritional value of our food, making it easier for our teams to deliver incredible service, or by making improvements to the entire customer experience when entering one of our restaurants."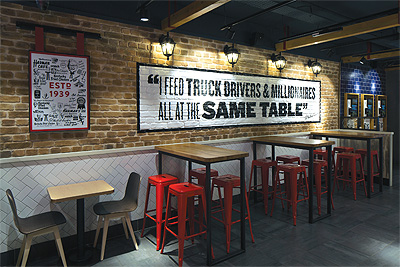 Market plan
In order to truly appreciate how the KFC brand is confounding the perceived challenges of today's macroeconomic environment we need to look at how its growth strategy has become increasingly more inventive in recent years. However, as Chris goes on to explain, we first have to examine how the brand's development model used to work. "In the past, it used to be the case that opening a new KFC store required a half-an-acre plot of land upon which to build the restaurant itself, a drive through facility and ample car parking spaces. While this economic model proved extremely compelling at the time – remember we continue to have over 450 very successful drive through locations within our estate – as the years have passed, competition for land has intensified hugely, which has led to us looking again at what we internally refer to as our 'market plan'."
This plan, Chris tells us, is essentially a sophisticated map that delineates the areas where KFC is present and those where it has the potential to move into. "Looking at our market plan, the evolution of our model means that we are now able to identify over 500, what we call, 'vacant trade zones' of opportunity, which are areas where the population is strong enough, where traffic counts are impressive and where we believe there is an economically viable chance to develop out the KFC brand," he says.
Constant evolution
The key to so many opportunities being present has been the creation of KFC's 'Smallbox' urban restaurant format. A relatively new concept for the brand, Smallbox delivers KFC's smallest footprint yet, utilising a unique design to fit a restaurant within a 1000sqft space, while still offering customers the great KFC experience they have come to expect. "Previously, the only way we knew how to play in city centres, for example, was to obtain large units with room for 150-odd seats, which would invariably cost a lot in terms of rent," Chris states. "What the Smallbox format now allows us to do is innovate in terms of size, without compromising on location and at a fraction of the cost.
"We have found this asset model to be a fantastic success, with 23 locations opened in the last two years, which has given us access to some excellent high street locations throughout London, in city and town centres such as Birmingham, Liverpool and Oldham, and even within Manchester Airport. Meanwhile, the brand's ability to speak to everybody means that our Smallbox locations have been able to thrive by targeting groups of customers specifically seeking convenience, whether that be shoppers on the move, university students, commuters or office workers."
In addition to spearheading the growth of KFC UK & Ireland's estate, Chris is also responsible for the development of the physical environment of the restaurants themselves. "You have to stay relevant. So, on average, we look to update the design, look and feel of our brand every three years, and we typically undertake anywhere between 150 and 200 restaurant remodels per year," he reveals. "As such, there is a constant heartbeat of evolution happening throughout KFC UK & Ireland. The latest redesign of the KFC brand launched at the tail-end of August 2018, and we hope to see it adopted in some 200 of our locations by the end of 2019."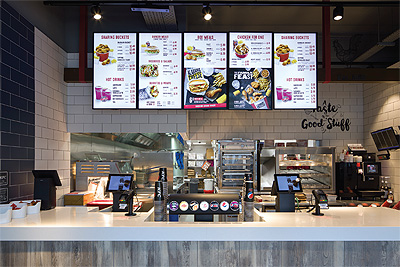 Further developments
In the meantime, Chris and Team KFC are continuing to investigate ways to diversify the customer experience further. "This work comes in all sorts of forms, from our increased use of self-service kiosks, to our relationships with our delivery partners at Just Eat and Deliveroo," he states. "In time, I think you will hear us talking more about things like Click and Collect, what table service means for a restaurant model like ours, and whether there is a kerbside equivalent to this that we could potentially roll out in the future. One other thing that we are excited to be developing also is what I like to call a 'car-wash KFC' concept. Working with a large petrol station operator we have created a fully validated restaurant design that fits within roughly 750sqft of space, complete with a walk-up window, full kitchen and a sweep-past drive through window. If a standard KFC Drive through would take out around 70 car parking spaces of floor area, this would only need 18. Needless to say, this is something we are very excited about!"
Plans in the pipeline
As well as driving the growth and evolution of KFC in the UK and Ireland, Chris' ever-filling plate has recently been added to further still, as he is now relishing the opportunity to replicate said growth in Western Europe. "In countries such as France, Germany, Spain, Italy, the Netherlands and others, we currently have a combined total of around 550 KFC restaurants, meaning there is huge room for expansion, particularly when we start to experiment with different capex models and structures," he enthuses. "We will also be looking at how we can extend our franchisee base in Europe, identifying the right partners to work with in each market. The success we have seen in the UK has been entirely driven by our talented franchisee growth partners, many of whom have been with us for over 30 years. Over 20 of our 35 franchisees built a new restaurant in 2019. It is these kinds of collaborative relationships that we are working to replicate to bring our chicken to the people of Europe."
With Chris having just returned from KFC UK & Ireland's Restaurant Manager Conference, held at the International Convention Centre (ICC) in Birmingham, at the time of our conversation, it was as good a time as any to ask him what the immediate plans are for KFC, from a development perspective. "I think the continued innovation we put into our assets is going to be really exciting going forward, as will be witnessing the growth of our existing and new franchise partners," he adds. "Seeing the jobs that our new restaurants are helping to create is phenomenal and is what really motivates us, but we know we still have a lot of work to do to get to that 1000 restaurant mark. We have a large number of potential future sites in the pipeline, more so than this time last year, we just need to make sure that we retain the focus and discipline to ensure that we deliver the right sites in the right places, and with the right partners."
KFC UK & Ireland
Products: Global restaurant chain