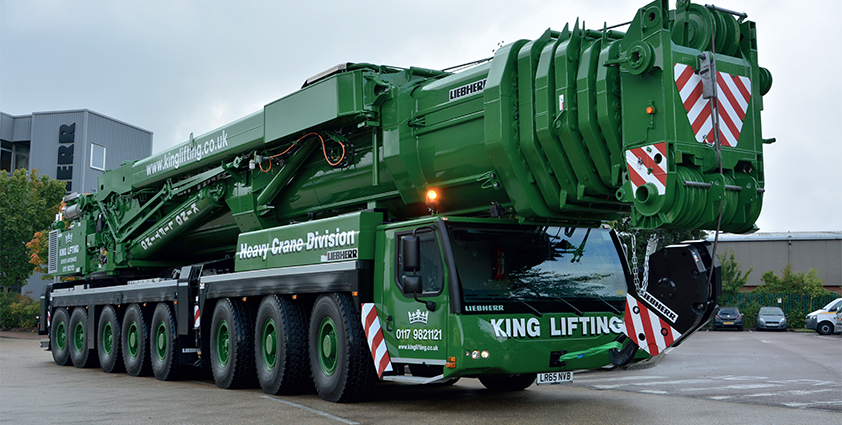 Lifting expectations
With 40 years of experience in the construction and civil engineering industries, King Lifting provides clients with a high-quality portfolio of cranes, skilled labour, and heavy lifting equipment throughout the United Kingdom and Europe
As a family owned and operated business, King Lifting has seen incredible growth since being founded in 1981. The company was established with the vision of creating an independent crane company that could provide customers with excellent service and the highest standards of health and safety in the industry. Over three decades, King Lifting has expanded across the UK and Europe, and through continual investment in the latest equipment is today classed as one of the market leaders.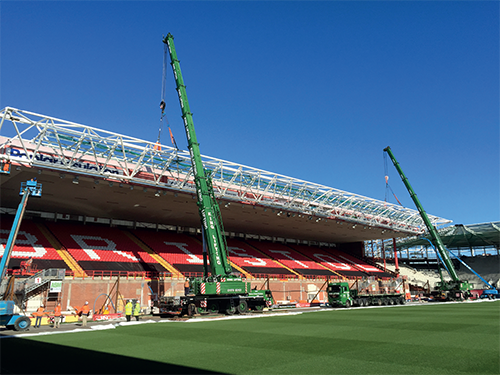 Originating in Bristol, King Lifting started out as a crane rental service before expanding into new territories and applications. As the company's Managing Director, Tristan King, details: "When our chairman, Bob King, established King Lifting, it was focused on mobile crane hire. Once that started to gain some traction, we went on to buy some new cranes and opened a second branch in Swindon.
"The company grew from there, with our geographical coverage extending along the M4 corridor towards Newbury, and up to Northampton. We also established a presence in South Wales, which naturally grew into Birmingham and the Midlands as well. Today, we have multiple depots across the country, which is predominately due to organic growth.
"In addition to the core mobile crane rental part of the business, we have built a number of specialist support divisions to further enhance our overall service offering to our clients, including plant and mechanical movement, heavy crane and engineering, heavy goods vehicles, and our training centre.
"Today the company trades throughout the UK, and into Europe. We've reached a number of key milestones in terms of turnover over the last few years. For example, back in 2014, we reached a £16 million turnover, rising to around £30 million in 2019. We've managed to increase that even further over the last financial year, reaching £38 million in 2021.
"The business has seen substantial growth over the last 15 years. There have been some difficult times along the way, but the main business has grown exponentially and organically over that period."
Now a multi-generational family business, King Lifting is managed and operated by experienced leaders in the construction and civil engineering sectors. "There are a lot of great people behind the King Lifting operation, and whilst the day to day running of the business is controlled by the King family, it is very clear that our continued success is due to the ongoing commitment and loyalty from our employees.
Working as a family means that the people within King Lifting all share a common goal. The company is dedicated to serving its clients to the highest levels, as Tristan confirms: "Our business is very much focused and built on the customer service element of what we do. When we are given an opportunity, we always ensure to deliver a solution that meets our clients' requirements. Our staff across all divisions work consistently to exceed our client's expectations, and that means when our loyal customers move onto their next project with a positive impression of King Lifting, we enjoy repeat business and further build relationships.
"We have built a lot of relationships with our clients in the construction and civil engineering industries this way, and this has contributed to our success overall. We are very good at adapting to our clients' changing requirements in a short time scale and have built the supporting operating systems to enable the business to communicate the changes whilst ensuring King Lifting delivers and exceeds our clients' needs.
"We commit to a project and deliver reliable services every time. I really think that consistency is one of the things that sets us apart. We have an ethos that means we never say no and will always endeavour to find a workable solution. Our clients trust us and our ability to provide them with a reliable service whilst maintaining the highest levels of health and safety."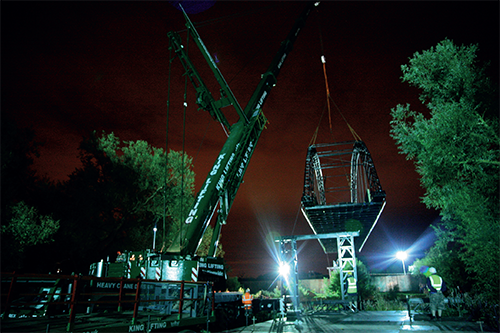 Having such a strong working culture also means that King Lifting is able to offer a variety of services, from crane hire to engineering and design support. "Our range of services extends from 1.5-ton spider cranes to mobile cranes up to 1000 tons. We operate 128 mobile cranes in our fleet across the UK, supported by our heavy transport fleet and contract lifting teams.
"We also offer a wide range of services through our plant and mechanical installation division, where we install packaged mechanical equipment, data centres, and heavy industrial presses, along with carrying out factory relocations.
"Additionally, our training division offers CPCS training both internally and externally, covering categories that are relevant to the fields in which we operate. By operating this department, this further helps the business with its commitment to train and develop existing employees whilst also allowing the business to support local communities with new employment."
King Lifting also has a depth of knowledge in contract lifting, engineering, CAD bespoke software, design, and illustration.
"I think the depth of expertise is one of the things that makes us successful in today's market, as clients engage with King Lifting due to our ability to offer the highest levels of technical support whilst utilising the latest bespoke planning software, demonstrating how works will be completed safely. Being able to provide that back office, data-based support goes a long way in elevating the overall service that we provide," Tristan discusses.
King Lifting is known for offering the most advanced, sustainable, and efficient equipment to its clients. The company works closely with specialist crane manufacturer, Liebherr Cranes, to ensure a consistent level of quality.
"We have had a strong working relationship with Liebherr Cranes since 2014. They are our preferred supplier of cranes, and the partnership has been very beneficial for both parties, as Liebherr is known for being the market leader in mobile crane technology.
"Our relationship with Liebherr supports our continual growth and development plan and our vision to operate the youngest fleet of cranes in the market. This further strengthens King Lifting's environmental policy and its commitment to continually reduce its carbon footprint," states Tristan.
King Lifting will continue to make strategic and sustainable investments in both equipment and people, further enhancing its market position. As it continues to see success, the company will no doubt remain on its impressive trajectory.
"It's an exciting time for King Lifting at the moment. We will be focusing on acquisitions in order to accelerate growth, and we will of course continue to foster organic expansion alongside that. Over the next few years we would like to grow the business further in Europe, and establish a greater geographical footprint overall in the UK," Tristan concludes.
King Lifting
www.kinglifting.co.uk
Services: Crane hire, contract lifting, machinery and plant movement, transport services, and training