King Lifting is the UK's leading provider of cranes and lifting equipment
Lifting expectations
King Lifting is the UK's leading provider of cranes and lifting equipment
Established in 1982 by current Managing Director Bob King, King Lifting is a family business that has remained true to its founder's vision of being an independent crane hire company that offers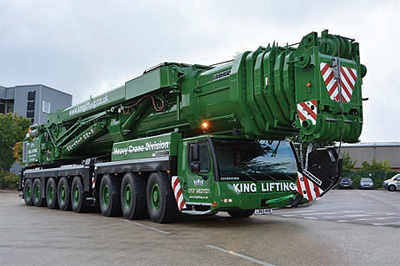 customers optimum quality, service and value for money over the last three decades. This commitment to delivering professionalism and a complete project managed solution for its customers' machinery movement and installation requirements has resulted in King Lifting achieving steady growth since its inception and, more notably, significant success over the last five years.
"The business began in a branch in Bristol some 35 years ago and has since expanded via a network of depots and throughout the UK. These are located in Birmingham, Cardiff, East and West London, Southampton, Swindon and Yeovil," says Tristan King, Director at King Lifting. "We have also naturally grown our fleet of mobile cranes to 106 and broken King Lifting down into divisions; these consist of crane hire/contract lifting, heavy crane/project engineering, telecommunication logistics and plant & mechanical movement. Structure wise I manage the first three, with my brother Kieron King taking care of plant & mechanical movement. As far as crane hire and contract lifting goes, we offer a service where we manage a lifting operation from start to finish for the client. For those seeking crane hire, we have the youngest fleet of mobile cranes on the market, with an average age of 4.8 years, which means we can offer reliability of service thanks to the high quality of our equipment. The telecommunications market is based around upgrading existing networks for the likes of Eriksson, Huawei and Vodafone; the next big launch will be 5G, which we are still waiting on a definitive timeline on."
Benefiting from specialist knowledge that enables it to provide a one-stop-shop solution to customers in the telecommunications division, King Lifting utilises its modern fleet of cranes from several depots to guarantee that a King Lifting crane is available to any location in its area of coverage. For those in the sector requiring a solution, the company can offer managed or non-managed services, traffic, pedestrian and drop zone management solutions and the latest CSD and 3D planning facilities. Other services include full support of installation, commissioning and maintenance of communication equipment and all terrain 4×4 remote site team equipment storage, transportation and deployment.
For those seeking plant & machinery movement, King Lifting offers safe, practical and efficient solutions that ensure downtime and inconvenience is minimised. Services in this segment include machine and factory relocations, plant and machinery installations, plant assembly and protective covering, industrial dismantling, transport and storage and contract lifting. Further strengthening operations in these segments is the company's modern, technologically advanced heavy crane fleet, which are reliable, modern and readily available for those seeking contract lifting and crane hire.
No stranger to investment in the business, King Lifting continuously acquires new machinery and invests in its people to ensure high standards of safety and reliability. New products introduced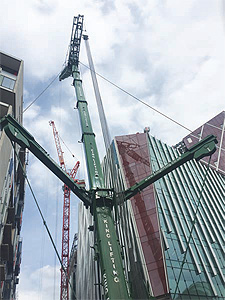 to the company's portfolio include mobile cranes, mobile tower cranes, mini crawler cranes and specialised lifting equipment. "In 2016 we invested in ten Leibherr cranes, with a further six this year and another three to come. We have also got another strategy where we take another 12 cranes from 2018 to 2019. In terms of plant, we have two chosen manufacturers, Demag and Leibherr, with 70 per cent of the fleet comprised of Demag and the rest Leibherr. These two companies are our chosen partners because of the support structure they have in the UK and the quality of the product we purchase," says Tristan.
This ongoing commitment to delivering the best possible solution to customers via modern machinery and an expert service has cemented King Lifting's reputation in a number of growing markets such as construction and infrastructure and has thus led to an increase in demand from a diverse range of clients. "We not only serve customers in the construction and infrastructure markets, but also serve the renewable sector, which involves wind turbines and erection maintenance as well as solar farms. Other markets include the oil & gas and petrochemical market, the private sector and the house building market, which has been very buoyant. Rail is another big sector for us and our heavy cranes and we also work a lot installing the overhead gantries and signage on various motorway networks across the UK," says Tristan.
Elaborating on the company's success over recent years, he continues: "There are three fundamental factors for our growth, one is health & safety and environmental policies, the second is the quality of kit and equipment that we provide, and the third is the trust and satisfaction of the service that we give to customers by delivering on time, on budget and with the relevant resources and personnel assigned to deliver that. In 2013 we had a turnover of £13.8 million and for the financial year of 2017 to 2018 we will have a turnover of £32 million."
With a steady year of growth ahead of it despite a slowdown in the market, King Lifting anticipates an increase in demand over the coming years as major projects get the green light and the company takes advantage of upcoming opportunities in the market. "We have to adapt to the market as and when it changes and continue with our growth strategy to ensure we sustain this level of success," concludes Tristan.
King Lifting
Services: Cranes and lifting equipment