KLH UK is at the forefront of driving the construction industry into a new age, and by building up a strong reputation across new markets, it looks set to achieve a future defined by growth and success
Changing perceptions
KLH UK is at the forefront of driving the construction industry into a new age, and by building up a strong reputation across new markets, it looks set to achieve a future defined by growth and success
Operating as a subsidiary of Austrian KLH Massivholz GmBH, KLH UK was founded in 2005 and specialises in offering a full design, supply and installation service for cross-laminated timber (CLT) construction. When Construction and Civil Engineering last featured the company back in June 2014, it was enjoying success in the educational industry having built up a strong portfolio of schools and colleges across the country. Looking forward it saw potential growth opportunities in student accommodation and residential markets.
KLH UK is a unique company within the UK CLT industry, and this is where its strengths lay. "We are the only CLT provider in the UK who is actually a manufacturer as well," managing director,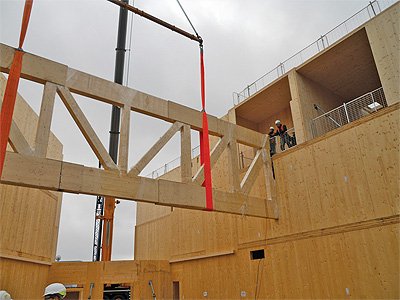 Nic Clark explains. "We have the ability to liaise with the factory, which brings financial benefits, and the ability to create specific sizes with increased efficiency." In addition to this, by being a one-stop-shop in terms of the services it provides, a client has the ability to reduce the number of contracts it takes on within the construction process.
Today, business for KLH UK is looking up. Nic tells Construction and Civil Engineering: "The market is improving from an enquiry point of view. We're not too dependent upon labour because it's an offsite-manufactured product, so the squeeze on labour within the industry isn't really affecting us. We have a well established supply chain and we've briefed it on how the year is looking so that we have some commitments on labour and resources." With markets in multi-family residential and student accommodation bringing an increasing amount of enquiries, there is a positive outlook for the future of the company.
However, moving into new markets can pose challenges to any business. Most significantly for KHL UK is the current perception of using timber as the main construction component. The perception is that timber poses a potential fire risk, particularly during the construction process. As Nic points out: "The reality is that whilst we acknowledge the risk, it can be managed and mitigated. Ultimately, by using timber neighbouring areas would end up with a much quicker, quieter, less dusty and disruptive build process." The perception can also cause problems when it comes to mortgage providers, insurers and NHBC's, so bringing these stakeholders on board is crucial to changing the perception. Building a reputation within the markets will also help change perceptions; a successful and strong portfolio of builds within the education sector has proved that this is possible.
Having mitigated perceived risks, the benefits of using CLT are in great in number. Timber is a more sustainable and ecologically friendly building material. It has a greater freedom for architectural implementation and can reduce on-site building time and therefore costs. As well as this, being manufactured off-site can make building sites much more manageable where traditional building methods are highly susceptible to a number ofvariables. KHL UK stands by its assertion that CLT is the future of construction, with the flexibility, adaptability and quality it provides, and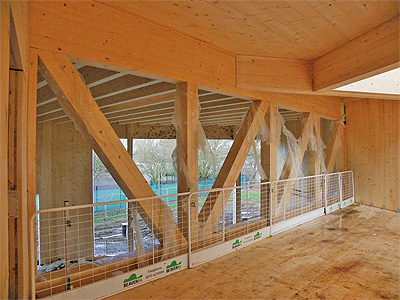 serves to prove this through pioneering high-profile projects. Most notably is Stadthus apartments in Hackney, a nine storey high-rise building consisting of 29 apartments, which was completed in 2009 after a build period of only seven weeks. The building stands as a pioneer for timber residential towers building across the world.
The company's reputation is very important to its success and future growth. As part of this it recently completed a project for Kier Eastern to build the Peterborough University Technical College. The project was completed within programme, and delivered to a high standard for a happy client. "It was a very successful project," expresses Nic, and demonstrated the company's ability to overcome major construction challenges, as it had to install a 6.5 tonne mega-truss requiring the use of 200 tonne crane.
Looking forward, Nic is positive about the company's growth, yet remains aware of some of thepotential challenges it will face. "I think we will naturally see revenues lift because of the amount of enquiries we are getting, and where our focus needs to be is on trying to lift our margins as this happens," he says. "Additionally, as space in London is becoming less and less, the logistical challenges facing CLT construction in the city are increasing, so we have to be on top of the work we do in tight spaces. Also, as the industry begins to pick up, trying to get hold of good staff as we grow is going to be a challenge, particularly from a professional point of view."
By remaining aware of the potential challenges in the industry, KLH UK is in a good position to put procedures in place to manage them. Crucially with more and more markets turning towards CLT, maintaining a strong reputation and adaptable service is central to the company making the most of new opportunities in order to achieve growth.
KLH UK
Services: Timber construction