As it approaches its 40th anniversary next year, Knight Group continues to prove why it's a leading contractor in the south east
From the ground up
As it approaches its 40th anniversary next year, Knight Group continues to prove why it's a leading contractor in the south east
Since 1977, Knight Group has evolved to become a sector-leading contractor serving the UK's south eastern counties from its base in Essex. Employing over 400 people and turning over in excess of £50 million, the firm approaches business with client satisfaction as its core principle. The company specifically focuses on groundworks, civil engineering, reinforced concrete and remediation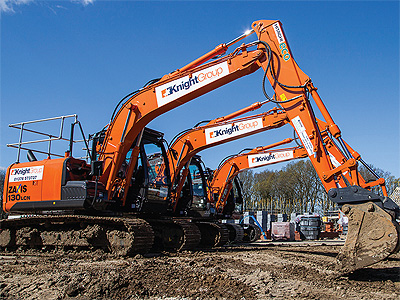 works, and holds a wealth of accreditation, including approval from the Essex, Kent, Suffolk, Cambridgeshire and Hertfordshire Highway's agencies, as well as a large fleet of owned plant.
It is this dedicated commitment towards its fully CSCS trained workforce and extensive fleet of equipment, that has helped Knight Group position itself in front of major blue-chip clients, including the likes of Morgan Sindall, Bellway and Countryside across the south eastern region. Forged through principled working relationships and strong communication, long-standing client partnerships and repeat business have defined the company's success to date, as have its ever concentrated efforts on delivering projects on time, on budget and to a high standard.
Knight Group's consistency of service extends right through the build process from budgetary discussions and planning to construction and handover to ensure that it can deliver the best quality and cost effective solutions. Adopting an adaptable and proactive approach to all works, the firm assures clients of its full support throughout any challenge and change in demand.
Over the years, Knight Group has developed a proven track record for delivering projects varying in size from £50,000 to £15 million across all sectors and for a range of clients. Four decades ago, it all started with its groundworks division, which today forms the backbone of many of its projects with piling, foundations, substructures, drainage, service installation and external work services all appearing as key competencies within its portfolio. The structures business quickly followed to answer its clients' calls for an integrated approach, and today with high-rise concrete frames, transfer slabs, basement construction and retaining wall services, Knight Group is able to provide the best value and speed of construction.
Further complementing this integrated service capability is its expertise in civils work, which includes everything from roads and sewers, to pumping stations, ditches and bridges. With the appropriate qualifications in place across its Highways team, Knight Group has gained extensive experience delivering everything required to build a civils programme such as providing and maintaining traffic management, surfacing, traffic signals, street lighting and drainage improvements.
With a solid background already positioned within groundworks, it only seems right that the company is able to deliver extensive environmental services from ground remediation, earthworks and ground remodelling to demolition, site clearance, and crushing and recycling. Backing this extensive range of services up is a dedicated in-house fleet of plant, which features in excess of 1000 items from small breakers to 35- tonne tracked excavators.
Taking all of this experience into account, Knight Group pridesitself on building its strongestpartnerships when it is given the rein to employ its full range of services to a project. With its consulting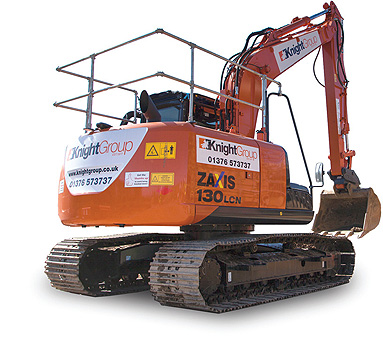 arm, the business looks to cement this by offering free consulting advice to key clients at land bid and appraisal stages in order to propose the most appropriate single or combined package bids.
One significant and ongoing partnership that perfectly demonstrates this full-service approach is that with Barking Riverside Ltd and Bellway Homes Essex. Currently worth in excess of £30 million, Knight Group has successfully secured and completed a number of separate contracts for the clients, including earthworks, new infrastructure, RC frame construction, groundworks and external works as part of a new 443-acre redevelopment programme in Barking. The overallscheme has planning permission for 10,800 new homes, public open spaces and community amenities including schools, places of worship, healthcarefacilities and social enterprise units, and presents a significant amount of opportunity for Knight Group. Given its natural riverside setting a number of environmental measures have been incorporated into the project to protect local wildlife, adherence to which will undoubtedly feature in selection criteria.
Amongst other recent projects is a £2.5 million basement construction and five-storey RC frame, plus all associated groundworks for Telford Homes plc in London. Representing the company's value for long-standing client relationships, this project builds on previous work with the customer, such as a £4 million contract at Bartlett Park in Poplar, not far from the City of London.Here, the work carried out included groundworks, two tenstorey RC frames, drainage and high specification external works.
Further examples include an extensive piling, infrastructure,remediation and groundworks contract worth £9 million for Barratts Eastern Counties in Hawkwell, Essex, and a complex river wall reconstruction programme, also worth £9 million for same client in Colchester. The latter demanded a high levelof competence to install sheet piling, tie rods, anchor wall piling, timber fenders, RC capping beam works, river walkway externals and lighting as part of a development for eight large apartment blocks.
It's a truly vast range of expertise and skills to be held and demonstrated on a consistent basis for a regional contractor, and as such illustrates just why Knight Group is able to occupy its leading position in the region. As it approaches its 40th anniversary in 2017, the future for Knight Group is very much defined by more of the same high quality work and development of longstanding client relationships. To celebrate the occasion and to embed its reputation even further into the local soil, the company is currently undergoing a major rebranding programme intended to highlight the range of services provided by the team and to portray an image more in keeping with its current management and philosophy. Careful planning will ensure that as the rebranding of fleet and equipment rolls out over the coming months, no adverse delays will impact on ongoing works and client relationships
Knight Group
Services: Essex-based contractor