Simultaneously a trademark and the name of a group of companies specialising in the construction of high-quality housing, Kodumaja AS has been focused on employing an effective and future-orientated construction method since it began operations a year after its foundation in 1995
Rising high
Simultaneously a trademark and the name of a group of companies specialising in the construction of high-quality housing, Kodumaja AS has been focused on employing an effective and future-orientated construction method since it began operations a year after its foundation in 1995
The largest companies in the group are KM Element OU and Kodumajatehase AS, both of which focus on the design and construction of prefabricated wooden frame buildings. However, all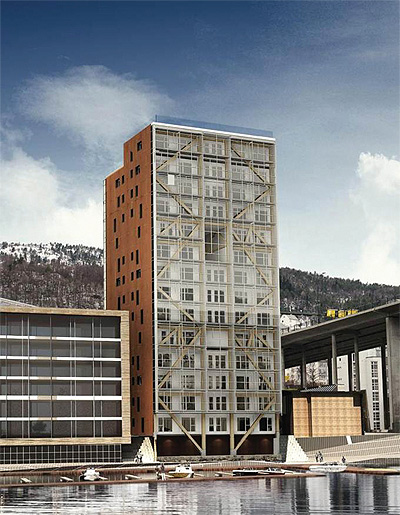 companies that are part of Kodumaja work in close co-operation, sharing their specialist skills to unite in the group's ambition of becoming a European leader in its field.
Conforming to the construction requirements and standards within its strategic markets, the group has manufactured and built a total of 5295 apartments and houses as of September 2014. Proud to be building homes for satisfied customers, the company builds from prefabricated modules that have been pre-assembled in its factory; since this sort of module is a closed element, work that can be completed at the factory includes the mounting of all doors and windows, up to 95 per cent of the interior finish in the rooms (including the installation of floor coverings and ceramic tiles) as well as the majority of exterior finishing works. Furthermore, all piping and cable systems within the prefab module, such as electricity, sewage, communications, ventilation, security alarm, TV and fire sprinkler system can be completed in the factory, in addition to the installation of all bathroom fixtures and kitchen and bathroom furniture.
The dimensions of Kodumaja prefab modules, which have a typical weight of between eight and 16 tonnes, are at a width of up to 5.3 metres, a length of up to 14.5 metres and a height of up to 4.5 metres. Once constructed, these factory-produced prefab modules are transported by either truck or ship to a construction site before they are mounted on a foundation to create a single building. A building can consist of several prefab modules, but as a rule individual houses can have between two to four, while multi-storey buildings can have ten or more, with no limitations. Taking between 20-60 minutes to mount one prefab module on a completed foundation, Kodumaja's site team can mount 15-30 prefab modules for multi-storey houses in a day.
By specialising in housing construction created from prefabricated modules, Kodumaja can provide its customers with more flexibility in project implementation as well as the integration of their requirements. Moreover, customer feedback has shown that clients prefer Kodumaja due to the competitive price/quality ratio of its products as well as its ability to be more flexible in accommodating the wishes/requirements of both customers and their architects.
In addition, as regulations for the energy efficiency of buildings and thermal insulation have become increasingly stricter over recent years, and are anticipated become even more stringent, Kodumaja actively co-operates with the Energy-Efficient Building Core Laboratory of the University of Tartu and many other leading consultancy companies and building research institutes in Scandinavian countries to find solutions for the energy efficiency issues that affect buildings.
These advantages are available to customers thanks to the company's impressive manufacturing conditions, which enable it to deliver a high quality, cost effective product; its efficient construction method and technology, which minimises construction time and cuts costs; its long-term experience of developing a flexible service for customers as well as its impressively designed, tried and tested structural and technical solutions, which ensure compliance to the most stringent standards, as well as robustness, long-term durability and low maintenance costs.
This commitment to delivering the best possible solution resulted in Kodumaja signing a contract with Bergen and Environs Housing Co-operative (BOB) Eiendomsutvikling AS to build the world's tallest timber building in Bergen, Norway in June 2014. The 14-storey high building, known as the The Tree, is a pilot project to show how to construct housing in urban areas with high amounts of land utilisation, while also choosing materials that will meet future requirements for green building gas emissions and sustainability. The Tree's load-bearing structures are made of glue laminated wood, while the apartments are to be built as modules that are stacked in four floors, with two platforms on the fifth and tenth floors. It will be built in co-operation with Artec Prosjekt Team AS, Sweco AS, Strand AS and Moelven Limtre AS.
With export amounting to more than 95 per cent of Kodumaja's consolidated turnover, the group has developed strategic markets in Norway, which took a huge 79.5 per cent of the group's total summarised consolidated turnover during the period of 1996 until the end of 2013; Denmark (9.5 per cent), Estonia(4.7 per cent), Finland (3.2 per cent), (Sweden 2.0 per cent) and others (1.1 per cent). However, between 2011 and 2013, Kodumaja has witnessed increased demand in Denmark, with 10.6 per cent of the total summarised consolidated turnover, and Sweden, with 3.3 per cent.
Keen to further diversify its sales between these strategic markets while also maintaining its vast market share in Norway, the group will increase its focus on winning a larger share in Denmark and Sweden over the coming years. Furthermore, the group will look out for available opportunities, suitable partners and innovative projects to take the necessary steps into new markets.
Kodumaja AS
Services: House Builder