With a proven reputation in Norway, Kodumaja looks to Sweden in order to expand its success
Strong & steady
With a proven reputation in Norway, Kodumaja looks to Sweden in order to expand its success
Over the last 20 years Kodumaja AS has risen to become a major Estonian manufacturer of prefabricated modular construction units operating across Scandinavia, having produced close to 5500 units in that time. With about 95 per cent of construction occurring outside of Estonia, it has established itself as a major exporter in the Estonian economy. Of this, 88 per cent of all activity occurs in Norway. Under the trademark of Kodumaja, the business's group of companies specialise in construction, design and real estate development. The company's mission is to create userfriendly living environments with high-quality construction products and services, and uses its strengths in prefabricated construction to meet individual customer needs with minimal on-site construction times.
Kodumaja's manufacturing process takes place at its factories in Estonia. Within this environment, variables like weather conditions, which can cause timing and material issues on traditional
construction sites, are eliminated. As a result the manufacture of modules is done in a controlled way by an experienced work force. Thus, the construction process is a much more time, and therefore cost, efficient process. As its prefabricated modules are closed elements, most work on the units can be completed in-house. All doors and windows are fitted in the facility, and 95 per cent of the interior finish is completed including all internal plumbing and electrics. The nature of this construction process allows the units to be shipped straight to site upon completion. Once there, they can be immediately unloaded onto pre-constructed foundations in quick succession. In general it takes between 20-60 minutes to install one individual module, translating to 15-30 modules per day, making the onsite construction quick and efficient.
Other advantages to the modular building strategy is its versatility in terms of size; a building can consist of anything from two to four modules for individual houses, whilst multi-storey building can have ten or more, theoretically being unlimited. Quality and customer satisfaction sit at the heart of the company's operations, and the market reputation it has built up in Norway alone testifies to this.
A long-term goal for the company is to be leader in its field across Europe. Since Construction and Civil Engineering last featured Kodumaja back in September 2014, the company has taken two significant steps towards achieving this goal. Firstly, is its involvement in building the world's tallest timber building in Bergen, Norway, which is its completion phase, and secondly its expansion into the Swedish market.
The building, named Treet, will be 14 floors and 51 metres high and will include 62 apartments built by Kodumaja. The project, ordered by BOB Eiendomsutvikling AS, has been undertaken in partnership with a number of Norwegian company and, as chairman of Kodumaja, Lembit Lump, explained: "We consider working with partners from a very early point as the best way in order to get the most efficient and best possible final result." The project represents a move towards future green building regulations using sustainable materials to build in urban environments. Apartments and facilities are framed in a load bearing structure made fromglue-laminated wood. The recordbreaking innovation of the project puts Kodumaja at the forefront of the construction industry, and will stand as a significant testament to the quality and applicability of its products. Furthermore, it serves to demonstrate the speed advantage of prefabricated modules, which can reduce onsite construction times and therefore production costs.
This reputation is key to the future success of Kodumaja. Looking towards expansion into Sweden Lembit emphasises: "We are trying to proceed step-by-step, to get and build projects that we can use as references to win the trust of new customers. We understand that this can be relatively slow, but it is firm at the same time. From our experience we know that it is better to be able to show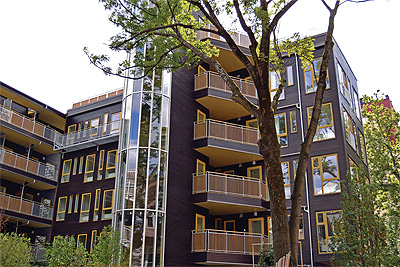 good examples, which can be trusted, rather than talking too much." To facilitate the move into Sweden, the company has set up a daughter company, KM Sverige AB. "This should be ready to take responsibility as a main contractor or project manager for Swedish developers/ local authorities who want to develop living areas," says Lembit.
The company's considered approach to steadily build a strong portfolio is illustrated by recent activities. In 2013, assembly of a 54 apartment assisted living home in Norrtalje represented Kodumaja's first project of its kind in the country. Resulting from this was the signing of a contract to build a similar building in Handen, Sweden, late last year. The top three floors of the building will be made up of Kodumaja modules, which consist of apartments, kitchenettes and bathrooms. Whilst these early projects in Sweden are within the nursing home sector, they establish a solid precedent for the future of Kodumaja in Sweden. Lembit discusses that: "We are equally interested to build apartments for local authorities, student as well as individual residential customers." Looking ahead at the company's long-term existence in Sweden, Lembit aims towards the Swedish share of turnover amounting to a minimum of 25 per cent of Kodumaja's business.
Whilst the Swedish market occupies a significant portion of Kodumaja's current expansion plans, the company is committed to even greater expansion within the next five years. "Kodumaja companies will continue with deep specialisation in their field and all of them are united by a common ambition – to make Kodumaja a leader in its field of operations in Europe," Lembit expresses. Putting a financial lens on this objective he continues: "Consolidated yearly turnover of
Kodumaja companies should exceed 100 million euros, and this turnover will be more evenly divided between our strategic markets." Kodumaja has worked hard to build up a successful group of companies over the last two decades, and its significant presence in Norway is a sturdy product of this. By remaining focused on quality and customer satisfaction the company will be able to develop the strong and reputable portfolio it needs to win the trust of more customers in new markets. In doing so the company looks set to mirror its Norwegian success in Sweden, and future expansion across Europe looks equally promising.
Kodumaja AS
Services: Prefabricated modular construction