Driven by innovation, Komatsu Mining Germany's (KMG) success as a leading manufacturer of large hydraulic mining shovels stems from its ability to listen to the needs of its customers and adapt to market demand
Inside scoop
Driven by innovation, Komatsu Mining Germany's (KMG) success as a leading manufacturer of large hydraulic mining shovels stems from its ability to listen to the needs of its customers and adapt to market demand
With a history dating as far back as 1907, the Dusseldorf headquartered Komatsu Mining Germany GmbH (KMG) was officially established as Demag Komatsu, a joint venture between Mannesman Demag and Komatsu Ltd Japan, in 1996 to develop, manufacture and market large hydraulic mining shovels. "As a division of the worldwide business player Komatsu Limited (KLTD) of Japan, KMG is part of the mining business unit, and mother plant for super large hydraulic excavators. With more than 39,000 employees worldwide KLTD have design and develop centres in Germany and Japan to develop the products and technologies for tomorrow. Komatsu is responsible for the development, production and marketing of super large excavators for international open pit mining. The brand KMG is a worldwide synonym for top quality, achieved through continuous product development and innovation combined with reliability," begins Jens Klopmeier, manager of product marketing, planning and application at KMG.
Since it was renamed and reregistered as Komatsu Mining Germany in 1999, the same year Komatsu took full control, the company has witnessed steady growth. Notable developments include the company's shovels being re-identified with its parent company's PC series and super shovel designation to compliment Komatsu's existing excavator range in 2000; the delivery of the 50th PC 8000 super large hydraulic mining shovel to a customer in Brazil in 2005 and the 100th PC8000 in 2013 to a customer in the United States. Moreover, the innovative firm presented the first PC5500 with a Tier II EPA engine at the MINExpo in Las Vegas in 2008 and later redesigned its whole product line to fulfil Tier II requirements in 2012.
Aiming to design and produce machines with optimal productivity, low running costs and reliability, KMG and its parent firm's product range includes, 15-16 m3 buckets, which are used on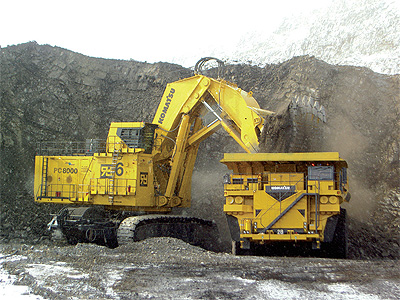 PC3000 hydraulic excavators, 22 m3 buckets, which are used on PC4000s, 29 m3 buckets, which attach to PC5500s and 42 m3 buckets, which attach to PC8000s. Keen to ensure its products are environmentally friendly, Komatsu's engines meet international emission regulations, while extended oil change and filter replacement intervals minimise damage to the environment. Engines are available in either single or twin drive, depending on the size of the hydraulic mining shovels and offer fuel tank capacity that is sufficient for continuous operations of 24 hours. Another option is electric driven machines, with 6600/7200 V and 50/60 Hz motors available; the optimised electrical design meets all international standards and the squirrel cage motor offers a soft start function.
Depending on a customer's mine set up, KMG has a front shovel attachment and backhoe attachment available as well as a broad selection of buckets to meet all requirements. On top of this, KMG delivers large, comfortable and safe cabs for operators thanks to an integrated FOPS structure in accordance with ISO 3449, an internal floor area of approximately 4.2 m2, large impact resistant windows, a pressurised cab to prevent dust admissions and cab noise levels between 74 and 77 dB(A) in accordance with ISO 63096. The cabs also offer whole body shock absorption in line with the standards of EN ISO 7096, cab heating and air conditioning and a comfortable multi-functional operator seat with internal heating.
"KMG's shovels are working all over the world, operating day and nightunder the toughest of conditions. Currently, the product portfolioconsists of four different shovel types with operating weights between 250 metric tons and 760 metric tons. Depending on the shovel size bucket capacity varies from 15m³ to 42m³. Principally, a customer can choose betweena diesel or electro drive as wellas between a backhoe or a front shovel attachment. Besides our standard scope of supply we offer a variety of tailor made solutions," explains Jens.
Committed to continuous product improvements, Jens notes that the company recently redeveloped and relaunched the PC4000 super-shovel: "The updated PC4000 boasts a numberof new features and design changes to improve its reliability and productivity. For example, the electrical system has been completely revised and simplified using a 'lowest cost-per-ton approach', reducing the number of electrical parts like controllers, relays and circuit breakers by up to 59 per cent.
"The choice of technology used in the PC4000 has been driven for further reduction in downtimeand increased availability while not neglecting quality and serviceability. The new PC4000 has additionalimprovements such as hose routingfor reduced wear and longer life leading to lower cost andimproved uptime. With the latest PC4000 model a new generation of KomtraxPlus, Komatsu's remote condition and health monitoring system, was launched. New features as well as additional data storage allows instant monitoring of the machines condition and performance." Data is directly transferred via the ORBCOM system, which allows for a better schedule of maintenance and operation. In addition, the remote diagnostic functionality is easily integrated into additional tools such as Modular Mining's MineCare system, for long-term analysis.
Key to the ongoing growth of KMG is its constant drive to develop world-leading equipment for the mining andconstruction industries through working closely with clients and supporting customer efforts to reduce costs while improving performance. "One of Komatsu's key aspects is the DANTOTSU philosophy which means that Komatsu always wants to have a superior product available for its customers," says Jens. "Since 2012, the mining industry has been experiencing a decrease in commodity prices. As a result of this miners are looking for opportunities on how to reduce cost or increase their production in order to achieve stable revenues. Either way miners choose to go, we are able to support them. For us at Komatsu, we have the understanding of being a partner rather than a supplier. Our distributors have created a culture of customer support, through both knowledge and experience, supported by a senior management team that cares. The quality of our personnel isevident to support mine sites around the world to reduce MTTR and increase machine availabilities as well as MTBF."
Keen to provide solutions and services to mine site owners and support their business, KMG will continue to use its innovative strength to provide further value through adaptation of its business model and the development of cutting edge technology, as Jens concludes: "By facing the difficulties our customers have we can better understand how to adjust our products and services to our partner's requirements."
Komatsu Mining Germany
Services: Manufacturer of large hydraulic shovels