Kone is the global leader in the lift and escalator industry, providing an extensive range of industry-leading lifts, escalators, passenger conveyors and industrial and automatic building doors, as well as innovative solutions for modernisation and maintenance
Go with the flow
Kone is the global leader in the lift and escalator industry, providing an extensive range of industry-leading lifts, escalators, passenger conveyors and industrial and automatic building doors, as well as innovative solutions for modernisation and maintenance
Founded in 1910 the company remains dedicated to providing the best 'People Flow' experience by developing and delivering solutions that enable people to move smoothly, safely and in comfort, and without any waiting in buildings in an increasingly urbanised environment.
The company is committed to understanding and implementing the needs of its customers such as builders, building owners, facility managers, and developers across a range of industry sectors including residential buildings, hotels, office and retail buildings, medical buildings, leisure and education centres, infrastructure, and medical facilities. Presently KONE operates through more than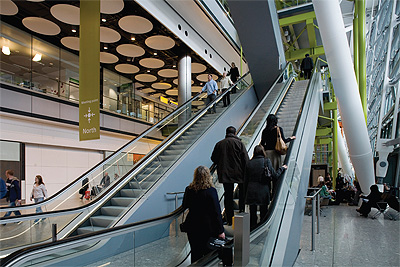 1000 offices worldwide, spanning around 50 countries. It has seven global production sites, eight global R&D centres and authorised distributors in its key market areas, giving it the ability to serve thousands of clients across the globe.
In the UK, KONE Great Britain provides the full range of lifts, escalators and autowalks, doors, maintenance and modernisation services in the KONE portfolio. In keeping with the KONE vision the business is responsible for delivering a performance edge to its customers through the creation of the best user experience gained from 'People Flow' solutions. As a leader in its field the company has been involved with many prestigious projects in the UK, including The Shard, 122 Leadenhall Street, 20 Fenchurch Street, Cannon Place, 30 St Mary Axe and Broadgate and 201 Bishopgate buildings, Emirates Stadium, Brunel University, Citigroup, The Co-operative Group HQ, The Jubilee Line Extension, St. Georges Wharf and Heathrow Aiprort Terminal 5 & 2.
The latter work at London Heathrow airport has been a significant and lengthy range of projects for KONE, which has been working at the site since 1990. The business was involved in the construction and development of Terminal 5, providing autowalks, escalators and lift solutions. The main building, T5A, consists of eight levels under a single span roof making the logistics of effectively transporting up to 30 million passengers per year a considerable challenge, and calling for an innovative mix of lifts, escalators and autowalks that would enable passengers to traverse the complex in an intuitive manner. Using its 'People Flow' approach, KONE provided 103 escalators, 54 lifts and three autowalks in T5A and T5B, successfully delivering and installing everything on time and fully operational.
Following this KONE was awarded a five-year contract for all five terminals at Heathrow Airport in 2001, work that encompassed more than 700 units of lifts, escalators and moving walkways. The contract included work at the T2B satellite building to Heathrow's Terminal 2, which opened in 2014, and involved the supply of 40 lifts, 18 escalators and 12 autowalks.
More recently, in 2014 the company secured a five year extension to this contract to maintain equipment for people and goods movement at all Heathrow Airport terminals, meaning that KONE will ultimately be responsible for the smooth and efficient flow of around 72 million passengers per year at the airport. The contract extension highlights Heathrow Airport's recognition of KONE as a service provider of choice, selecting the company due to it consistently delivering and excellent people flow experience for passengers and a 99.7 per cent equipment availability rate.
Speaking at the time of this development Michael Williams, managing director for KONE in Great Britain said: "I am proud that our long-term partnership with Heathrow Airport continues. It is a magnificent achievement to be awarded the contract to maintain all the equipment. Heathrow is internationally renowned for being one of the busiest transportation hubs in the world. To be assigned the service provider of choice and to help passengers move around efficiently and comfortably is a huge credit to our team."
The business is well renowned for its work at UK airports, with the KONE name being synonymous with quality and innovation in moving people efficiently and effectively. In addition to its work at Heathrow Airport the business has completed a series of projects at Gatwick Airport, most recently (December 2014) securing a four-year contract to maintain its lifts, escalators and autowalks. KONE will be responsible for providing around-the-clock maintenance service as well as being Gatwick's modernisation partner for associated equipment.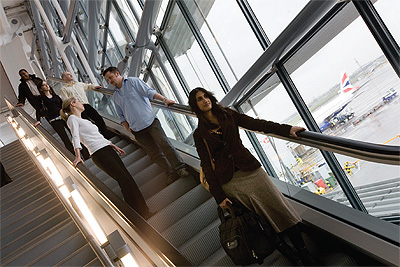 The company's ongoing success relies on its dedication to moving people in an innovative and highly effective manner. Its products are industry leading and eco-efficient, providing best-in-class solutions for customers. Its escalators and autowalks for example set the standard for eco-efficiency, safety and visual design, providing high quality and reliability combined with a low total cost of ownership. As they are tailored for each individual client requirement they are idea for any number of applications.
For KONE, innovation is key and this was recently recognised when business magazine Forbes named the company as one of the world's most innovative companies. In summer last year KONE was ranked 42nd out of the top 100 most innovative companies in the world, and was ranked sixth of all European companies listed. It was also the only lift and escalator company features on Forbes' list. Since its inception the company has been at the forefront of its industry with a number of 'firsts', including in 1996 when it was the first company to introduce machine-room-less lifts More recently it has developed high-rise lift-hoisting technology, KONE UltraRope, which will enable lifts to travel heights up to one kilometre – twice the current possible distance.
"It's a great honour to be recognised among the world's most innovative companies for a fourth consecutive year," said Henrik Ehrnrooth president and CEO of KONE Corporation. "Innovation and technological advancement have been at the core of our company for decades and will continue to be moving forward."
Indeed, moving forward there is little doubt of continuing success for KONE. The business remains entirely dedicated to innovative methods of ensuring effective 'People Flow'. The company understands the importance of ensuring that people are able to move smoothly and efficiently and through continued development it will strive to make the elevator or escalator ride as safe, comfortable and efficient as possible for users all over the world.
Kone
Services: Lift and escalator manufacturer