Founded by Keith Bell in 1967, KW Bell Group now encapsulates a number of distinct organisations that together make it an expert in housing developments and construction
Laying the foundations for the future
Founded by Keith Bell in 1967, KW Bell Group now encapsulates a number of distinct organisations that together make it an expert in housing developments and construction
There was something a little bit extra special about the end of year Christmas party that KW Bell Group hosted for its employees at the end of 2017. As well as toasting another year of hard work and well-earned success, the party was also a celebration of the 50th anniversary of a business that began life through the work of a solo bricklayer and is today an organisation turning over some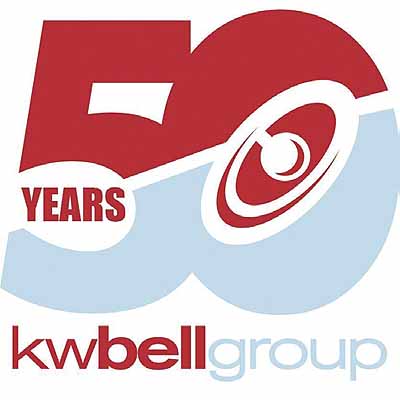 £65 million annually, with a workforce totaling some 500 men and women across its four divisions, Bell Plant, Bell Contracting, Bell Homes and Bell Partnerships.
"The 50th anniversary celebrations were the culmination of what was a very strong year for the business as a whole," begins Nicola Bird, KW Bell Group's Safety & Business Development Director. "As a part of the festivities we invited lots of past and present employees to celebrate their achievements, as well as presented our longstanding employees of 20 years or more, of which there were 76 in total, with gifts honouring their service."
For Nicola, a member of the Bell family herself and daughter of current Managing Director Peter Bell, the anniversary brought with it a great deal of nostalgia and pride. "It is amazing to think of how far the business has come since my grandfather started out as a bricklayer, and it is great that he remains involved in the business to this day," she states. "As we take the business forward I believe it is important that we do not lose sight of the values and ethics that we have built up over the years, as I see them as being a key factor in what makes KW Bell Group an individual business and I want them to remain at the heart of our activities during the next 50 years."
Funding improvements
For KW Bell Group, 2017 was another important year of investment, with the organisation ploughing over £2 million into new plant and machinery, and over £500,000 into new vehicles to assist in the growth of its house building contracting business. "This investment has been used to further the 3D modelling of the robotics that support our excavators, to increase our use of Cab dumpers, and to investigate the use of vacuum excavators as we continue to push the boundaries of the technology that we utilise onsite and increase safety," Nicola reveals. "We have also continued to heavily fund improvements in the training, development and well-being of our employees in order to ensure that as we succeed as an organisation they continue to be rewarded accordingly."
The training and development of employees, particularly those that are new to the business, is a hugely important area for Nicola, and one that is all the more relevant in 2018 as KW Bell Group, and indeed the rest of the construction industry, faces up to the effects of a major skills shortage within the UK. "For me personally, as I look ahead to what the business will be like in five-to-ten years' time, the biggest challenge that I foresee us facing is this shortage of skills coming through into the industry and it is a threat that I believe we need to be tackling right away," she explains. "One of the ways we have been doing so is through the development of our own Groundwork Apprentice Programme during the last 12-to- 18 months."
In partnership with a contracted training provider, the organisation has built complete, on-site training hubs on the site of its headquarters in Cinderford, Gloucesteshire and on a Redrow Homes site in Pentrebane, Cardiff where it can provide a complete, unique, controlled learning environment for groundwork apprentices to utilise. "These hubs provide the space necessary to build structures up to DPC standards, meaning that they can be drained, concreted and slabbed, and for partial roads to be constructed, so basically replicating the work that can be carried out on an operational working site," Nicola says. "In addition to giving us a safe environment to take the apprentices on a unique journey through the groundworks process, these hubs also allow us to actually mould our apprentices to the KW Bell Group culture. We have received great support from Redrow Homes, South Wales who have supported us throughout and have supplied us with the space on site to achieve ourobjective. We've also received sponsorship in the form of material donations for the course from Jewsons, Keyline, Bradfords, Wavin, Lapwing and Bluebay, for which I am very grateful for.
"Each apprenticeship runs for two years, and at the end of that time I will be interviewing every single one in order to ask them what direction they intend to take with their career going forward. During the course of the apprenticeship they will have the opportunity to do a role swap, where they can spend some time shadowing engineers, supervisors or directors, and we hope that this also
aids them in choosing their desired career path within the industry, which we would then look to support with the appropriate training thereafter."
Game changer
At the time of our conversation, ten apprentices were imminently due to start their two-year course in Cardiff, with a further 12 in Cinderford also taking their first steps in their respective careers. "This programme represents a real game changer for us and for our apprentices," Nicola enthuses. "We are now in the process of seeking out a permanent home for our training centre, one that will also be able to offer groundworks plant operations and exercises such as deep drainage, trench work and trench shoring. We also hope to forge links with the NHS in order to provide on-site well-being services to our apprentices."
With its new apprentices hard at work, and a new board of directors made up of both family and non-family members now in place, KW Bell Group is now working towards its goals for the next 12-to-18 months, which is to sustain the growth it has achieved in the last three years or so, while retaining the reputation it has for delivering projects safety and to the highest standards of quality.
For Nicola, sustaining this growth means creating more employment opportunities for people coming into the industry, and that will remain a focus for her into 2019. "One of the things I want to see happen is more women becoming involved in the work that we do," she adds. "I strongly believe that we have to try and tap into the 50 per cent of the population that we are not currently utilising, therefore I want to work with schools to promote this as a strong career avenue. Much like the work we are doing with our training centre, the efforts that we are making now are those that we expect to pay dividends for us in five-to-ten years' time, which I hope will be beneficial not only for ourselves, but for the industry as a whole."
KW Bell Group
Services: Construction and house building