Having started manufacturing cement itself relatively recently, Lafarge Cement – part of Aggregate Industries – is introducing a range of lower embodied carbon products, highlighting its commitment to reducing its environmental impact
Cementing its sustainable future
Having started manufacturing cement itself relatively recently, Lafarge Cement – part of Aggregate Industries – is introducing a range of lower embodied carbon products, highlighting its commitment to reducing its environmental impact
Up until 2015, Aggregate Industries was known for importing cement into the UK. It was in that year, though, that the company inherited an expertise in cement manufacturing. Following the merger between Lafarge and Holcim Group (of which Aggregate Industries has been part since 2005), the cement supplier acquired two manufacturing plants – in Cauldon, Staffordshire and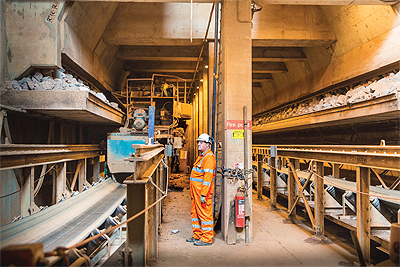 Cookstown, County Tyrone in Northern Ireland, to add to its network of import terminals. Due to its existing association with the Cauldon and Cookstown sites, Lafarge Cement was selected as the brand name to be used by Aggregate Industries for its cement manufacturing business.
"We have five import terminals across the UK – in Belfast, in Glasgow, at Ellesmere Port, in Plymouth, and in Chatham. Combining these facilities with the new manufacturing sites has enabled us to establish a strong nationwide presence that allows us to fulfil all of our own needs, while serving an external customer base, too," begins Steve Curley, Commercial Director at Lafarge Cement.
Although stepping into the world of cement manufacturing represented a completely new venture for the company, Lafarge Cement hit the ground running, making the most of its newly-acquired plants' long-standing expertise. "It is important to note that last year the Cookstown facility celebrated its 50th anniversary and in 2017, the Cauldon plant marked 60 years of operation. This goes to show that both have plenty of experience in the cement manufacturing field and the reputation they have built in the market is certainly beyond reproach. On our part, we are extremely respectful of their heritage and we fully recognise how important they have been to their respective local communities as providers of employment," Steve comments.
Carbon reduction
As part of the European Union Emissions Trading Scheme (EU ETS), Lafarge Cement's facilities are among the 14,000 installations that must monitor and report their carbon emissions. Launched in 2005 as a measure against global warming, the EU ETS is the biggest emissions trading scheme in the world, working on a 'cap and trade' principle where each installation is allocated only a certain amount of greenhouse gases it can emit. "If you go beyond that limit, you have to purchase carbon credits, in order to make up for the extra CO2 emissions your installation has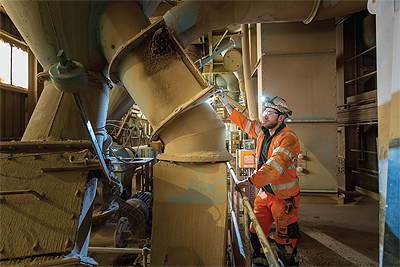 produced," explains Steve.
"One of the major challenges for everyone in our industry is that, in the past two years, the price of carbon emitted has increased almost five-fold," he continues. "As a result, we are now working tirelessly to reduce our emissions per tonne of final product and there are two ways in which we are working to achieve that.
"Firstly, we are now on a path that will see us develop our product portfolio to include products with lower embodied carbon. All cement plants produce a product called clinker, which is the raw material you use to make cement," Steve discusses. "The key point is that the amount of carbon you produce is directly linked to the amount of clinker you produce. Therefore, our idea is to blend the clinker with various other materials, so that we can use less of it per tonne of finished product."
Innovative products
Lafarge Cement's adjusted approach first featured in its hydraulic road binder TerraCem, which was launched last year. "With it, we are specifically targeting the soil stabilisation market," says Steve. "It is a blend of clinker and ground limestone which is ideally suited for this purpose. Traditionally, soil stabilisation has used clinker-only (CEM I) products, but the blended mix (CEM II) TerraCem can not only match their performance, but also offer lower embodied carbon, which makes it a more environmentally-friendly option."
Two more products – Landscape and Endure, are set to be launched by the end of 2019. Steve details their characteristics: "As the name suggests, Landscape aims to make a breakthrough in the landscaping and precast markets. Again, it is a product that mixes clinker with finely ground limestone and, just like TerraCem, it has a reduced amount of embodied carbon. Among its other benefits is its lighter colour, which means that less pigment is needed to create a coloured product; improved cohesion minimises the bleeding effect of the concrete; and it is able to facilitate an improved surface finish.
"Endure is a blend of clinker and PFA (pulverised fuel ash) and its main property is that it enhances the durability of the concrete dramatically. In addition, the product has improved resistance to sulphates in the ground, and therefore is suitable for aggressive ground conditions."
New opportunities
Together with introducing new products that have lower embodied carbon, Lafarge Cement has also taken to streamlining the overall operation of its plants as a means to keep its carbon impact within manageable levels. "Both the Cauldon and Cookstown sites have increased their use of alternative fuels. For instance, they now utilise things like chipped tyres and pelletised sewage that would otherwise go to landfill. Our intention to use alternative fuels is clear, and we continue to invest in ways to support this. This includes the establishment of a company called Geocycle to analyse waste streams and secure sources of alternative fuels," Steve reveals.
He is also keen to point out Lafarge Cement's ongoing commitment to health and safety. "We start every year with a Back to Work Day where we stop all operations across the entire company and focus on outlining our health and safety focus areas for the year ahead. This year, we will lead quarterly campaigns on each of these – in Q1 we have focused on reviewing our isolation procedures, in Q2 we are looking at our approach to risk management, while in Q3 and Q4, we will be analysing our practices regarding workplace transport, and work at height and in confined spaces. In addition, we also run a scheme called 'Healthy You' where we strive to offer any kind of support to our employees and, as of late, our efforts have been directed mainly at dealing with mental health-related issues."
The development of new infrastructure in the UK has evidently taken priority in the considerations of the Government and major businesses alike, which, for Steve, signifies the opening up of a multitude of opportunities for Lafarge Cement. "Projects like HS2, programmes around energy and nuclear new builds, as well as potential airport expansions will create a lot of demand for products like ours, as they are all projects that will require a lot of concrete and, therefore, a lot of cement. This is why we see the next few years as being bright for us and for the industry as a whole, and we are positive about the future in terms of market demand," he concludes.
Lafarge Cement
Services: Manufacture and supply of cement, GGBS, fly ash, and specialist cementitious materials