Lancaster Earthmoving specialises in bulk earthmoving and ground modelling for civil engineering projects
Grounbreaking service
Lancaster Earthmoving specialises in bulk earthmoving and ground modelling for civil engineering projects
Founded in 1988 by Ian Blything, an expert in earthmoving and the construction industry, Lancaster Earthmoving has developed a strong reputation in the civil engineering sector over the last 26 years, as managing director Steve Clarke begins: "Traditionally Lancaster Earthmoving has been known as a bulk earthmoving contractor; we have extensive experience in this field, having successfully utilised our bulk earthmoving fleet to its maximum during the development of many roads. Major projects for us include Haughley Bends, A1073 Spalding to Eye and A11 dualling Fiveways to Thetford."
As the provider of a broad range of services to the industry, Lancaster Earthmoving has experience of working on reservoir, environmental and industrial projects, as Steve states: "We can undertake the full package of services in reservoir projects, including being able to design, construct, install, renovate reservoirs, lagoons, ponds and lakes; we have experience of meeting a range of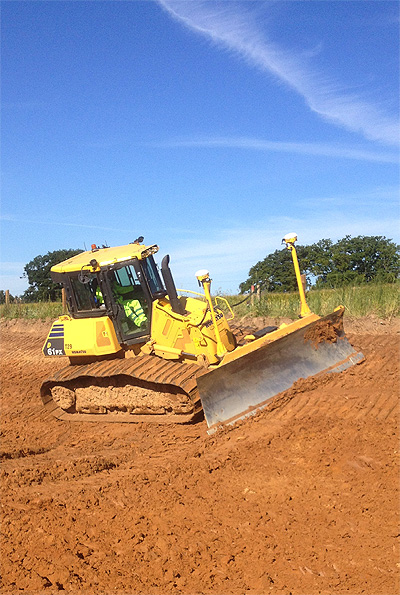 individual requirements and deliver projects both on time and to budget. Furthermore, our base in East Anglia has enabled us to be at the forefront of efforts to strengthen both inland waterway flood and coastal protection and defences in and beyond the local area. We have developed our expertise in managing and carrying out flood and coastal protection work, often beginning at the design stage and managing projects through to completion.
"We also specialise in bulk earthmoving and have extensive experience of working on main industrial projects in the Eastern counties and beyond. Lancaster Earthmoving has the ability to crush, screen and reprocess materials necessary to provide a most comprehensive service for our clients."
Proud to retain a reputation for outstanding performance, Lancaster Earthmoving has always ensured its workforce consists of the very best expert specialists who adopt a constructive hands-on approach throughout projects. These competent personnel, many of whom have been with the company for over 20 years, are organised into well-respected teams that boast strong technical skills, a high regard for health and safety in the workplace and a solid reputation for delivering projects on time and on budget. "We do not compromise on safety, quality and environmental issues and supply the expertise and workforce to enable projects to be delivered on time, with minimum impact on the environment. Indeed one of our very important sectors of activity is for clients such as R.S.P.B. where the ecological improvement of designated 'Reserves' provides repeat business opportunities due to the quality of work undertaken by Lancaster historically," says Steve.
Accompanying Lancaster Earthmoving's highly skilled team of knowledgeable employees is a large fleet of 70 vehicles, which is regularly updated and maintained by the company's in-house team of skilled fitters. "As part of our natural growth and development, we have built up a fleet of modern and reliable equipment; some of which is available for hire (self-drive or operated). Our fleet is replaced and updated regularly," says Steve. "Our fleet includes a range of different types of excavators to work in various environments, including large, open and more confined space; we have both tracked and rubber tyre excavators to enable us to cover large ground bulk digging and work off finished surfaces. This fleet includes Caterpillar, Liebherr, Volvo, and Hitachi tracked and wheeled excavators from 18 to 50 tonnes, some of which are fitted with GPS systems."
In addition to its portfolio of excavators, Lancaster Earthmoving has a range of Volvo 6×6, all-wheel drive, articulated dump trucks, from 20 to 30 tonne capacity, which enable the firm to undertake vast bulk clearance in a fast and efficient manner. Furthermore, as the cost of soil disposal and imported aggregates continues to rise, the company has developed in-house capabilities to undertake ground improvement and soil stabilisation through its Wirtgen WR2400 soil stabiliser, which works alongside its Streumaster SW10 binder spreader. "The option to modify existing soils offers clients both cost savings and environmental benefits, along with reduced construction durations. The equipment has been used in both temporary and permanent works applications by the addition of lime and cement to improve existing ground, which thus enables construction works to proceed in a more cost-efficient fashion," explains Steve.
The company also has Caterpillar, Liebherr and Komatsu dozers from 13 to 27 tonnes, with low ground pressure and scarifying capabilities; Parker and Powerscreen remote tracked equipment for fast mobilisation and versatility and a CAT140M grader, as Steve highlights: "All of our dozers are fitted with GPS systems to offer both greater accuracy and reduced costs of more conventional setting out; these vehicles enable us to operate under tough working conditions to strip sites, and level and lay finished surfaces to plan and in budget. Meanwhile, the latest addition to our fleet is the CAT140M grader, which we acquired to enhance our capacity to get more work done to very fine tolerances in less time; it is also fitted with its own GPS system. It is reputed to be the most durable, productive and comfortable motor grader in this size class on the market."
Currently working on two major contracts, the dualling of the A11 and the A47 NDR, the company will utilise its high quality fleet and fully trained personnel to meet the stringent requirements for safe and efficient project delivery. "We are upgrading the existing trunk road to dual carriageway for Balfour Beatty on behalf of the Highways Agency," says Steve. "Works involve the dualling of eleven kilometres and the construction of a new five kilometre bypass around the village of Elveden; Lancaster Earthmoving were engaged as part of the Early Contractor Involvement (ECI) to deliver the project within the HA budget. Works began on the site in 2010 and are due for completion in October 2014." The project so far has involved extensive site and woodland clearance, bulk earthmoving, materials processing and recycling, placement of subbase and ecological green channel details and the installation of sustainable drainage systems. During the peak of the works, the company used 50 pieces of bulk muckshifting plant.
The second major project for Lancaster Earthmoving is the Postwick Hub Interchange works for Balfour Beatty on behalf of Norfolk County Council, as Steve highlights: "The project is the first phase of the Norwich Distributor Route, which currently, is anticipated as starting next year. The scheme provides new access to the Broadland Business Park and the creation of a new interchange, which will form a key part of the A47 to Norwich Distributor Route project." Lancaster Earthmoving has been contracted to carry out site clearance, bulk earthworks, soil stabilisation, subbase and landscaping works on the project, with works on this phase beginning in Spring 2014 and scheduled for completion in Summer 2015.Focused on consolidating its position in established market areas, the company will also look to increase its geographical footprint as the country continues to recover from the economic crisis. "With positive, controlled consolidation and conservative growth over the 2015/2016 period, we will then look to ex and into areas where our key strengths can be utilised to our clients' advantage," concludes Steve.
Lancaster Earthmoving
Services: Bulk earth moving specialists