Innovation that inspires
For multi-award winning inland waterway, coastal civil, and environmental engineering company Land & Water, 2021 is likely to be confirmed in the not-too-distant future as being its biggest year in history
Though it has featured within Construction & Civil Engineering previously, it is well-worth familiarising one's self with the innovative and pioneering business that is Land & Water. From its modest beginnings over four decades ago, the company has grown based on its recognition of the need to support the changing landscape and environments that we live in. Boosted no end by a team of people who are all equally passionate about the UK's coastline, and its network of rivers, streams, wetlands and waterways, its clients include government agencies, large corporations and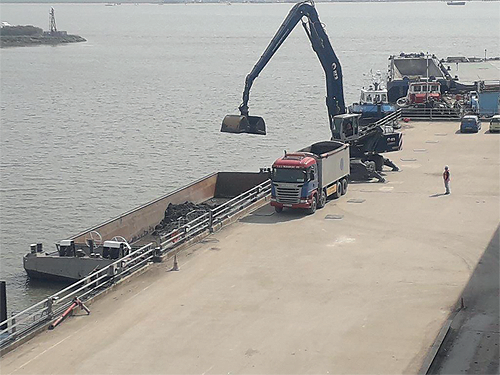 private individuals who rely on Land & Water to design equipment to solve the most complex of engineering challenges.
"Working in environments where land meets water, we deliver sensitive engineering projects in what can be typically described as high ecological settings, and our mantra has always been – and will always be – to leave the world a better place than we found it before our work starts," affirms Land & Water's Chief Executive Officer, James Maclean.
The company's works cover complete project life-cycles, from initial strategic planning, to early contractor involvement and supplier partnership. Land & Water also manages operational project execution, training, advice and follow-up, all with close stakeholder engagement being of top priority. Amongst its numerous services, the company carries out activities such as – but by no means limited to – dredging, flood defence, waterway maintenance and restoration, marina construction, bioengineering, planted solutions and plant hire.
For Land & Water, 2020 was a quite remarkable year, being one that not only brought with it the challenges relating to Covid-19, but also significant growth. "Like every business out there, at the time when the pandemic took hold in the UK around March, what followed for us was an immediate period of concern as we assessed the possible impact of restrictions on ourselves," James explains. "Fortunately for us, a lot of our frameworks are government-related, and by being classed as an essential business we were able to be back up and working as quickly as we could, albeit in a safe and responsible manner. Since then, we have been further bolstered by the growth within our plant hire and contracting businesses, and this winter has seen an increase in activity across various conservation works projects. When added together, it means that Land & Water enters 2021 with a very strong order book."
There are numerous examples of the company's work that one can draw upon to highlight its successes in 2020. In November, for instance, Land & Water completed its works as part of the Thames Tideway Tunnel project to transport and unload London Clay mined from the western section of the new 'super sewer' tunnel to its Habitat Creation Scheme at Rainham Marshes. As part of the company's commitment towards safeguarding the environment and investing in UK infrastructure to build sustainable solutions, Land & Water's hub at Rainham aims to unlock the River Thames as a liquid highway, linking directly to water transport, whilst building the largest habitat creation scheme inside the M25. To date, the Thames Tideway Project has contributed over 450,000 tonnes of material to Rainham.
Significant project
While the above project represents a major undertaking for the company's remediation business, Land & Water's contracting business has also continued to deliver several high-profile works. These have included its dredging and navigation improvement activities at Peel Marina on the Isle of Man. Works here will move into a second phase in 2021, which the company is looking forward to being a part of.
"One of our other recent big successes has been our work with the Environment Agency (EA) at Calstock, South East Cornwall," James continues. The project that he refers too has been to reduce the risk of flooding in the area through the construction of new flood defence embankments on a set-back alignment. This will enable the reconnection of an area of floodplain to create reed-beds, thus increasing biodiversity and offsetting some of the losses in habitat that are occurring due to rising sea levels.
"This project is also significant because during it we significantly reduced the carbon footprint of the scheme by 75 per cent – or 7350 tonnes – by redesigning the geotechnical embankments to negate the need for using cement to stabilize soils," James adds. "This has also prevented the need for dry cement tanker deliveries through Cornish villages, therefore decreasing the impact on the local community, and reducing carbon emissions further still. There was a phenomenal level of trust needed between ourselves and the EA to deliver this project in a unique and innovative way, so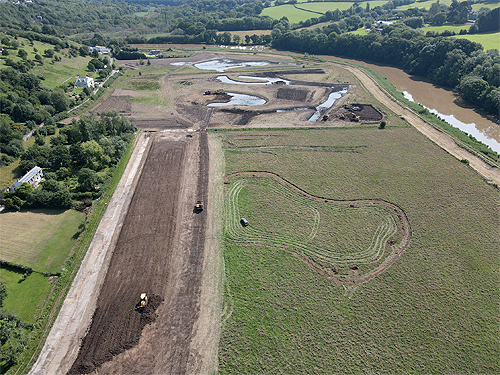 its successful completion is a great example of proper partnering and a demonstration of how we as a business make decisions that are in the best interest of a particular scheme, as well as the community in which we are working."
Land & Water's efforts at Calstock form a part of a campaign it is driving as it strives to achieve net carbon zero status by 2030. "In 2021," James details, "we will be rolling out a business-wide carbon reduction strategy. In recent months, we have been demonstrating a greener way of working through the implementation of Crown Oil's HVO fuel in our plant, and we are also actively examining other exciting and innovative new technologies as part of our net zero carbon ambitions. As part of our efforts, we are also empowering our supply chain and our workforce to bring new, low-carbon ideas to the fore."
Dedicated team
On the subject of Land & Water's workforce, James also tell us how the company has continued to invest heavily in its people's training and development. He reveals that at the onset of the first Covid-19 lockdown back in March 2020, the company went so far as to provide all of its employees with a one-off payment that could be used to purchase food and other provisions for their families at home. Such actions highlight the level of thought and care given to the company's employees, and this in turn is appreciated and reciprocated in their own actions and output.
"Our people deserve a huge amount of praise for the way they responded to the challenges brought about by the pandemic and subsequent restrictions," James enthuses. "Their collective ability to adapt to rapid change and their embracing of new ways of working certainly helped us to get back up and running as fast as we could, and that attitude has helped to drive our growth in the time since."
Moving into 2021, Land & Water's pipeline of secured orders places it in a strong position, and gives James confidence that the company can achieve – at the very least – similar levels of profitability and growth as that experienced in 2020. He also believes that with legislation and public opinion pointing increasingly towards protecting the environment, that the company will have an ever-more important role to play in the future.
"Awareness of climate change and its impact on the world around us has grown exponentially in the last five years or so. The key thing going forward is for us to see the work being put in behind the scenes and on the ground turned into orders, and regardless of how long that takes, we want to be there when such projects appear. In that regard especially, we have every reason to be excited about the long-term possibilities for the company," James concludes.
Land & Water
www.land-water.co.uk
Services: Civil and environmental engineering