Land & Water's distinct mode of operation has enabled it to establish valuable long-standing partnerships with clients, based on delivering exceptional civil and environmental engineering services through its empowered workforce
Floating ahead
Land & Water's distinct mode of operation has enabled it to establish valuable long-standing partnerships with clients, based on delivering exceptional civil and environmental engineering services through its empowered workforce
That you should be 'giving before you can expect to get something in return' is a truth Land & Water has been holding on to in the 25 years since the civil and environmental engineering expert was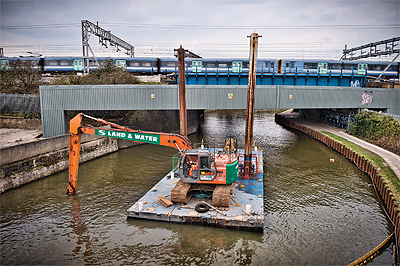 established. The customer-centric approach adopted by the business has gone to such lengths that, on occasions, Land & Water has deliberately worked for less profit on a project, just to develop a more long-standing relationship with its clients. Over the years, this dedication has paid off multiple times and today, 76 per cent of the company's turnover comes from repeat business.
"A practical benefit of us working with a select group of customers, is that we do not need to competitively tender all the time," CEO and co-founder, James Maclean, begins. "Our clients tend to take long-term decisions with us and we have developed and deepened fantastic relationships with organisations like the Canal & River Trust and the Environment Agency. In fact, we have traded (unbroken) with the former for 17 years now and not once have we been placed in a compromise where we have had to make a commercial claim, having maintained an unbroken partnership, which is something very few civil engineering contractors can achieve with a client."
Throughout its existence, Land & Water has also stayed true to its commitment to working on or close to water, thus developing an expertise in maintaining and managing the UK's coastal, canal, and river networks. As such, it labels itself 'an environmental company, full of people who are passionate about caring for the coastline and the nation's network of rivers, streams, wetlands, and waterways'.
"Our mantra across the business is 'people, profit, planet' and we develop our budgets and processes in a way that reflects all three," James points out. "The machines that we design and develop for our clients aim to reduce our environmental impact and improve on-site safety. For example, we are now offering remotely controlled flails and digital mapping to identify sensitive areas, which might be inhabited by protected species, to make sure that our kit does not work there.
"Furthermore, we always look at maximising waste reuse. We have even patented a number of waste treatment technologies in conjunction with the Canal & River Trust, where we are capable of taking the silt out of their canal and then reusing it within their infrastructure," James adds.
By far the most telling example of Land & Water's recycling efforts, however, is the company's work for The Port of London Authority and RSPB on the creation of a wetland habitat at Rainham Marshes. "It is actually a joint effort between us, the PLA, RSPB, and Veolia to create London's biggest green space and is the most ambitious project the company has undertaken so far," James states proudly. "For it, we are bringing six million tonnes of re-engineered spoils collected from various major infrastructure projects along the Thames, to create a patchwork of habitats across the site. These will include upland/dry/sandy areas ideal for some ground nesting species, with shallow valleys and damp swales, and collecting ditches that will eventually channel surface waters to the permanent wetlands to support the endangered Marsh Harriers. It is an exciting challenge where we are making 100 per cent use of recycled dry and wet spoil material, which will ultimately result in an oasis of wildlife for East London."
The implementation of the Rainham Marshes project coincides with a period of sustained growth for Land & Water. To James, the fact that the business is being recognised as a quality player comes down to the exceptional workforce that Land & Water employs and the concerted efforts it makes to empower its staff members. "We have a big investment programme where we train our people in a way that is a little bit different to the way the rest of the contracting world behaves, and we openly talk about our core values all the time, because we feel a responsibility to preserve and promote them, in order to provide better service to our customers."
Engaging employees
Fostering a dialogue between the separate levels within the company structure is paramount for Land & Water's management team as it looks to ensure that everyone across the business is pulling in the same direction. "Twice a year, we shut the company to gather and discuss the changes in legislation, the equipment we use, and the lessons we have learned from past projects. We invite the workforce and encourage it to tell us how we can do things better. This is a very powerful way of making sure that everybody is engaged and understands how the business is changing and where we are going," James explains.
"The model we have established, extends to our safety initiatives, too," he continues. "We have a great initiative called 'safety squad' that involves people from every level of the business, where we stop a project and have an open discussion as to how we can complete it in a safer way. The idea is to allow the teams on the ground who are physically involved in the delivery of a job to tell us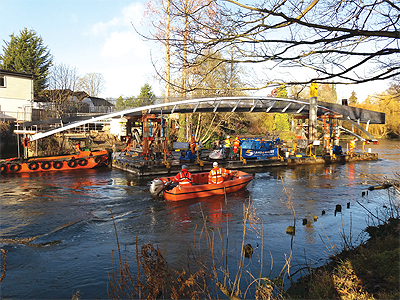 what needs improvement and I can say that these collaborations have brought significant benefits on every single occasion. Such has been the success of the 'safety squad' that the Canal & River Trust asked us to start teaching their teams how to run this ground-up initiative, everyone attends from CEO to the site security guard, seniority means nothing, safety, environment, health and quality drive the ideas."
Changing concepts
Land & Water has also changed the bonus and rewards scheme for its employees, so that it is based on cash generated and not on the profit/loss balance. In James' opinion, it is a proactive move that gets the company focus on increasing its cash flow, rather than thinking about the margins that need to be kept or the crazy vanity of chasing turnover.
"I also think that the role of a management contractor is no longer adding value, there will also be conflict with the outsourced subcontractors, as the project profit cannot reasonably shared with differing shareholder demands. For me, if clients really believe the larger management structure is giving value, the management contractors should behave like agencies for their client, assuming the position of an agency that oversees the quality, value and safety of a project, and allow the 'resource-led' delivery contractors to deliver the works. Management contractors are not contractors, they are agencies. The sooner the industry wakes up this concept the sooner the payment and profit conflicts will be de-fused."
Specialist knowledge
Becoming more sustainable and taking care of its people are the fundamentals around which Land & Water's short, medium, and long-term strategy will revolve. The company is in the process of building its one, three, and five-year plans and an important point in all of these, will be the integration of apprentices into the business. "We have got a lot of work secured over the coming months and we are planning to have an apprentice involved in each of our projects in the next couple of years, so that we can train them from the ground up," James comments.
Having noticed that obtaining planning permission and environmental consents is becoming an increasingly complicated process, Land & Water is using is's specialist knowledge to develop its pre-contract and design offering. "We have a dedicated team of environmental scientists to help our clients gain consent for their projects. Interestingly, we use the services of two partially-retired directors who reached the age of 65, but who still want to offer their expertise when needed. It is a great example of how we harness all of our knowledge to develop our customer relationships and we allow our staff to work flexibly," James notes.
"As we are about to enter the biggest year in our history, we are hopeful that we will consolidate our partnership with the Environment Agency and the Canal & River Trust, and manage our growth in a way that will ensure the existence of a resilient business in the decades to come," he concludes.
Land & Water
Services: Civil and environmental engineering