LB-Hus, which celebrates its 50th anniversary this year, has ambitious plans to grow its export market
Building on tradition
LB-Hus, which celebrates its 50th anniversary this year, has ambitious plans to grow its export market
LB-Hus is one of Sweden's leading manufacturers of timber frame houses and has delivered more than 42,000 houses since its formation in 1957. Employing more than 350 people, the company's present turnover is approximately 85 million euros.
In Sweden, LB-Hus' modern manufacturing and production facility covers both modern timber frame housing panels and traditional on-site house production. The bulk of its domestic operations involve standard turnkey LB-houses, which are constructed as a total building package using highly skilled employees. LB-Hus also project manages and builds a wide variety of different houses, schools and industrial buildings using its timber frame system.
"We produce structural timber housing panels in a variety of styles and finishes which when delivered to site can be easily and quickly assembled on prepared foundations to form a semi-finished house structure," says Jonas Larsson, senior vice president of international sales. "The wall, when delivered, is equipped with triple-glazed windows, exterior doors and fully insulated and complying to the highest energy efficiency requirements. The wall construction is of insulated structural timber frame panels with an external vented cavity which is clad with brick, timber or cemented cladding."
Over the years, and as a result of its wide-ranging experience, LB-Hus has refined its technology. Today, its highly sought after building system lends itself to off-site manufacture, where quality can be controlled in a factory environment and speed on-site is increased through rapid assembly of pre-manufactured panels.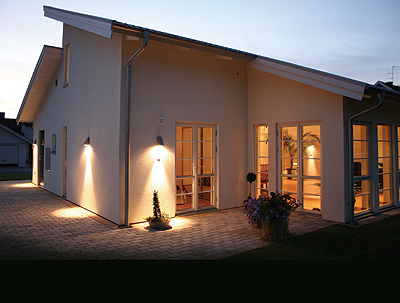 Despite domestic triumph, the company has always strived to achieve greater success outside Sweden, targeting neighbouring countries, as well as other European markets. "We began to establish ourselves on the European market more than 20 years ago," explains Jonas. "In recent years our export has been mainly to Denmark, Germany and Japan. Our long experience of working with different markets has given us knowledge on how to adjust our product to fulfil the different rules and
regulations of different countries. This work is carried out in close cooperation with our partners abroad. In this way LB-Hus will remain a house manufacturing company that continues to develop and create a total optimal living environment for its clients."
He continues: "Export accounts for more than 15 per cent of our production volume. We believe in the technology we are using and that offsite manufacture, where quality can be controlled in a factory environment, is the way the market will develop.
"We work domestically and internationally, through a network of partners that cover most of Europe. This network gives us increased stability, so to speak, as the construction sector is traditionally unpredictable. In this sense a strong export market offers increased support when our domestic operations are in decline."
At present, the construction industry is very buoyant, right across Europe. Indeed, there are increasing demands for new houses in most European markets, particularly the UK, Denmark and Sweden. Jonas agrees: "There has been a big rise in the construction industry. For instance, in the UK the announcement that London will host the 2012 Olympic Games has resulted in an upturn in the fortunes of the British construction industry.
"We have witnessed similar trends across Europe and although this is generally positive, there are many pros and cons. Of course, increasing demand is a huge blessing and represents a great business opportunity, however, it is often difficult for us to find the right partners abroad.
"Despite the difficulties, I am confident the way we build houses has a bright future in the construction industry, providing we find the right international partners. If we do that we will enjoy a lot of success in the coming years."
Finding the right partners is essential for LB-Hus as it seeks international expansion. The board of directors recently announced that the company is focusing intensely on developing its export market, nurturing its existing contacts and adding new names to the list. "We are seeking to expand our export market," adds Jonas. "This means we must find new partners, which is always a challenge. As a result, while we are looking for new partners we are also strengthening our existing relationships."
He continues: "Strong relationships are vital, therefore the way we select partners is important. The key is finding the right one, the partner whose aspirations and ways of working match your own. If you can find the right partners you achieve international success, it really is that simple."
The prefabricated timber housing industry is very buoyant at the moment and there are many opportunities for further growth for LB-Hus, both domestically and internationally, into the future. Its long-term vision is to grow the business, while continuing to offer 'total concept' solutions to its customers. To achieve this the company will continue with its philosophy of hard work right across the board.
"On-site construction will always play a prominent role in the construction sector. However, with mounting demands for new housing and increasing demand for higher
quality and energy efficiency as well as demand for zero-carbon houses across Europe, as well as increasing demands for rationalisation in all fields of industry, I think it is inevitable that the construction industry will begin to favour off-site manufacture, where quality can be controlled in a factory environment. That is the future," concludes Jonas.