Leca UK demonstrates how a close attention to innovation can make the simplest of products a lasting success in the construction industry
Simple yet effective
Leca UK demonstrates how a close attention to innovation can make the simplest of products a lasting success in the construction industry
The Leca business is based around one product; an expanded lightweight aggregate that is sieved into a number of grades and then used for a multitude of applications," begins Commercial Director for Leca UK, Lorraine Blundell. "Initially developed in America during the early 1900s, manufacturing began in Denmark in 1939 to provide lightweight aggregate for the production of lightweight bricks and blocks. By the late 1950s Leca® had been introduced into the geotechnical market and was being successfully utilised for the insulation and lightweight filling of roads and railways across Scandinavia."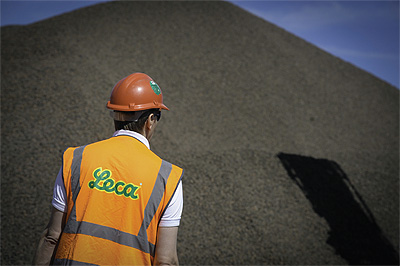 Coming under the Saint Gobain Weber umbrella in 2008, it was decided that the strength of the Leca brand, which is trademarked by Leca Trading and Concession A/S in Denmark, warranted its own business attention and Leca International was formed to develop the business around the world.
"In the UK the primary application is for use in lightweight block manufacture and civil engineering applications where weight, drainage or access is an issue," Lorraine continues. "However, its thermal properties also make it ideal for underfloor insulation, its nutritional benefits for horticulture, and its structural properties for a variety of applications like filtration."
With its business model revolving around one product, Leca's proposition is focused but has rewarded it with a robust reputation across Europe. Lorraine explains that no matter the size of a project, in order to achieve a building process that is costefficient and smoothly managed, building materials need to be easy to handle, easy to transport and flexible to work with. "Leca® is exactly that," she says. "Whilst our product is simple, our solutions are innovative. Alone, it is a single expanded clay pellet, but by combining the pellets into an aggregate its possibilities become numerous – whether it's laying the foundation for construction, building roads and walls or developing drainage solutions, the simplicity makes it flexible throughout the construction process.
"We have been around for a long time, so we know that our products work, and understand how they work. Yet we continue to develop and innovate ourselves and we are constantly looking for new partnerships and new business models that add value to Leca, our partners and the environment. Through these partnerships with engineering and construction companies, we are able to develop innovative and sustainable solutions that meet a variety of needs, because together, we build for the future."
In the UK, the core markets for Leca are in block manufacturing and construction, both segments that are currently creating remarkably favourable conditions for the company. Whilst around Europe the business manufactures its own blocks for supply into the market, in the UK it simply supplies aggregates to other block manufacturers, where there is currently increased demand. Coupled to the reduced supply of quality 'ash' the need for proven lightweight aggregate is high. "Being part of the largest expanded lightweight clay aggregate manufacturer in the world, and with access to all of our kilns across Europe, we not only possess strength in the quality of our materials but also in the guarantee of supply," adds Lorraine.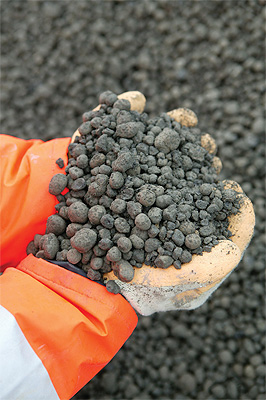 Furthermore, an increase in infrastructure expenditure throughout the UK has been beneficial where Leca is in a position to provide multiple solutions to previously costly installations where weight, drainage, insulation and access are issues. Thanks to a continuous programme of development and testing the company is always pushing the borders of its understanding around the material's operating parameters and in turn undergoes regular industry presentations and demonstrations to educate its customer base on new concepts. "Our team are then able to work closely with engineers and constructors to discuss the buildability, delivery and installation methods available to them," Lorraine outlines.
"Amongst its applications in construction the aggregate can be used en-mass within geotechnical projects, for reduced pressure on weak structures, can be blown into position in difficult to access areas, whilst green roof, attenuation and filtration applications can also benefit from the open voids and absorption parameters of the compacted fill."
When Leca became part of the Saint Gobain Weber group in 2008, it was Weber that inherited the brand as a subsidiary. However, being a company focused on producing the world's best rendering solutions it has recently been decided to split the two business streams so that each can focus on its own specialities. Leca International now operates as its own entity within the Saint Gobain portfolio, and is currently going through a process of rebranding and reunification with other national organisations to strengthen and share expertise and knowledge across the Leca group.
As far as the future is concerned, Lorraine highlights that on top of continued solutions development Leca will be tackling the environmental challenges with a long-term focus to become a 'blue' company. "These challenges will always remain of concern to any manufacturing organisation," she notes. "Whilst of recent years the aim for any business has been to be 'green', 'blue' is now the ultimate goal. Leca®, by its nature, is a simple and purely natural product that you can find everywhere, it is all in one and can be used widely, it is longlasting and durable, and with more than 80 years experience and substantial data this can be proven. It has flexibility from production to construction and we focus heavily on resource efficiency including in the recycling and sustainability of materials. These are just some of the reasons why we here at Leca believe that we are very much a 'blue' company, and over the coming months we will set out our stall to prove this."
Leca UK
Services: Leading supplier of lightweight aggregate