Leitz Tooling UK demonstrates why the Leitz Group is a world leader in tool manufacturing for the wood industry
Cutting edge
Leitz Tooling UK demonstrates why the Leitz Group is a world leader in tool manufacturing for the wood industry
Founded in 1876 as a drill manufacturer in southern Germany, Leitz Tooling has grown into a company employing over 2900 people across 140 sites in 36 countries. The company has established itself in that time to become a world leader in the manufacture of precision tools for the wood and wood related industries. A broad projection of Leitz's product portfolio includes sawing, panel processing, planing, profiling, manual feed, routing, drilling, mortising and clamping systems. Defining its success is a mature and proactive approach to an ever-changing market place and an outright commitment to providing performance improvement solutions to its clients. In order to achieve this, Leitz in the UK focuses an extensive amount of energy and finance into investing in its staff and innovation.
"Most companies are now looking for productivity and quality. Companies understand that it's not the price of the tool that is important, it's the overall cost per component," explains UK MD Simon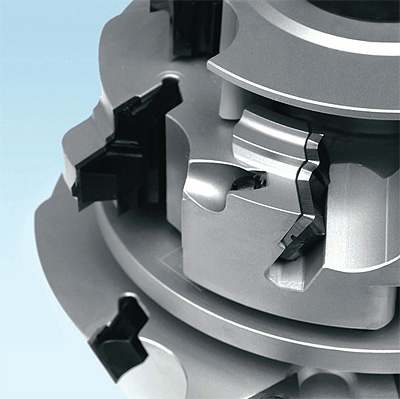 Liddell. "We're finding where they might traditionally 'make do and mend', they're now looking at getting as much productivity from their machines as possible, and this is where Leitz really excel." Having established itself at the forefront of the industry with a reputation that extends over a century, Leitz developed a group of core strengths that give it a competitive edge in the market. These include lessening the consequences of down time, improving yield, reducing setting up times and the need for second operations, improving health and safety, power consumption and dust control, as well as offering top-level training.
"We offer a complete programme. We don't just offer a tool; we offer a solution. Aside from tooling, we help our customers with their health and safety issues such as dust and noise reduction, which are very hot topics," says Simon. The company has trademarked its Dust Flow Control system (DFC), a system that improves tool performance and surface finish, and helps to reduce the chances of dust inhalation. It has also made significant R&D investments into reducing noise and vibration levels from saw blades, something that can help improve cutting finish quality and therefore productivity. On top of its manufacturing ability Leitz is also one of the few manufacturers that offers a service package as well. Adhering to its 'Tools as New' motto, all service centres abide by uniform Leitz standards to ensure that serviced tools are as close to good as new as possible.
"The market is quite favourable in the UK now and since summer 2014 the growth has been very strong," highlights Simon. With a number of sectors within the industry growing with particular strength, Leitz is using its knowledge and investment power to react positively to these. For example, responding to a strong growth in diamond tooling in 2014, the company installed one of the latest diamond erosion machines, the third of its kind in the UK, and the latest generator. "This gives us far better cutting edge integrity and improves the durability of the tool for the customer," Simon notes. Today, Leitz UK has eight machines dedicated to diamond tools in order to serve the growing demand. Another area of significant investment is in improving tool control and balance to improve surface finish and reduce the need for second operations. In a similar response, low-noise and thin-kerf saws have seen significant demand increases in the market. "The thinner the saws, the less dust waste there is, so better yield," points out Simon. "This is becoming extremely critical and we're manufacturing saws within 1mm kerf, which is an unbelievable achievement." All Leitz tooling is manufactured and safety tested to BS EN847 standards helping to ensure the welfare of the employees of its customers.
Leitz also produce the ThermoTech Window System, the first BFRC licensed 'A' rated tooling system in the UK for Stormproof and Flush casement timber window production. Leitz developed the ThermoTech Window System to be a truly complete and scalable solution; it is available with everything its customers might need for the manufacture of high quality 'A' rated thermal windows as well as full and ongoing technical support.
Innovation plays an important role at Leitz. Most notably setting it apart from its competitors in terms of service is the use of the Zoller 600 Smile tool control system. This measures reground tools within a few microns meaning that when tooling is returned to the customer, the operator can precisely set the CNC machines accurately so their components are 'right first time'. From a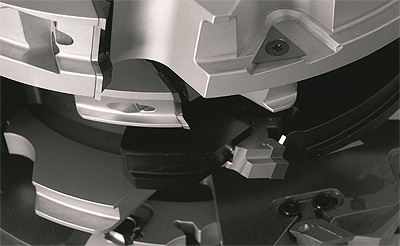 product point of view, the company has developed a number of coatings. "We have our MC33 'Marathon' coating, which increases time between regrinds by 50-60 per cent," says Simon. "We released our TDC (Tungsten Diamond Coating) as well, which is proving extremely popular for consistent abrasive materials such as MDF. Coatings are a massive development for us."
Putting aside the company's unwavering commitment to its customers, Leitz also demonstrates an exemplary attitude towards its community and employees. "Social responsibility is very important," Simon continues. "We are going to be taking part in the Three Peaks Challenge in July for Action Medical Research. We also support the local Haven House Children's Hospice by running industrial seminars with a nominal fee attached, the proceeds of which are all donated to the hospice." Leitz UK also works closely with local engineering colleges to support technical education and apprenticeships. Attached to this, the company also invests significantly into its staff providing internal training and promotion, ownership of responsibility and pride for a quality world-leading product portfolio. The ultimate result of this is a company with remarkably high levels of employee retention.
"The future is very much focused on continuing with business development," concludes Simon. "We will carry on investing in people and equipment as we gear up to Industry 4.0. For the next 12 months, we're going to be working with our customers in key markets so they can become more productive and build on their success. The strategic vision for the next three to five years is to concentrate on sectors such as furniture, panels, window, joinery, construction as well as some non-wood markets such as composites."
Leitz Tooling UK
Services: Tool manufacturing for the wood industry