Leonhard Nilsen and Sonner
Leonhard Nilsen and Sonner finds solutions to difficult projects in places with seemingly impossible logistics
Reaching new heights
Leonhard Nilsen and Sonner finds solutions to difficult projects in places with seemingly impossible logistics
With a massive presence in Norway, contractor Leonhard Nilsen and Sonner (LNS) specialises in the excavation of tunnels.  The company, headquartered 300km north of the Polar Circle, is renowned for its ability to tackle all logistical problems and is currently working on projects in various inhospitable areas. Established in 1961, LNS is comprised of 11 companies and undertakes projects stretching from the North to the South Pole over the whole of Norway, Spitsbergen, Iceland, Russia and the Antarctic. LNS has participated in several of the larger communications projects in Norway and has constructed many of the longest road tunnels. It also has contracts for water power development and is a hotly sought partner for the largest mining companies in Scandinavia.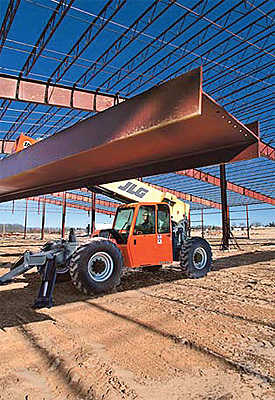 "We are a mining and tunnel contractor, undertaking projects in difficult places where the logistics of the operations are very challenging," explains project director Frode Nilsen. "Our key clients are predominantly mining companies, hydropower businesses and the Public Roads Administration for Norway.We're currently working on a project. the Global Seed Vault, requiring the storage of seeds in the event of a catastrophe such as nuclear war, a comet crashing into the earth or serious plant sickness.We're undertaking foundation work in Antarctica where we're building antennas for satellites that are going around the poles and working on one seven kilometre water tunnel in the northern part of Norway as well.We're also contracted on a new project in the south of Norway where we'll be responsible for the excavation and tunnelling of 12 kilometres of a 38 kilometre four-lane highway."
For the past five years LNS has been working on a huge tunnelling project in Spitsbergen for SNSK Svea North, which is expected to continue for a further four years. The work has been extremely demanding since it involved the creation of a mine on the remote Norwegian archipelago of Spitsbergen near the North Pole where the port is frozen for six months of the year. With an output of nearly three to four million tonnes in 2003, SNSK's mine is one of Europe's top producing coal mines and SNSK commissioned LNS to construct a tunnel, which runs underneath the glacier and contains a conveyor system with a channel for water.
Construction of this 5.6 kilometre tunnel began in October 2002 and LNS believes it has set a world tunnelling record for this advance – a claim supported by Atlas Copco, who supplied the L2C drill jumbo used on the project. "In Spitzbergen, we're moving eight to ten million cubic metres every year," reveals Frode. "There are many challenges with that work – we're basically insular for eight months every year and anything heavier than 300 kilos is almost impossible to get on site, so a great deal of planning is required. It's essential to use the right equipment."
LNS is also constructing an underground harbour to transport iron ore in the northern part of Norway. "It's a very big £140 million project – approximately one million cubic metres with underground excavation for storage of iron ore," says Frode. "Trains with iron ore travel from Sweden to directly deposit into the 13 silos that we're building and under those silos, which are 38 metres in diameter, we're constructing a tunnel system with conveyors that will transport the iron ore to ships very efficiently."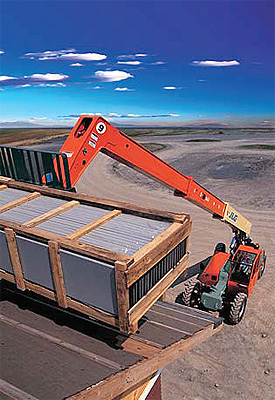 LNS has recently finished a tunnelling project in Iceland and started a new one in the country, as Frode outlines: "In Iceland we completed a tunnel project on the south east coast. It was a joint venture scheme with an Icelandic contractor and we were responsible for the excavation and rock support of the tunnel. The geological circumstances were complicated and required constant changes of rock support and extent."
Besides undertaking challenging projects, LNS has recently acquired a large company that it intends to develop in the coming years and, owing to its growing volume of work, it moved into new premises in January 2008: "We needed a much larger area, although it's almost already full so we may have to look at further expansion next year," comments Frode. "We have a great deal of work on and we've just acquired an iron ore company in the middle region of Norway with 200 employees.We want to increase the production in the iron ore from 1.6 million tonnes to three million tonnes annually during the next three years and increase production to between six and seven million tonnes during the next eight to ten years. It's a similar company to LNS and our expertise will allow us to successfully expand the business."
The company's main aim for the future is to find more work abroad so that LNS can become a globally renowned organisation. To this end, it has been pursuing contracts further a field. "We're working towards a project in Chile and hopefully this year we'll agree some contracts in both Chile and Peru because these are very interesting places with many tunnels," comments Frode. "We're aiming to complete more work on a global scale and we're looking for projects that require good performance with clients who are willing to pay for that. I think we'll be handling numerous hydro power tunnel projects and work in the mining industry, as well as road work, with the focus mainly on large scale projects in challenging areas.We feel that we're the best choice for solving difficult projects in tricky locations."