Leonhard Nilsen & Sønner AS
Leonhard Nilsen & Sønner AS (LNS) is one of Norway's largest contractors. The company specialises in solving demanding projects in areas that pose difficult logistics challenges
Overcoming the challenge
Leonhard Nilsen & Sønner AS (LNS) is one of Norway's largest contractors. The company specialises in solving demanding projects in areas that pose difficult logistics challenges
The company's core activities include road and tunnel construction, and mining – in fact, LNS owns several mines and also operates mines on behalf of several mining companies.
In recent years, LNS has been involved in several major projects, plus it also built the UN Global Seed Vault on Svalbard. The company has broad international experience, having completed projects on Iceland an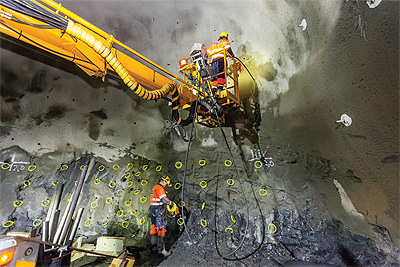 d Greenland, as well as in Antarctica. It has also established separate companies in Iceland and Chile, and is now completing a major tunnelling project in Hong Kong.
Over the years, LNS has taken a leading role in introducing new technology, and on its latest project in Norway, a hydropower project, it decided to use a tunnel-boring machine (TBM). TBM has not been used in Norway for more than 20 years, and with this project, the company is bringing back the TBM knowledge to the tunnel industry in Norway.
LNS Group
The company is part of the LNS Group, which has five core areas of activity:
Tunnels, rock caverns
Road construction
Mining contracts
Earth moving
Concrete production
Within these areas, it employs approximately 900 employees and had a turnover of NOK 1.8 billion in 2012.
LNS was established in 1961 and since then the company has expanded to become a major global engineering group that includes 15 highly specialised companies. The latest company established is LNS Saga, located in Iceland. The ongoing activities extend around the globe from the Antarctic and Eastern Europe, to South America, Asia and the South Pole. Its key clients are predominantly mining companies, hydropower businesses and the Public Roads Administrations in Norway.
New projects that LNS is starting within 2014 are a harbour development in western Norway, a road- and tunnel construction in northern Norway and a road- and tunnel construction on the Faroe Islands. Recently LNS finished a research station built for the Norwegian Polar Institute on Bouvet Island. Bouvet Island is one of the most isolated islands in the world, and 93 per cent of the island is covered by glaciers.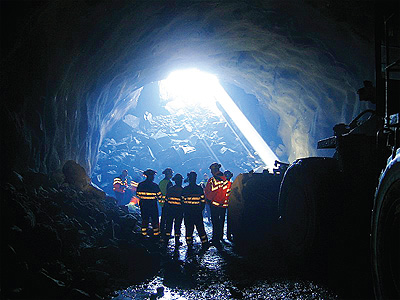 LNS' many years of operations in the Antarctic have also provided it with unique expertise in the areas of polar mining and logistics operations. The construction and mining industries are in a constant process of change and the demands placed on contractors such as LNS, continues to grow. In order to meet these demands it has become increasingly important to focus on a variety of forms of collaboration in order to achieve improved project coordination, faster problem identification and resolution. The objective is also to achieve stable, long-term relationships that yield better, more cost-effective outcomes. LNS has experience with many different forms of project collaboration which includes the forming of Public Private Partnerships (PPP), Joint Ventures (JV's), strategic alliances and project collaboration with individual operators.
A recent example of the benefits of working in partnership with other specialists is exemplified by the company's joint venture with Leighton Asia Ltd., which secured a contract worth NOK 2.1 billion for a major sewage tunnel project in Hong Kong. This extensive project is part of the Hong Kong government's Harbour Area Treatment Scheme. The project involves planning and driving a 7.5km tunnel with five shafts, each varying from 70 to 120 metres long through a busy part of the metropolis and harbour and more than 160,000 cubic metre of concrete will be required. This is because the tunnel runs partly below the sea and partly below office buildings in Hong Kong. The tunnel excavation will finish in November 2014 and the tunnel lining and the lining of the shafts will go on until autumn 2015. This project has given the organisation some challenges that it is not used to. There have been many regulatory requirements that are unusual for a Norwegian entrepreneur. This combined with the experience it has gained th rough the joint venture with Leighton has given LNS a better understanding to enter into new projects abroad.
Concludes Frode Nilsen: "The bottom line is that you have to find the optimal solutions and be as efficient, reliable and cost-effective as practicable. We are number one in the mining and tunnels sectors as well as being a major contender in all our other areas of activity. This is thanks to our commitment to achieving the best possible outcomes at all times for our customers."
LNS
Services: Road & tunnel construction