Henrik Jørgensen outlines L&H Rørbyg's latest projects
Tunneling through
Henrik Jørgensen outlines L&H Rørbyg's latest projects
L&H Rørbyg is one of the biggest pipe and tunnelling contractors in Denmark with an annual turnover of around DKK 400 million (approximately £42 million). Established in 1838, the company employs 300 pipe fitters, welders and specialists and 75 engineers, clerks and managers. It has six workshop sites across Denmark in København, Køge, Kalundborg, Odense, Fredericia and Aalborg, and currently its main business is in Denmark – although in the past it conducted work throughout Europe.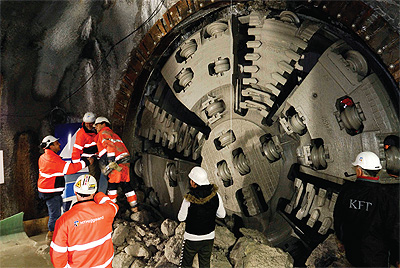 The company maintains a strong tradition within the industry and specialises in district heating, industrial piping, stainless steel piping, HVAC/plumbing service, sprinklers, industrial service, prefabrication, steam and condensation. With its 170 years experience in the field, L&H Rørbyg maintains a good relationship with its employees as it values their skills. It also builds long-term relationships and contracts with customers such as Statoil, Novo Nordisk, Mærsk Olie & Gas, Akzo Nobel, Shell and Biogen Idec.
Ten years ago, L&H Rørbyg was acquired by Kemp & Lauritzen, a company founded in 1882 with equally strong traditions in the field. It is one of the largest Danish technical engineering corporations, focusing on innovative and inspirational technology. The company comprises of 1200 specialists with 125 years of experience in the installation of any size of electronic or electrical installations, networking solutions, security, or access control solutions and lighting automation systems. This union combines many years of experience and dedication to the industry, in order to produce the highest quality product and services.
L&H Rørbyg's business activities can be divided into four main areas, as Henrik Jørgensen, CEO of L&H Rørbyg tells Construction Today Europe: "One area is ordinary plumbing works for businesses; in offices and laboratories. Another field is district heating where we are the largest company within pipe laying of district heating and we're doing this all over the country. The third area is industrial pipe works, either the pre-fabrication of pipe spools for the offshore industry, or pipe works for refineries, pharmaceutical, etc. The fourth area is the service and maintenance related to the main business activities such as plumbing industrial works."
Providing industrial piping for a number of markets including natural gas, oil, cooling, power plants, refineries, compressed air and prefabrications as well as stainless steel piping for pharmaceutical plants, food production plants and breweries; L&H Rørbyg is just about to embark on its biggest project for twenty years. This latest project involves the transportation of water and steam from the island of Amager to the district heating system in Køpenhavn. Henrik explains the project: "The power plant is based at Amegar, an island with København, but there is a harbour between this power plant and the main district that needs the heating system in København. To get the steam and heating water from the power plant to the district heating system in the inner city, a four-kilometre tunnel was created running under the harbour to two points in København, connecting to the heating system. The tunnel was created in a very special way; with a welding station at one end of the tunnel, sections of pipe were welded together and then pulled and pushed through the tunnel to create the entire length. Two and a half kilometres were created this way from one side and the other one and a half kilometres from the other until they met in the middle. Once the construction of the tunnel was finished we came in and did all the installations work, mainly the pipe but also electrical installation and some ventilation works. This is an ongoing project and will be finished within the next year. The contract is for DKK 200 million (approximately £21 million) and with our annual turnover being DKK 400 million this is a big project for us."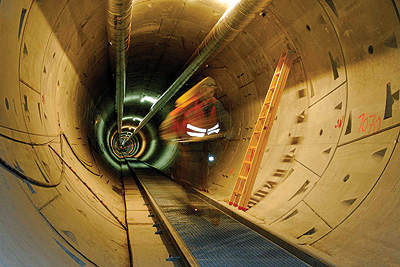 Other projects for the future include a contract with Dong Energy, a natural gas distributor that is undergoing a rebuild of its compressor work on its onshore gas handling station at Sjælland. It is a DKK 25 million (approximately £3 million) contract to erect and connect a new compressor unit for the plant: "We are specialised in these large complex projects, with skilled employees and the experience and background to know how to conduct these large contracts. That is our main strength," Henrik remarks. He also notes the company's plans to make more acquisitions in the near future: "We have done some minor acquisitions within the service and maintenance area in the last year, and I think that our growth will come from acquisitions in the next three to five years." With such a speciality of dealing with these large contracts there is no sign of this market leader relinquishing its title of being the largest pipe and tunnelling contractors in Denmark any time soon.
Though L&H Rørbyg is at the forefront of the industry, Henrik recognises that there are challenges for the company. "The challenge is to adapt ourselves to a globalmarket. We have competitors coming from all over Europe and the rest of the world establishing contracts and business in Denmark. Global customers are also setting themselves up here," he says. "We have recently done a lot of work for Biogen Idec a pharmaceutical company who have placed a factory here in Denmark – we need to cope with these global customers and competitors. However there is a recession on its way but we are not that involved in house buildings. As long as there is still investment in new plants for the industry and environmental friendly district heating is still expanding in Denmark then it will be ok for us in the future."
The other services that this company provide include the engineering, erection, test and approval as well as servicing of sprinkler systems; industrial services to power plants, refineries, pharmaceutical plants, breweries and industrial plants; and prefabrication services for pipe spools, modules, containers, units and steel. District heating is a major market in Denmark and with its ability to provide such a range ofservices to businesses, including its maintenance service, L&H Rørbyg can only grow and expand in this healthy market.