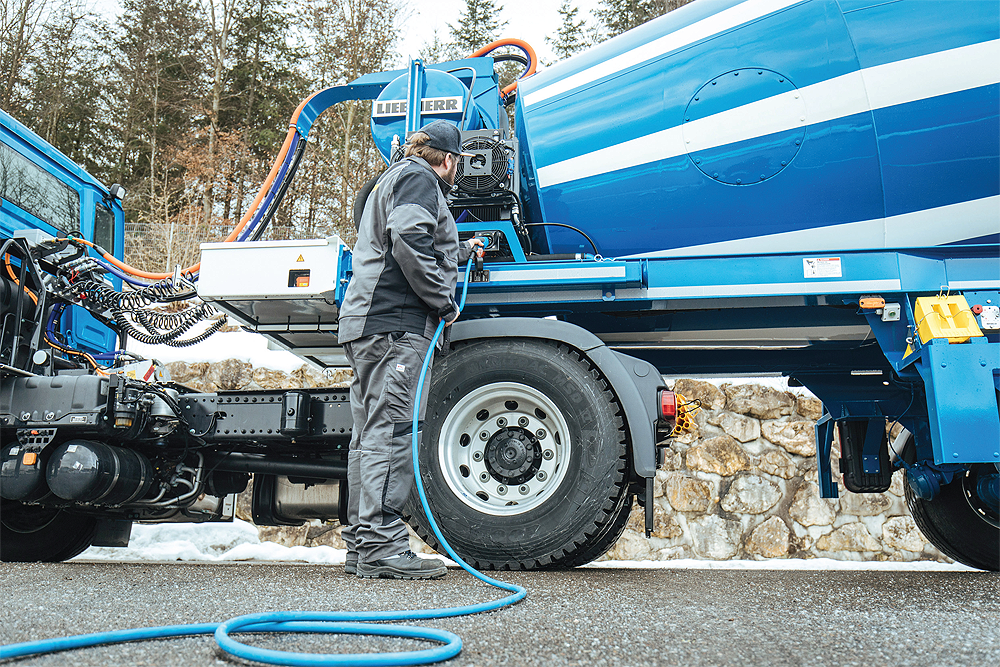 Shaking up the system
In April 2019, at the bauma 2019 construction machinery trade fair in Munich, one of the companies making the biggest of waves was the multinational equipment manufacturer Liebherr. The reason behind the excitement generated was its unveiling of its Electric Truck Mixer (ETM) range of units with electrical drum drives.
The ETM series features a fixed body with a nine-cubic metre drum and a semitrailer with a ten-cubic metre drum. With it, Liebherr is reacting to the increasing requirement to reduce fuel, CO2
emissions and noise pollution in areas of high population density and other sensitive environments. The truck mixer's battery capacity reserves are large enough to accommodate an entire working day of standard operations, while a compact and efficient electric generator helps to recharge the battery during journey times to and from construction sites or batching plants.
Following its successful unveiling last year, Liebherr's ETM solution will now be taking centre stage when the company makes its annual appearance at The UK Concrete Show at Birmingham's NEC on March 25 & 26, 2020. To tell us more about the ETM range, Construction & Civil Engineering spoke with Liebherr's Product Manager, Silvan Gadner.
"We initially began developing the ETM range back in 2017, when we were first approached by a customer that was thinking about ways to develop a hybrid truck mixer solution," he begins. "As anyone familiar with truck mixers will be aware, these typically diesel powered units tend to spend the vast majority of their time stationary but with the drums turning. What we wanted to do was develop an environmentally friendly system that would power the truck and allow the drum to turn autonomously.
"The concept we came up with was a solution that allowed us to replace all of the hydraulics used within our latest fifth generation model with an electric-powered system fed by a lithium ion battery. We also took the decision to include a power take off generator to feed additional energy into the battery when the unit is travelling from its base to site. This helps to further negate the – already minimal – need to recharge the unit during the course of a day's activities, which is a key requirement that customers want met as they want to retain the reliability of traditional diesel powered vehicles."
As of January 2020, Liebherr's ETM units find themselves in the pre-production phase, with a small fleet of completed vehicles ready to be handed over to a select group of European customers, and ambitions to move into full production by the third quarter of this year. In the meantime, anticipation is building to the company's aforementioned appearance at The UK Concrete Show, where attendees can look forward to getting up close to a fully functioning European version of one of its ETM's.
"The ETM will form the centrepiece of our appearance at this year's event," confirms Simon Cook, General Manager of Liebherr's Concrete Division. "We will have the unit fully energised so that we can drive the drum and safely demonstrate to people how it operates independently of the main drive engine of the truck and how it does so while emitting virtually zero noise. This presence at the event will give people the perfect opportunity to meet with the key influencers behind the ETM, and we look forward to answering any questions about the product that attendees may have."
Alongside the ETM, Liebherr will also be bringing with it one of its fifth-generation truck mixers – its current model which sits upon a Mercedes chassis – which proved to be a resounding success with strong sales figures in 2019, as well as its E Electric trailer-mounted concrete pump. Its highest hopes, however, rest with the ETM. "Anyone who knows anything about Liebherr will be aware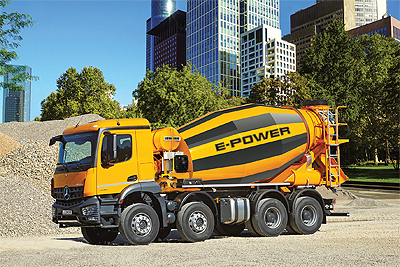 that we never release a product to market unless we are confident it will be a success. The only difference about the ETM is that there is virtually nothing else like it on the market today, and we can't wait for people to see it first-hand."
Silvan, Simon and everyone else associated with Liebherr and the ETM are linked by their shared confidence in the future potential for the range, and the business stands ready and waiting to move into full-scale production as and when orders inevitably pick up speed. "The ETM is a unit that I absolutely expect to become a prominent feature of many of construction project in the years to come," Silvan confidently states. "With increasingly stringent CO2 emission and noise regulations coming into play, particularly in urban areas, we anticipate the market share for electric powered units to rapidly grow, potentially to as high as 50 per cent by 2025.
"From there, with a greater number of these electric units being produced, the technology is expected to become cheaper and more accessible, meaning that the long-term likelihood is that they will eventually outrun hydraulic truck mixer models – potentially within the next decade. That is why we at Liebherr have backed such an innovation and will continue to do so going forward."
Liebherr
www.liebherr.com
Products: Sophisticated construction products and services