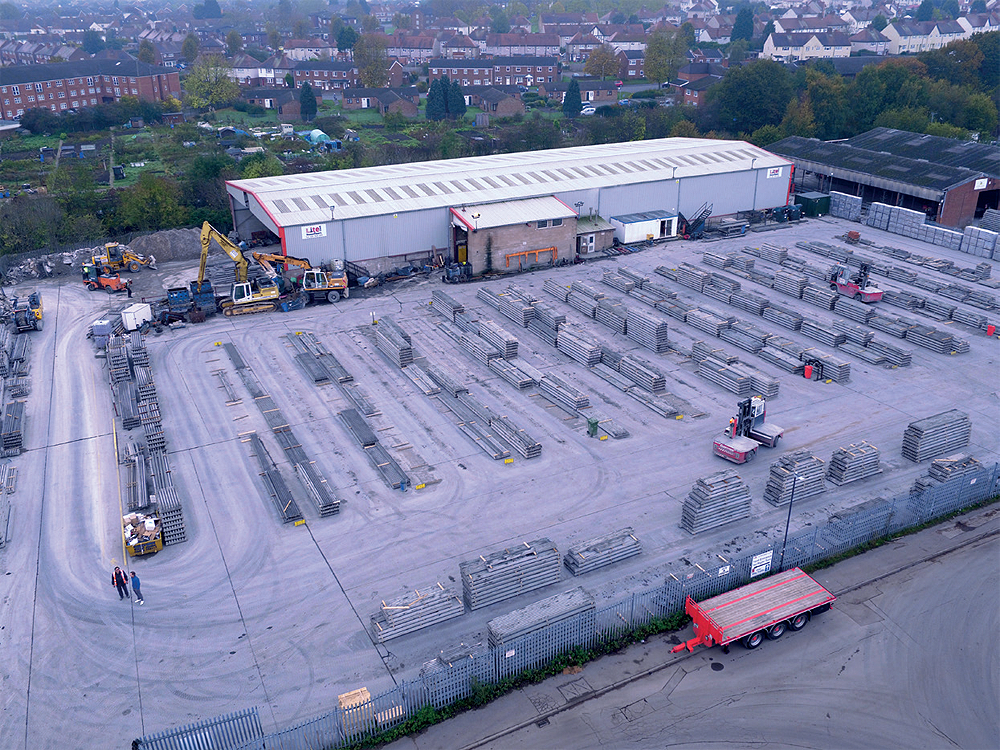 Lite-ing the way
For over 20 years, Litecast has been recognized as being a leading manufacturer of precast concrete floor beams in the UK, and a new purpose-built production facility stands to take the company to a whole new level
The formation of Litecast – a precast concrete business, based in Nuneaton, Warwickshire, and specialising in the manufacture of concrete floor beams – came about in somewhat unique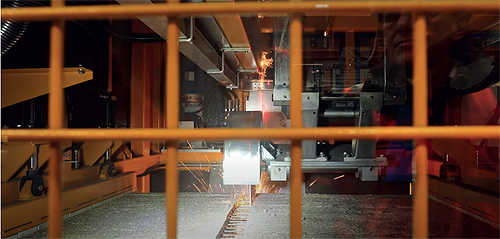 circumstances. It was brought to life by four individuals who had previously worked together at a company by the name of Earthspan, but who were collectively made redundant following its acquisition by Tarmac. With their redundancy money, the group set about creating Litecast, which made a similar, but vastly improved, lightweight T-beam for the residential building sector.
Digital transformation
In the years that followed, Litecast quickly established itself as a leading supplier of construction materials, and an integral part of the UK construction industry's supply chain, manufacturing in excess of 42,000 linear metres of concrete beams each week. In 2016, the company would purchase the Purely Chase Industrial Estate in Ansley Common, Nuneaton – once the home of Earthspan – with a view to erecting a purpose-built production facility that would enable Litecast to become landlord-free for the first time.
"Today, Litecast predominantly manufactures pre-stressed, pre-cast 150mm deep T-beams for domestic/residential purposes," explains Managing Director, Jonny Leroux. "We also manufacture a 225mm deep beam for commercial use, but this constitutes less than five per cent of our revenue. More recently, we have begun manufacture of pre-cast Insulated Wall Panels and interlocking/castellated blocks, initially for our own use within the new factory, but ultimately to take to market."
The growth of the business is clear for anyone to see, but what is it that Jonny feels sets Litecast apart from others within its space? "For one, it is our service levels," he declares. "Also, in the last five years especially, we have undergone a significant, £1 million digital transformation. This has created an environment in which we have been a paperless organization for over two years now, with our entire office being operated from a bespoke system called 'ELSIE'. This system processes every aspect of the business, from receipt of enquiry to invoicing, and includes all design, quotation, order placement, production planning and transport scheduling. ELSIE has ensured our lead-times have remained un-hindered for three years now at three-to-five working days, and has meant that even throughout the Covid-19 pandemic and its associated lockdowns, we haven't needed to extend our lead-times beyond five working days.
"Approximately 89 per cent of enquiries that we receive are quoted (with detailed design drawings, which include thermal calculations for our EPS floors) within 48 hours. Providing designs with
quotation ensures our lead-time upon receipt of order is unrivalled in the industry. Additionally, it means we don't have to provide estimates, the prices we are quoted are accurate to the penny and based on a detailed bill of materials taken from the design."
Record months
One of the many other unique features of ELSIE is its 'transport bolt-on' feature, which allows the company to automatically inform customers if a truck is in their area with spare capacity. The customer is offered a discount if they can take the beams on that date, and Litecast benefits from improved efficiency as well as reducing its impact on the environment by maximizing the weight of beams on every truck movement.
While most of Litecast's competitors opted to close in the early days of the first lockdown back in March 2020, the fact that it was already a paperless company allowed its offices to function normally with just two of its usual 23 employees in attendance. "We initially furloughed most of the workforce, but it quickly became apparent that we were the only beam manufacturer in the country who were still operating, so we soon reversed that decision," Jonny adds. "During the course of April, May and June 2020, we picked up over 200 new clients, many of whom have stuck with Litecast even though their previous supplier has since reopened. Other than an initial lull in April/May, when the building sites were mostly closed, we've been having record months for the last six months or so. Enquiries remain at record levels, and our conversion rate from enquiry to order is higher than ever at 47 per cent as we sit here in February 2021."
Previously, we noted the company's plans for its purpose-built production facility, and Jonny is happy to provide more detail as to what Litecast has in mind for it. "Our new facility takes our production capacity from 42,000 linear up to 72,000 metres per week," he reveals. "Total investment is calculated at over £10 million, and the project has taken over five years from start to finish."
Green ambitions
The new facility incorporates both bespoke and brand new machinery that the company believes will revolutionize its industry. "These machines have been designed by ourselves, and through the combined efforts of individuals such as our Works Director, Andrew Hall, and our Maintenance Manager, Steve Smith, we have come up with three machines that massively reduce the labour involved, as well as improving safety, reducing noise and cutting waste," Jonny enthuses. "Firstly, there is a machine that sweeps the beds, oils the beds and pulls the wires down the length of the bed all at that same time, operated by one man with a remote. Secondly, there is a machine that lifts the beams from the beds and rotates the beams to stack them, and thirdly, there is a band saw that cuts the wires between the beams. We have proven all three machines in a laboratory environment, but are currently commissioning them in the real world."
Jonny goes on to state how the ultimate vision for the new facility is for it to be Carbon Neutral. "We aim to achieve this through a combination of sustainable energy and significant investment in insulation. The heat for the concrete moulds comes from an extensive ground source array which feeds four heat pumps. Additionally, the ground source heat system is used to heat the water that is used in the concrete mix, which reduces the required cement content levels, further reducing our carbon consumption. We have also installed a massive PV (solar panel) array on the roof of the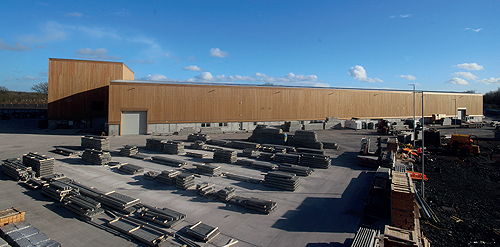 factory, and are hoping to get the majority of our electricity from this.
"There is no gas to site, mains or tank, and the entire building is well insulated, including the batching plant and aggregate bins. This ensures that we are able to cast all year round regardless of external weather conditions. Improvements have also been made to employee welfare, in that the new facility is warmer, safer, quieter and cleaner than the old factory, and there are number of health and safety benefits, too."
With the ground source heat pumps now operational, the plan for the next six months or so, is to get the new facility up to 100 per cent capacity, and then to begin double-casting to meet increasing demand. The insulated building, efficient heat to the insulated beds and heated concrete mix were all factors considered by the company when aiming to double-cast in its new factory.
Looking further ahead, however, Jonny envisions more investment and advances for the business to come. "Litecast is exceptionally well located, being just a few miles from the geographic centre of England, however, there are logistical issues when we try and delivery to the more remote corners of the country. Therefore, an obvious progression for us would be to invest in additional facilities (initially just for stocking beams, but ultimately for production as well) in the South West and/or South East of England," he concludes.
Litecast
www.litecast.co.uk
Products: Pre-cast concrete beams