An environmental alternative
Gypsol Anhydrite Screeds – a sustainable flooring solution
In an era where environmental concerns are at the forefront of our lives, project owners are constantly looking for more sustainable alternatives to traditional building materials.
LKAB Minerals Gypsol Anhydrite Screed is an environmentally friendly alternative to traditional Portland cement materials. Suitable for any sized project, Gypsol screeds can be used in all build
types including traditional construction as well as timber frame, modular, lightweight steel and concrete frame whether in a small basement or in a high-rise scheme.
Environmentally Friendly Binder
Gypsol binder is produced from a by-product. Unlike the manufacture of Portland cement, Gypsol requires very little energy with no elevated temperature processing. This means a carbon footprint for Gypsol binder of just 26.26kg/Tonne of material, compared with that for cement of around 900kg/Tonne. A reduction of some 94 per cent CO2 emissions directly attributed to the screed can be easily achieved.
Lower Energy Costs
An efficient underfloor heating system operates at a low temperature with fast response to ambient changes. Gypsol HTC offers high thermal conductivity promoting rapid heat diffusion. Designed at just 20mm over the pipes, the energy required to generate thermal inertia is much lower. Not only does the screed heat rapidly, it does so at flow temperatures up to 10oC lower than those required for traditional screeds. Thinner screed also allows for thicker insulation, leading to the possibility of more sustainable insulation and improvements to the thermal performance.
Unpredictable weather and high levels of insulation mean home overheating can be an issue unless the screed cools down quickly when desired. Due to its high thermal performance, Gypsol HTC cools much more quickly than more traditional materials, providing the added benefit of being suitable for both underfloor heating and cooling.
The system's coefficient of performance improves by some 25 per cent when using Gypsol screeds. For 60m2, savings in operational CO2 emissions of some 800kg and costs of £100 per year can be achieved.
Rapid Drying
Drying times for screeds has long been hotly debated; the ideal being a screed which can be laid very quickly, designed to thin depths and rapid drying. Gypsol Rapide is a unique and highly innovative faster drying screed offering drying times as short as 14 days, a fraction of the time for other screeds.
Lean Construction
When correctly specified, Gypsol XS can be laid over a well compacted, sand blinded hardcore subbase with no requirement for a ground borne, unreinforced concrete slab, reducing cost, time and environmental impact.
Some Gypsol screeds don't require floor coverings. Gypsol Diamond provides a finished floor solution which can be polished and sealed. The benefits include increased efficiency with underfloor heating. The floor covering operation and all the potential practical, cost and time challenges that presents are eliminated.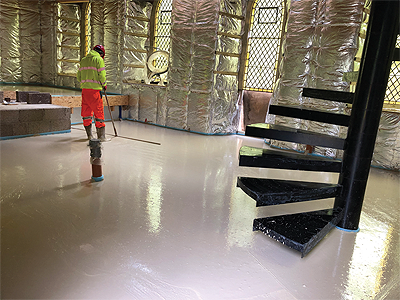 Gypsol screeds need no reinforcement making preparation and installation more simple. Installation is rapid with 2000m2 per day being possible.
Gypsol TS-15 can be just 15mm deep, meaning higher floor to ceiling heights can be achieved or alternatively in some cases whole courses of bricks may be removed from new builds, reducing ridge heights and offering big cost benefits.
A major cause of failure in cementitious screed is lack of compaction. Gypsol screeds are self-compacting.
Health and Safety
Due to the materials and placement methods of Gypsol compared with those for traditional screeds, installers benefit from less strenuous application resulting in reduced wear and tear on muscles and joints, no issues with cement induced skin conditions and significantly reduced manual handling involved.
Independent Testing
Gypsol screeds have been independently tested and verified ensuring consistency and quality.
Available Nationwide
Unrivalled in-house technical expertise and dedicated laboratory ensures that LKAB Minerals can provide ongoing assistance and on-site practical support at all stages. Gypsol screeds are available in ten formats, ensuring that the right product is available for every application. All Gypsol screeds are available nationally from over 90 locations through a network of distributors and approved installers.
LKAB Minerals is an international industrial minerals group with a leading position in a number of product applications. It has sales representation, offices, production units and deposits in 11 countries in Europe, Asia and the US and employs around 450 people. LKAB Minerals' turnover was 329M EURO in 2017 and it supplied over 30 minerals to a range of industries, including construction, water treatment, polymers & coatings, agriculture and pharmaceuticals.
For details of your local specification manager or more about Gypsol screeds, visit: www.lkabminerals.com/gypsol