While property above ground in cities such as London remains at a premium, London Basement is at the forefront of constructing innovative, high quality basement living spaces
Going underground
While property above ground in cities such as London remains at a premium, London Basement is at the forefront of constructing innovative, high quality basement living spaces
The growing need for habitable space in cities worldwide, particularly in London, where homeowners have already exploited loft or attic space and find it difficult to extend onto an existing property, has led to the construction and development of increasingly large and more complex, innovative basements. London Basement, which can trace its roots back to the early 1960s, has been at the forefront of this concept, providing pioneering basement construction services to become London's basement construction specialist of choice.
"The idea of basements, or should I say, converting basements into habitable space is a fairly new idea and the number of projects being undertaken on an annual basis has increased substantially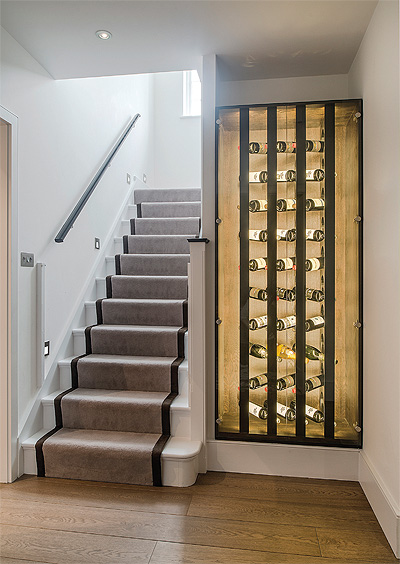 in the last 20 years – in Kensington and Chelsea, in London, there were over 400 planning applications in 2013 alone. London Basement is a specialist contractor providing retrofit basements beneath existing houses in London.
"The ownership of the company changed in 2010 and since that time we have sought to ensure that the business is recognised as being the market leader, highly professional, and a company that our clients would recommend. At present we have 20 projects running concurrently ranging from 600 square feet upwards," explains Stephen Merritt, managing director of London Basement.
The business has considerable experience in its field, which enables it to provide clients with a fully personalised, tailored service that can include basement planning, design and construction. This can incorporate an initial survey and feasibility, basement design and planning, project management, basement construction and house refurbishment. "Our specialist area is the construction of the basement structural shell," says Stephen. "Over the years we have led different methods of creating the space, including going under solid floors whilst undertaking the projects in the safest manner possible, which is why we have such an excellent safety record.
"Imagine the footprint of a house," he continues. "We aim to replicate this and to use steel beams to leave a flexible area for the client to then decide the shape of the rooms. Most things are possible, it's just a question of cost and of course planning permission, which is becoming more difficult for multi-storey basements." Indeed, London Basement offers a complete range of basement construction services employing a large number of structural teams, waterproofing and site set up crews that allow it to tackle any size or complexity of basement construction project.
The company has innovation at its core, aiming to constantly push the boundaries of basement construction in order to meet the growing expectations of clients. This approach has seen the business develop new engineering, construction and underpinning methods in order to maximise basement space, as well as extending basements below gardens and driveways. In most instances the company carries out a retrofit type service, whereby it excavates under the property to a size and specification set by the client. This work is not confined to one level as London Basement has considerable experience of building multiple level basements that can include swimming pools, plant rooms, wine cellars and storage.
"With a limited ability to go anywhere but down and with high levels of stamp duty, we are seeing the area where basements work financially spread out," Stephen says. "Some of the projects involve creating a basement where there is nothing under the house, whereas some already have an old coal cellar for example. Whatever the project, the principles remain the same. In terms of challenges, the key issue for us is access. We are often undertaking these projects in busy parts of London with limited parking (we typically need two parking bays – one for a skip and one for a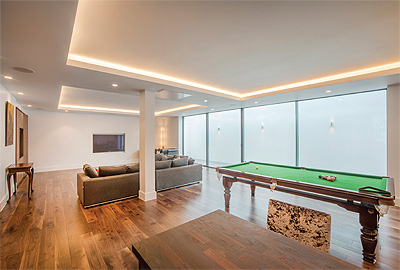 welfare area). Given that our work involves working underneath a house we need to ensure that the property is adequately supported, and so we have both temporary and permanent engineers design for all our projects."
Considering the nature of London Basement's work health and safety is naturally of great importance. The company believes that if the job is not completed safely then it is not done effectively, and accordingly it uses a specialist health and safety company to oversee its projects. "We use an external consultant to audit each of our projects on a monthly basis to ensure that we are complying with all the rules and regulations," Stephen highlights. "The whole team knows the importance of health and safety and we reinforce this with regular training. At the same time we have been going through the process of ISO 9001 certification and we are also a member of the Considerate Constructors Scheme and try our best to reduce disruption to local residents.
"In fact, basements often have a bad name due to the noise and disruption that they can cause. This is often due to a poor contractor not following the industry guidelines and traffic management plans. The industry must do more to stamp this out and Considerate Constructors is one option, along with more enforcement and publication of contractor scores."
Of course, more stringent regulation is not something that should concern London Basement as its reputation for quality and innovation goes from strength to strength in the industry. Over the coming years the need for living space in busy cities like London will only grow, and considering this, the future for London Basement looks very bright. "Over the coming years we want to steadily grow the company whilst ensuring that our personal approach to our work is maintained, in fact, that aspect is more important to us than simply chasing turnover," Stephen concludes.
London Basement
Services: Specialist retrofit basement contractor