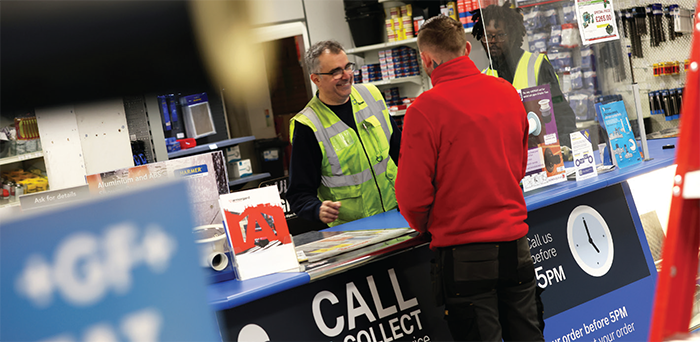 London's leading 24-hour materials and plant merchant, TG Lynes, has been serving the trade for over 110 years
Based in Enfield, North London, TG Lynes (TGL) is a merchant and distributor of plant and materials for mechanical, heating, plumbing and air-movement services. The company was founded in the King's Cross area over 110 years ago by the Lynes family, and changed hands in 2015 when it was acquired by the Grafton Group PLC. Since the new ownership, the business has gone from strength-to-strength, and today, it operates out of a 60,000-square-foot facility, with a 2000-square-foot, fully stocked trade counter, and its own plant hire division. In sitting down with Construction & Civil Engineering, Andrew Ingram, Managing Director, describes the enterprise as a true one-stop shop.

"The ethos of TGL has always been to provide our customers with what they need, where and when they need it," Andrew begins. "The overall aim is to be the ultimate supply chain partner, and we strive to ensure that all of our customer interactions are as smooth as possible. We understand that our clients have incredibly hectic, stressful lives and working schedules, which is why we try to take any angst out of procuring materials or plant and tool hire.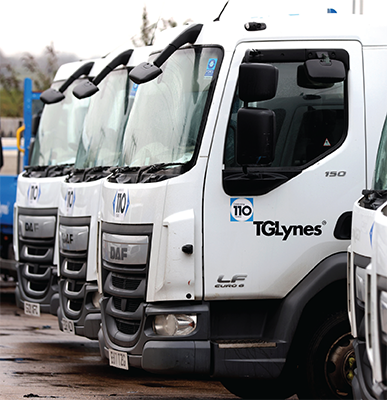 "We generally offer a next day service between London, the home counties and the surrounding areas, meaning we'll travel over to Norfolk and north towards the Midlands and Birmingham, then southwards down to Southampton. That's not to say we don't have customers outside of the South East and beyond the Midlands. For those with specialist requirements for specific projects, TGL offers a bespoke nationwide service on a pre-booked basis. Currently some of our colleagues are starting as early as two in the morning to prepare scheduling and loading so that our orders are ready to be delivered by our fleet of 22 vehicles, on time."
In ensuring that it can continue to offer these exceptional services for the long-haul, TGL prioritises a large fraction of its capital for reinvestments in greener technology and equipment. The company's fleet is fully euro six compliant – and it recently took the next step on its road to net zero by introducing Hydrotreated Vegetable Oil (HVO) to two 18 tonne vehicles in its fleet which were previously running on diesel, making them 90 per cent more carbon efficient. TGL is now considering rolling out HVO across its entire fleet of delivery vehicles throughout 2023, potentially saving 220 tonnes of carbon. A number of new electric alternatives are also being introduced into the commercial fleet later this year, including a 3.5-ton, drop-side van and a 7.5-ton Tevva truck. Around 18 months ago, the site was fitted with photovoltaic panels to reduce the business' reliance on mains energy, and LEDs have replaced the original lighting solution.
"We are not a company that rests on its laurels," Andrew continues. "Hydrogen is certainly a fleet option on the horizon, and we will soon see whether that's going to be an option for us. We are continuing to look into site improvements, what we have completed thusfar is not the end of the journey. Replacing the current heating system with more environmentally efficient options is high on our list, as well as battery storage for the power being produced by our photovoltaic panels. That way, none of it will go unused and it can replace some of the renewable energy that we source from external wind farms. There's no longer any single use plastics within the organisation and we have a huge recycling programme to compliment the recycled and recyclable PPE we procured from Wentworth."
Alongside funding advancements on the technological side, TGL also invests heavily under the banner of ESG, as Andrew details: "Continued investment in our colleagues is crucial to what we do. We have a holistic approach to ensure we're providing more than just professional development for our employees, we attempt to equally focus on their wellbeing. It's a huge part of our culture, and the legacy that we'll pass forward, because without our people, TG Lynes is nothing. It's a real team effort to achieve the company's continued success.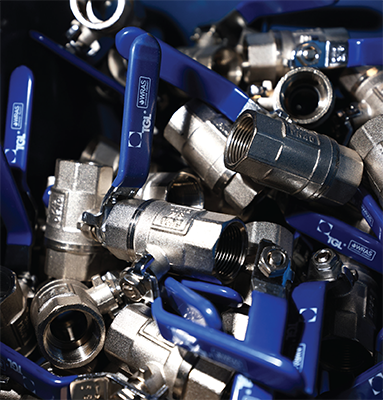 "Playing an active role in the community is also vitally important. That's why last year we launched our Helping Hands campaign to award more than £15,000 worth of product and labour to good causes in our vicinity, something we're looking to do again in 2023.
"Externally, the same principles apply to the relationships that we have with our supply chain partners. Our procurement and sales teams are in a constant dialogue with our suppliers and vendors to secure the right goods at the right times. Without this, we can't distribute to our customers. Challenges will always present, but we feel confident that by leading with our strong relationships and consistent communications, we can generally overcome anything thrown our way."
Amongst TGL's suppliers, the company has significantly developed their working relationship with Armacell UK, which provides lagging products for insulation solutions. "The procurement team at Armacell has been a joy to work alongside, we have one of those symbiotic partnerships. Both of us have succeeded through our collaborative work, and it's always a pleasure to watch a partner experience such exponential growth, especially over the last two years. It shows you that good working relationships, developed in conjunction with our own procurement team, can benefit both sides, and Armacell have certainly helped provide our customers with such a great service."
In driving towards a greener and fairer future for all, Andrew cites continued growth and success as being TGL's main motives. "I hope to see us working hard at the things that we're good at, and look to improve them further, and offer even greater levels of service. Integrity and quality have been the backbone of TGL for many years and that is the foundation of our relationships with our valued customers. Moving forwards, TGL will continue to review and enhance our current portfolio, as well as our distribution patch. With this as a focus, I don't think further growth is going to be a problem."
www.tglynes.co.uk