LSC Group continues to deliver outstanding service and quality projects to a range of high profile buildings up and down the UK
Facing success
LSC Group continues to deliver outstanding service and quality projects to a range of high profile buildings up and down the UK
Over the last 25 years LSC Group has built itself a reputation for providing high quality and innovative façade solutions to a range of building projects around the UK. A propensity for the innovation and delivery of new ideas has been part of the company's blood since it began when it was one of the first companies to identify opportunities for rainscreen cladding finishes in the UK market. Ever since, by bringing on board highly skilled personnel, industry-leading expertise and an ever-developing understanding of diverse material capabilities, LSC Group has steadily grown to become a leading figure in the UK Façade industry.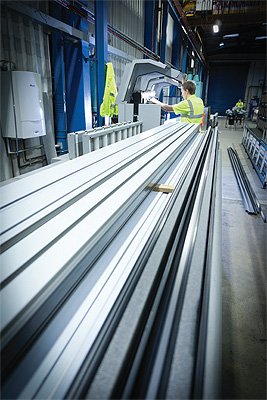 At around 50,000 square feet, LSC Group's fabrication and manufacturing facilities are one of the largest in the UK. Having its own factory means quality, accuracy and efficiency run right through the heart of the business. The company has total control of virtually the entire façade, a unique position within the industry as it fabricates both aluminium and steel glazing items including bomb blast and fire rated systems. Brackets, cill, copings and flashings are also fabricated in-house. To enhance levels of service and quality LSC has recently introduced an apprenticeship scheme in one of the units. Furthermore the factory is independently audited to ISO 9001 standards, giving its customers even greater peace of mind and confidence in receiving the highest quality, tried, tested and technically correct products.
Perfectly illustrating this customer-centric approach to doing business, the group splits into two highly focused branches: LSC Façades, which uses its historic expertise to deliver large scale construction projects across all sectors, and LSC Special Works, which focuses on more specialised and niche contracts.
In recent years the LSC Facades division has demonstrated its capabilities in a number of highly prestigious projects. For one such contract, Thurston Point with main contractor Denne (Bouygues UK), LSC Facades was commissioned to design, supply, manufacture and install the full envelope – consisting of 14,000 square metres of Metsec SFS, 6500 square metres of Keratwin terracotta, 4000 square metres of Trespa, 1700 square metres of Zinc standing seam and 2000 square metres of Technal curtain walling, and also installation of Velfac Window Systems.
The division has also previously delivered a 10,000 square metre façade project for Volkswagen's Milton Keynes Headquarters. Again, working closely with its construction partners the company was able to design and manufacture over 500 ACM Alucobond cassette unique panels, Metsec SFS, and Schueco FW60+ and deliver the project on time and on budget to meet the building's cutting edge and futuristic design characteristics.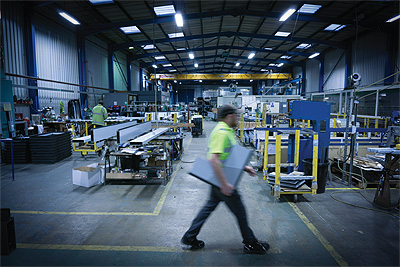 In addition to this, LSC Special Works played a key role in delivering Bournemouth Council's first Seafront Strategy projects – part of an ambitious 20-year plan to rejuvenate the city's seafront. The works were commissioned to help deliver a unique, tourist information building complete with faceted glass, which surrounds the whole building and culminating in a point. Employing highly-technical 3D modelling solutions, the company was able to overcome a number of complex design challenges as it delivered a complete solution from design and manufacture to the installation of Technal MXSG curtain walling, doors and Schueco Brise Soleil.
Success for LSC Group continues for 2016/2017 as it has already secured three significant contracts. The first, for the LSC Façades division, is to deliver a scope of Hueck curtain walling and Trimo insulated panels to Cornerstone Office Scheme alongside main contractor, Kier Construction. The project is worth £4.2m to LSC Façades. Similarly, LSC Façades has also recently secured work at Beckley Court with Kier Construction. At 78 metres and 22 storeys, the block of 496 student flats will tower over the Civic Centre and once completed will be Plymouth's tallest building. LSC's scope of work will include, SFS framing, render, Hueck curtain walling, glazing and doors, the project is worth £4.4m to LSC Façades.
LSC Special Works is also securing larger projects, such as Southampton's Cancer Research Centre for Cancer Immunology with Kier Construction. The new centre will be home to world-class research facilities. LSC Special Works will be designing, supplying and installing Alucobond cladding and Schueco curtain calling for a project worth £1.5m.
Central to being able to offer this breadth and depth of service is the company's focus on its people. By always encouraging its teams to take ownership of projects, and rewarding them accordingly, LSC has become an attractive prospect for new employees. A dedicated apprenticeship programme, which is growing from strength to strength, is a key part of this and provides a lot of young talent a solid route into the construction industry. Underpinning this attention to people is a committed health and safety attitude that places the wellbeing of all employees as paramount – a zero incident record in 2015 is testament to this.
Such is the expertise and achievement of LSC Group over recent years that it is currently a finalist in 2016's Construction News Awards in the Specialist Contractor of the Year (turnover up to £100m) category. Shortlisted from among a record number of entrants, the company's performance will be judged by a 61-strong jury before the winners are announced on 14 July 2016 at Grosvenor House in London.
LSC Group is always looking to the future – for the next opportunity, the next innovation and new ways to ensure success for its business and for its clients.
The company is working even more closely with customers – being more collaborative, more committed and more can-do, and recognises that it needs to continue to evolve, challenge and change in order to move its people, business and industry forward. With a commitment to aiming for larger wins and greater successes, the coming years look fruitful.
LSC Group
Services: Providers of complete, specialist façade solutions