Lumon Oy proves that with a clear and focused strategy, growth is still possible in a market with tough economic challenges
A neat outlook
Lumon Oy proves that with a clear and focused strategy, growth is still possible in a market with tough economic challenges
Lumon began its life in the eighties as a small family enterprise, selling window and door replacements to the Finnish consumer market. Thirty-seven years on and it is a leading manufacturer of frameless balcony glazing and glass-roofed terraces with a world-class facility and positive aspirations for continued growth. "The history of the company can be divided into three sections," begins Vice President of International Operations, Jari Miettinen. In the nineties, the company invented the frameless design and the focus of Lumon shifted from selling other people's products to designing and manufacturing its own, namely balcony glazings. Frameless balcony glazings was a little innovation from Finland at that point of time, but now the idea has spread almost all around the world. Later on in the decade the company further developed its product offering with a range of railings and it started to expand from a consumer to a more commercial market focus. The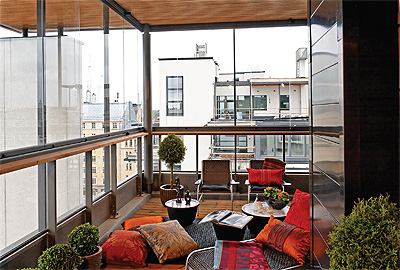 third stage of its history came in 2000, when it began to look outside of its Finnish market and entered onto the international stage.
"Starting out in the Finnish and then Western European markets, Lumon soon entered into Russia. Today, besides continuing the growth in Western Europe, we are focusing on developing Central Eastern Europe and also expect some great growth in Canada and the USA," outlines Jari. "We also have some customers on a licensed manufacturing basis in the Middle East and Latin America." Currently, employing over 800 people and having achieved north of 100 million euros in revenue for the first time this year, Lumon is very much focused on growth and Jari seems positive that this strategy is possible across its geographical markets: "The European economic situation is challenging, with most of the Eurozone showing slow growth at the moment and Russia has a big question mark over it. The UK market is now growing, but for us the booming market is in North America. However, the market potential is big wherever we operate, as despite the economic conditions we can always target the luxury market."
Having proven its success in Finland, Lumon is generally confident that it can replicate this success across its target market, yet Jari remains aware of the challenges this can pose. "The economic condition is different in every country so it is difficult to see exactly how to grow in the best way from market to market," he comments. Considering this, the company takes a cautious, yet smart approach to its strategy. Jari continues: "We do get a lot of requests from other countries, especially from Asia and Australasia, but if we want to grow in a controlled manner we need to work on a market-bymarket basis. Ultimately, we want to be an example of a company that can successfully prove it is possible to grow in a difficult economy."
Lumon's current strategy of international expansion is key to achieving this vision as it successfully sets up in North America. This year sees the company enter into a joint venture with a Canadian partner to help penetrate the market and establish new territory. "These markets are a key part of our international growth," expresses Jari. "For our balconies and glass terraces we bring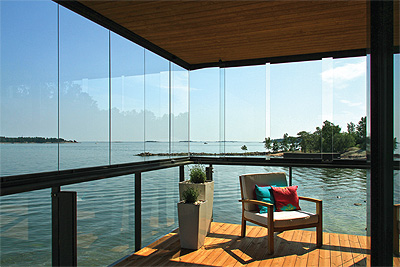 something unique to the market and so we are expecting our partner in Canada to become our biggest operation outside of Finland. Indeed, even in the first year Canada will be the biggest market outside of Finland." Further evidence of its international success can be seen in the company's latest results as international revenues surpassed domestic sales for the first time in the company's history.
The core strength of Lumon is two fold. As Jari explains: "It's a combination of being close to the customer and a very advanced, high quality and cost effective product range that makes us very competitive. We take care to focus carefully on our current markets and on the processes and distribution partners we have." Central to supporting these strengths is a noticeable commitment to continuous improvement and investment, which has lead to Lumon having the most technically advanced and most automated manufacturing process in the balcony industry. "Over the past ten years we have been renewing all the machinery at our factory in Finland in a move to build a process based automated manufacturing and delivery mechanism," says Jari. "Each and every balcony we produce is individual and unique to the balcony of a building so our ability to integrate this precise customisation with automation is unique."
This redevelopment is particularly significant in today's manufacturing industry where the cost of labour is becoming an increasing challenge in Europe, but Jari is confident that this process allows the company to remain competitive against methods of mass production using cheap labour. Couple this to the complete supply chain management from raw material to installation and a focus on ensuring its international resellers are well trained, and Lumon is able to deliver its quality products at the most competitive prices with an unrivalled service.
The future plans for Lumon very much revolve around continuing the growth it has so far successfully demonstrated. Careful attention to its markets and a controlled strategy will be supported by this continuous improvement to ensure it offers the best quality products at the best value to its global markets. Despite tough economic conditions in some of its target markets, it is not just Lumon's offering but its attitude and positive outlook that will ensure it continues to grow as it moves forward.
Lumon International
Services: Manufacturer of frameless balcony glazing and glass roofed terraces