Luxtrade Pushing the boundaries beyond the conventional From aerospace to steel fabrications
Sparked by a change in ownership, in less than a decade Luxtrade has undergone a massive transformation in order to become one of the UK's leading manufacturers and suppliers of secondary steelworks packages
It is fair to say that the bespoke steel fabricated product specialist known as Luxtrade that you see before you today is far removed from the one that Chairman Richard Holland walked into back in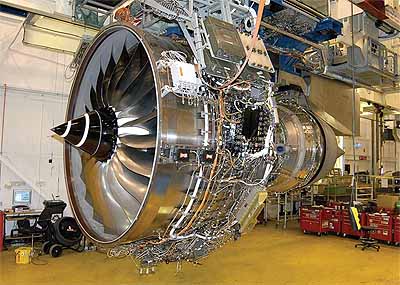 2009, a fact that he is all too honest about admitting himself. "When I got hold of Luxtrade it was suffering what can only be described as an identity crisis," he begins. "At the time its repertoire was fairly limited, it had an unwanted reputation for poor quality and struggled to turn any kind of profit."
Having come into the construction sector on the back of an illustrious career in the aerospace industry, during which time he became a fellow of the Royal Aeronautical Society, Richard was faced with a situation that others would have been forgiven for baulking at. Nevertheless, it was his self-belief in his ability to succeed that led him to ask himself, 'what can Luxtrade do better than anyone else?'
"The answer at the time was probably 'not a lot'," Richard half-jokingly proclaims, "but it was then that I decided that what we could become better than anybody else at doing was communicating with our customers. Incorporating many of the lessons learnt from my time interacting with people in the aerospace industry, I decided to take a very different, enlightened approach to communicating with our customers, dealing with them in an open, honest and transparent way, while maintaining a relentless push to complete projects to the highest standards of quality. This was the catalyst for a multi-year programme that helped transform the business from being, effectively, a metal products manufacturer and distributor, into a project engineering company."
Quality assurance
Against the backdrop of this strategic approach, Luxtrade began to gradually build up its credentials with a new type of customer, earning for itself a reputation for being very different from regular companies that service the sector. "Structural steel work is not the most glamourous of industries, and one of the challenges we initially faced was that in dealing with structural steel companies we ran the risk of being seen as simply a small fabricator of little significance," Richard states. "By targeting who we worked with, specifically those customers working on complex construction projects, we worked hard for Luxtrade to be seen as the expert secondary steel work manufacturer that it really is."
In Richard's previous working life within the aerospace industry he operated in a world where quality is mandatory and permeates through every task that is carried out on a daily basis. It was this mind-set that he wanted to instil within Luxtrade from day one. "My first step was to make sure that we obtained ISO 9001 in 2009, which we did," he explains. "We later followed this up by achieving ISO 9001- 2015 certification within a matter of weeks of it being inaugurated. The significance of this is that it put us well on course to achieving the all-important CE accreditation that became necessary for any business to hold from mid-2014 if it was to sell structural steel into the UK market. Having joined the British Construction Steelwork Association in the run up to this, we opted to go through the association to achieve our CE credentials, which we did with flying colours.
"We followed this by also achieving Constructionline qualification status. As with CE qualification, these are prerequisites for being a recognised as a high quality company, meaning that in nine years we have transformed from a company with virtually no quality assurance to one that is at the cutting-edge of industry expectations."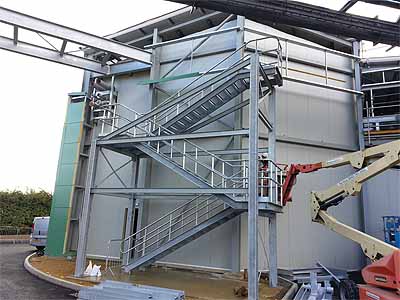 One of the other vows that Richard made when taking over Luxtrade was that it would never be thrown off a project due to under-performance, a fate that has befallen even the largest construction companies in the past. "Equally," he says, "we promise never to abandon a project, whatever the cost. Central to the way we operate is the fact that we never baulk from our responsibilities, and it the fact that we have managed to maintain our integrity over the last nine years that has resulted in the sterling reputation we now have in the marketplace."
Larger projects
The efforts of Richard and his team has also resulted in the company's portfolio of services being changed out of all recognition, moving away from supplying stand-alone items such hand railings and floor products, and into offering complete system packages for steel flooring, fencing, barriers, handrail systems and architectural mesh. In turn, the projects that Luxtrade was being tasked with completing became bigger and bigger, further challenging its production capabilities. The answer to this conundrum was a move into a new 28,000 square foot factory in Wolverhampton, which comprises the company's in-house press and machine shops and flexible manufacturing.
"Simply put, we completely outgrew our old facility to the point where the constraints were starting to hold us back as a company," Richard continues. "We were at a point where we had to turn certain work away because we did not have the lifting equipment needed to complete tasks properly. This is no longer the case, with Luxtrade now operating from a state-of-the-art facility that allows us to tackle larger projects than ever before, and crucially more of them at any one time.
Complex work
"This facility affords Luxtrade with a phenomenal opportunity, and gives us a massive boost in capacity and capability. We estimate that we effectively have sufficient space to quadruple our capacity from where we are at present, which means we will never again be in a position where we need to turn work away. This facility provides the backbone of our plan to turn Luxtrade into a £5 million business, which previously was not a realistic goal."
A strong surge in the placement of orders with the company by its customers, together with its proven ability to identify new projects and partners, have helped contribute to the best 12 months that Luxtrade has ever experienced in terms of sales and profits, profits which are eagerly invested back into the company. Not one to rest of his laurels, Richard's focus now is to carry this growth forward into 2018 and beyond. Doing so however will require Luxtrade to display all of the leading qualities and characteristics that have brought it to where it is today.
"One of the phrases you hear used in many different walks of life is, 'it's not rocket science', which I heard more times than I can remember when I worked in the aerospace industry," Richard concludes. "When I think about this now and apply it to Luxtrade I can safely say that, while steelwork is indeed not rocket science, what we do is hard, complex work. It is in no way easy or trivial. This is an incredibly demanding industry we operate in, the accomplishments we have made should not be underestimated, and we look forward to building upon these in conjunction with our customers for many years to come. That's pushing the boundaries"
Luxtrade
www.luxtrade.co.uk
Products: Bespoke steel fabricated products