Thanks to its extensive fleet, experienced operators and exceptional service levels, Lynch Plant Hire has come to be recognised as one of the UK's finest operated plant and haulage providers
A hire power
Thanks to its extensive fleet, experienced operators and exceptional service levels, Lynch Plant Hire has come to be recognised as one of the UK's finest operated plant and haulage providers
At the age of 16, Liam Lynch left his home in Ireland and migrated over to the UK to pursue employment opportunities in the construction sector. His experiences in those formative years helped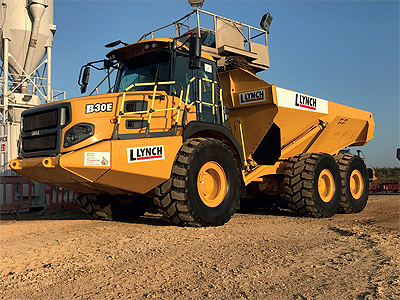 forge Liam's vision for creating a plant and haulage firm that would provide its customers with a perfect package of the right equipment and operators, in a safe, efficient and cost-effective manner.
"When Liam started Lynch Plant Hire, some 30 years ago, the strength of the business was initially gleaned from his heavy involvement with JCB's and haulage lorries, and this helped it to grow fairly rapidly," begins Andy Burrows, Lynch Plant Hire's Operations Manager. The result is a company that, in 2018, is one of the most recognisable names in UK plant hire, with a reputation for quality, continual investment and customer satisfaction.
Lynch Plant Hire is also very much a family business today, with Liam's sons Rob and Merrill Lynch holding Director roles in the company. Both Rob and Merrill play a very active role in the day-to-day running of Lynch Plant Hire, both having started within the industry at a young age and having gained considerable experience of working across virtually every single area of the business.
Under the leadership of the Lynch family, the company has spent considerable time and effort in diversifying its fleet of modern plant and equipment, and services offering, in order to provide operated, self-drive and contract hire plant to a variety of sectors within the construction arena. "Our core products have, over the years, evolved dramatically," Andy continues. "Whereas before we would stock three-quarter tonne excavators up to around 35 tonnes, this today now rises to 50 tonne machines. Our range also includes dumpers and dump trucks, from half tonne up to 40 tonne varieties, track dumpers, forklifts and telehandlers, rollers and skidsteers, loading shovels, grab and tipper lorries, and mobile cranes.
"When it comes to our product offering, we always strive to give our customers the best possible service and that means supplying them with the equipment they need. If a client wants something that we do not necessarily have within our own fleet we will go out of our way to source this for them, often through one of the many strategic partnerships that we have established over the years with other plant companies and specialists. Also, when we find a product range that we feel fits into what we offer as a company we will also look to introduce this to our own fleet."
Key growth area
An example of this approach would be the company's adoption of road sweepers and gully suckers into its fleet of products. "The addition of a greater number of road sweepers into our fleet coincides with the work we have been carrying out on the A14, the largest road project currently ongoing in the UK, where the nature of the work means that sweepers are constantly needed to be present on site," Andy explains. "It is also here on the A14, where we have also pushed into the providing of onsite ADR diesel supply units, which is essentially a mobile fuel tanker that goes around site filling up machines as required. This is a relatively new concept, but one that has shown to work very well indeed."
Road infrastructure projects are certainly a key core of growth for Lynch Plant Hire at present, with further work on the likes of the A428 in Buckingham, the M4, M1 and M5, and the new Lincoln bypass all expected to result in increased demand going forward. Housing schemes, which in themselves are increasing in size to total several thousand homes at a time, are proving to be another lucrative source of work for the company, as are major civils and infrastructure projects, such as the work that is ongoing at Hinkley Point C nuclear power station. While Lynch Plant Hire has always had a minor presence here, in the last 18 months or so this has ramped up significantly to the point where today it has a large number of people and machines on site.
"The machines that we have operational across the country are all similar in that they are all very high-spec, a trend which follows the industry's demand for continuous improvement," Andy states. "For our part, we are embracing things like enhanced digitisation of machinery, using data and statistics to provide our customers with as much information about the equipment that they
are using as possible. For the A14 project, we have created what we call a 'telematics report' support system, which our customers can use to drill down to data about how many active machine hours they utilise, how idle or productive a machine is, how much fuel it is using and how much it is costing to operate on a daily, or weekly basis. Our customers on the A14 project think it is an amazing tool and its success here has not only resulted in picking up an innovation award from our joint venture partner Skanska, but also seen it now being delivered to other important projects and contracts."
'Thumbs-up'
For Lynch Plant Hire, innovation extends far beyond technology and machinery, with the company also being responsible for bringing unique new health and safety initiatives to the sector. These include its highly regarded 'Thumbs-Up' campaign. Run by Rob Lynch, this campaign sees the company holding specific safety days on its customers' sites, taking the time to stress the importance of establishing 'safe zones' around the areas where excavators and the like are active, and of communicating with drivers of this equipment when preparing to enter said zones. The 'Thumbs-Up' name refers to the gesture that the driver should signal to register awareness of other workers around them, giving them time to switch off machinery as required.
New headquarters
Working closely with its customers has also allowed Lynch Plant Hire to develop other unique solutions, such as the creation of 'three points of contact' markers on all of its machines. Using high visibility paint, these markers guide the user to correctly place their arms and legs onto the machine in question to provide the stability required to conduct operations safely.
At the time of speaking with Andy, the company had just celebrated hosting a family open day for its employees and their families, in part to celebrate the opening of its new stateof- the-art head office in Hemel Hempstead. Clearly buoyed by this, and the success that Lynch Plant Hire has had in recent years, Andy proudly proclaims that he believes that the sky is the limit for the company. "Everybody that I have ever worked with at Lynch Plant Hire has been incredibly driven and to this day this helps to push it forward into new areas of growth. I feel that as a company we will continue to be innovative, and that over the coming years both ourselves and the wider industry will continue to grow. This is an exciting time to be within the construction sector. There are a lot of great businesses active today and Lynch Plant Hire plans to remain at the forefront of the industry, leading by example."
Lynch Plant Hire
Services: Plant and haulage hire and associated services