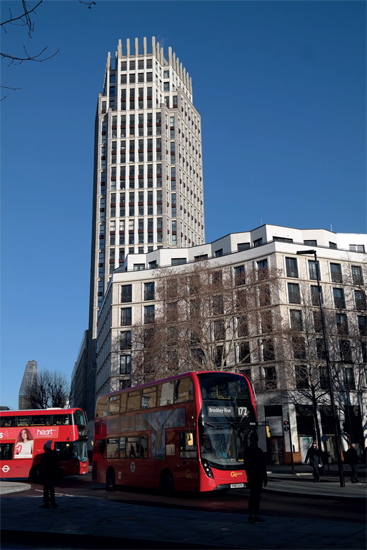 Over a century of excellence
From its main hub in Enfield, North London, M Price Limited offers clients, architects, developers and main contractors a single source for high specification products and services for the vertical envelope of a building
Established in 1881 by Malcolm Price in Lower Hornsey Road, North London – when he began offering glass merchant services – M Price became a Limited company in 1958, before moving to Enfield in 1989. It was soon after this – in 1994 – that it started manufacturing aluminium curtain walls and windows. Later, in 2000, the company finished its first full envelope project, and three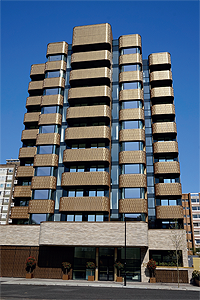 years on it would complete its first fully silicone, glazed unitised scheme at Oxford University, with Foster & Partners. More recently, in 2011, M Price invested in an extra 20,000-square foot on top of its existing 32,000-square foot factory, dedicated to the manufacture of its latest unitised project at Canada Water, London.
"In its lifetime, M Price has survived two World Wars, a staggering eight recessions, and soon-to-be two pandemics," states Chairman Colin Chapman. "As you can imagine, we take great pride in our long work tradition, and proudly maintain our reputation as the best service provider in the façade industry."
Today, M Price designs, supplies, installs and maintains the vertical envelope of a building. From its factory in Enfield, it fabricates aluminium curtain wall, windows and doors. Meanwhile, with its supply chain partners, it is also able to provide all types of rainscreen, cladding, glass reinforced concrete, canopies, brise soleil, and AOVs. The company has also worked on a number of prefabricated, pre-cast concrete projects that have been completed and delivered to site, and craned into the openings of complete façades.
When it comes to identifying the secrets behind M Price's success over such a long period of time, Colin has a clear idea of what makes the company special. "The simple truth is, we try harder," he exclaims. "We are a cost-effective solution for our clients, so when their budget is tight we help them to realize the project that they want to bring to fruition. Specification writers often lose sight of the pound notes, so we have become adept at delivering quality without the lumpy price tag. We also have a well-established, long-standing team, dozens of whom have more than 30 years' service with us, and we consider every one of them to have been key to the success of the company.
Fantastic examples
"M Price has always been a family business and we have kept that feeling no matter how big we have become over the years. As a company with a long tradition and history, we have always embraced a company culture where everyone feels at home. Occasionally people go through hard times in their lives and we stand by them, and they respect this approach, and they reciprocate. We have also always supported a growth-oriented culture, and encouraged the continuous learning and development among our employees."
There are a number of fantastic examples of M Price's work to be found across the city of London. These include its work on the Maple Quay building at Canada Water – where it got to show the full potential of its off-site manufacturing capabilities – the glass façade it installed on Winchmore House in the heart of London's financial and media districts, and at Dalston Junction, where M Price is installed the total façade on a sought after, multibillion-pound residential scheme.
"We are proud of every project that we have successfully delivered to date," Colin continues. "In order to retain our competitive edge, we are always willing to conduct unique development works so as to accommodate complex customer requests. We put our vast know how, expertise and knowledge into everything we do, and each one of our projects is delivered to the highest possible standards. If we were to shine the spotlight on individual projects, however, it would be onto our unitised work project at Canada Water, and more recently the beautiful Compton on Lodge Road, with its unique cast aluminium cladding."
M Price has, for many years now, been an entirely self-funded organisation, investing in its property, equipment, technology and people continuously. In addition to the aforementioned investment in its Enfield working factory, it has also recently channelled £350,000 into its IT infrastructure, improving the servers and software that it currently works with. "Since data security is very important to us, we have built our system in line with the Cyber Essentials standard," Colin explains. "We also have a cloud-based application for all of our site QA, which gives us complete visibility on the quality of our installations. It also gives us more detailed information on the field work that it is being done, and it has already changed how we do things for the better. Soon we will also be looking to improve our factory space and maybe extend our buildings further."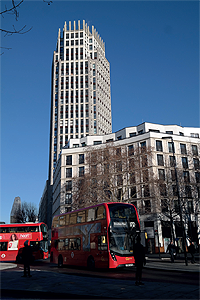 Research and development
Investment into research and development has also contributed significantly to M Price's ability to introduce innovative new products and solutions to market. An example of this in action has been the recent design and patenting of a new sprinkler system for use inside the cladding zone of buildings. "We invest over £1 million per year in identifiable research and development, and product innovation is a great aspect of our continuous work in the façade industry," Colin enthuses. "It plays an important role in the company's overall commitment in offering cost-efficient, environmental protection products and services.
"Obviously, events of recent years have marred the industry and we wanted to do something that would help. There are tens of thousands of buildings in the UK that need a cladding replacement, but what if you did not need to replace the cladding? What if you could retrofit a sprinkler system behind the cladding? We bounced some ideas around with some of our expert building services engineers and we developed a sprinkler system for this very application. With this new system, you do not have to remove and replace the existing cladding, which itself can be costly and time-consuming. We believe that this innovation can save developers, residents, and property management companies millions, as well as speed up the process for people trapped and unable to get mortgages."
As everyone will be aware, in 2020 Covid-19 has been, and continues to be, a global challenge for all companies. At its onset at the beginning of the year, M Price – like its peers – was faced with not only the uncertainty of what the future held for its people health wise, but also the need to be extremely cautious of the economic circumstances in which it was to operate. "Since the lockdown period, we have taken precautionary measures in order to protect both our employees and clients," Colin says. "We have followed the government and WHO's guidelines carefully from the very beginning, putting in place procedures so all staff and clients could be aware of the situation and respect the health measures.
Covid-19 measures
"We purchased 10,000 masks in the first week of lockdown and installed disinfectant dispensers all over the premises. All employees were encouraged to wear a mask and limit their daily physical interaction with colleagues and clients. The factory benches are all at least three-metres apart, and we have made sure from the start that the factory is a well-ventilated environment. New measures were put in place for whenever the staff was required to be near others. Office staff were required to work from home, and we intensified e-meetings with the team, as well as with the clients. This is how we managed to continue our daily operations during those difficult times. We are continuing to raise awareness for the challenges ahead due to Covid-19, as the health and safety of our employees comes first."
Continuous improvement
Even in the face of such a challenge, M Price's management continues to develop a number of areas for the company to expand into. "We have always had a strong focus on quality and delivery, but our new QA app leaves nothing to chance and will give us full traceability for many years to come, and we have also undergone an overhaul of our procurement procedures," Colin states. "Other initiatives that we are working towards include an ambitious target of 'Zero Waste-To-Landfill' by 2024, as well as implementing Behavioural Safety Training for all of our employees. So, in summary, it is a busy, but exciting time to be a part of M Price."
M Price Limited
www.mprice.co.uk
Services: Aluminium curtain walling, window and multi material façade