When it comes to describing M R Scaffolding Services the first word that springs to mind is 'support'
The best support
When it comes to describing M R Scaffolding Services the first word that springs to mind is 'support'
The family-run business is working on some of the highest profile projects underway in London and the South East where it offers literal support to craftsmen while they work to construct or improve buildings. But just as important to the company's 40 years of prosperous operation is the support the company provides to its staff.
This is achieved through a variety of projects including culture coaching, occupational health and welfare (which involves championing mental health support) and apprenticeships.
Of the six areas the company has recently invested in, half involved the support of staff, says Matt Trayfoot, company co-founder and current Health & Safety Director. Alongside obvious areas like materials, resources and vehicles the company has pumped money into new training, safety equipment and coaching programmes.
The support even extends to the wider community, with the company backing a variety of schemes and sponsorships. One look at the company's Twitter feed and it is apparent how important #TeamMR's support of boxer Louie Lynn is to both Louie and the company as a whole.
Probably the most important way the company supports its workers though is the company's strict adherence to best practice safety principles, regulations and industry standards. "At M R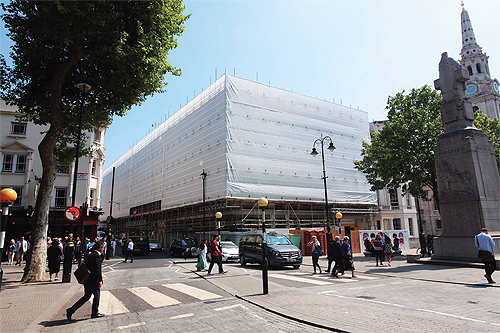 Scaffolding Services the safety of our operatives is paramount," said Matt. "They are our main asset and it is important that we have in place, and implement, safe systems of work to ensure that they stay safe at all times.
"From the production of detailed, site-specific Risk Assessments & Methods Statements (RAMS) to the issuing of detailed site reports complete with photographs our Health & Safety team is constantly monitoring all aspects of the scaffolding procedure to ensure compliance on all of our projects.
"All sites are issued with a Site Folder, which includes numerous pieces of information such as Tool Box Talks, operatives' qualifications and Weekly Harness Inspection Forms. The folder can also be referred to for handover certificates and any variations that have taken place on site. By constantly monitoring our operatives' working behavior and attitude towards Health & Safety we maintain a healthy two-way dialogue, giving advice and education as required."
He continued: "We also have a new Head of Health & Safety who started in June. We are working towards quality standards and the ability to comply with clients' quality standards ISO 18001 and 45001."
While it may seem that M R Scaffolding Services is already at the top of its game for health & safety, Matt says raising the bar further is a main focus for 2018. "We have just begun working with a Culture Coach who will be visiting all staff across the business as part of the introduction of an active culture change programme around health & safety and working practices," he noted.
Apprenticeships are also an important part of this development strategy, as is the encouragement of younger generations. M R Scaffolding Services was recently contacted by A&M Texas University, after a representative was impressed by the scaffolding work it had carried out at the Russell Hotel.
"We had 20 students visit from the university, who were studying construction science. I took them round for the day attending various sites that would be of interest to them," said Matt, who is clearly personally involved with encouraging young people throughout the business.
"They were very keen and interested in the projects and our clients generously gave us full access and laid on some food for the students, which was great. We also printed off lots of drawings for them so they could compare them to the finished article, and we had site operatives and supervisors on hand to explain in detail or answer any questions. The event was such a success we will definitely be doing it again next January, or before if possible."
The projects visited by the students included Knights Park (Kingston University) and 1 Lyric Square, both of which are from M R's client Overbury. But that's just one of a handful of prominent projects the company is working on, with others including St Martin's Place and the Dreadnought Building for Willmott Dixon, Customs House for Dyer & Butler, the Cumberland Hotel for Blue Sky Building (BSB) and the Russell Hotel for S&T (UK) Ltd, which so impressed A&M Texas University professor Steve Rodgers.
"Despite Brexit and the EU uncertainty in the media London is in growth mode," Matt said. "I see strong areas of growth in London's infrastructure, office fitouts and refurbishment segments, as well as transport infrastructure and support."
Ensuring that the company is in the strongest position to serve the needs of clients in London and the South East, M R Scaffolding Services has further investments planned, including a new fleet of environmentally-friendly vehicles and capital infrastructure investments designed to service expanding operational commitments. "Capital investment, training for staff, operational compliance, our staff welfare programme and a logistics transformation programme will all help us realise our long-term ambitions," added Matt. "In the next three to five years I see us as one of the top three scaffolding and access companies in London, and the top company for safety compliance."
M R Scaffolding Services
Services: Scaffolding supplier