Award-winning, family-run property developer Macbryde Homes has more than 30 years of experience in the property industry – during which time it has played a significant role in delivering much-needed quality new homes across North Wales and the North West of England
All in the detail
Award-winning, family-run property developer Macbryde Homes has more than 30 years of experience in the property industry – during which time it has played a significant role in delivering much-needed quality new homes across North Wales and the North West of England
For Macbryde Homes, 2018 was a particularly significant year for the St Asaph based developer of new build properties. For the first time in its 33-year history, the role of Managing Director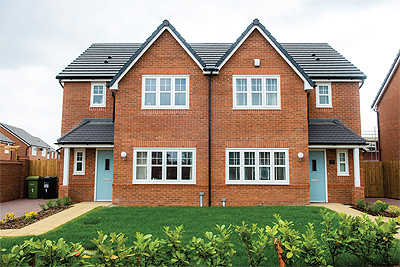 would be taken on by someone from outside the family. That person is Gwyn Jones who, having studied at Liverpool John Moores University and enjoyed past roles with Anwyl Construction and Lovell Partnerships, first joined Macbryde Homes almost five years ago. In that time, he progressed rapidly through the business, holding the position of Commercial Director before stepping into his new position.
At the time of the announcement, Chairman Simon Macbryde told us "Macbryde Homes prides itself on the reputation it has carefully developed over the last three decades, however, to ensure our continued growth and success, I believe it is necessary to provide the Macbryde team with a rejuvenated leadership and Gwyn proved to be the ideal candidate for this role. His rise through the business has been rapid but entirely well-deserved given his unwavering commitment to pushing expectations and delivery to an ever-higher standard."
Fresh thinking
Speaking to Gwyn now that he is several months into holding the position of Managing Director, he explains how he is always looking to balance the ambitious growth plans he has for the company with the tried and tested values and ethics that Macbryde Homes has long stood for. "My taking on the role was very much about bringing some fresh thinking to the company is order to drive it forward towards doubling the number of quality homes we complete," he states. "At the same time, it is important to remember the long-standing qualities and values that have helped set the company apart for many years, such as the pride we take in all of our work and the attention to detail we apply.
"We remain big fans of traditional construction methods, and pay much care towards the internal finishing of a home as we do the superstructure, with our teams focused on treating every home they build as if it was going to be their own, we share a collective desire to ensure that, no matter the value of the property in question, we deliver a home that people are going to be happy living in for the next 15-to-20 years and beyond."
Gwyn's rise through Macbryde Homes has also happened to coincide with a change in direction when it comes to the types of home that the company has focused on building. "Coming out of the recession, there was a view that the company would move away from the work being competed for by high volume builders and into more bespoke, niche, high-end developments," he details. "What we have now done is turn our attention back to more affordable homes and by that, I mean homes for first time buyers, second steppers and families. The key difference with our homes is that we have retained the appearance and attention to detail of our high-end developments, bringing that unmatched level of quality to homes that are more affordable to greater numbers of local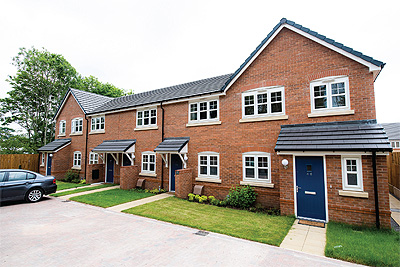 people. This, coupled with strong demand in our core locations, has contributed to the rise in volumes and turnover that we have experienced."
The rise in volume saw the company complete a total of 208 units across the 2018 calendar year, with a good part of this coming from its expansion into the affordable housing market. "In recent times, we have stepped up our level of engagement with registered providers and have just finished our first package scheme with a local provider in the North West of England, delivering 67 homes that they are delighted with," Gwyn says. "This is certainly an area of the business where, over the next 12 months or so, we will be growing by working in partnership with more providers to bring a number of affordable and mixed tenure schemes forward."
Developer of choice
Going into 2019, Macbryde Homes has two schemes ending during the first half of the year, with five new sites expected through planning committee to not only replace existing sites but to boost numbers moving into 2020, the first of which received planning on the 9th January, with a view to have broken ground on them all by autumn 2019. "In addition to these schemes, we are also preparing applications for further open market developments and working on contracts for package deals for affordable home developments with a number of providers, this will deliver further growth into 2020," Gwyn outlines.
Gwyn is keen to stress, however, that the growth he will achieve is sustainable and, above all, well managed. "A big driver for me is my desire that Macbryde Homes will be the best in our market place and the developer of choice in our geographic reach when it comes to both open market and affordable housing," he outlines. "More than that, I want to be proud of the legacy that we leave behind with our homes. Two of the sites currently going through the planning stage, for example, are a matter of minutes from my own front door. I will be passing these sites almost daily and I want to look at them with the same level of pride that I do our other schemes for decades to come."
Macbryde Homes
Services: Property developer