As the UK's biggest specialist supplier of tools and machinery, Machine Mart prides itself on merging the provision of cost-effective quality brand products with unrivalled customer service
Man and machine
As the UK's biggest specialist supplier of tools and machinery, Machine Mart prides itself on merging the provision of cost-effective quality brand products with unrivalled customer service
Established more than 30 years ago, Machine Mart today has 65 superstores across the nation, all of which offer specialist knowledge on tools and equipment and a constantly updated range of products. With thousands of tools and items of machinery on display, the company is the go-to place for quality brand products, technical know-how and aftersales support.
In more detail, the company's high quality, high value products have been placed in relevant segments such as air compressors, wood burning stoves, garage equipment, tool chests and storage; fans and air conditioning, wood working, generators, water pumps, hand tools, welding products and pressure washers. Within these ranges are top brands that include Dewalt, Bosch, Clarke, Ryobi, Evolution, Numatic and Makita. On top of this, the company also has more than 17,000 spare parts available for immediate dispatch from its central parts warehouse.
Recent additions to the company's product portfolio include a new range of Clarke Heavy Duty Petrol Pressure Washers, and Inverter Generators. The Clarke pressure washers (PLS195 and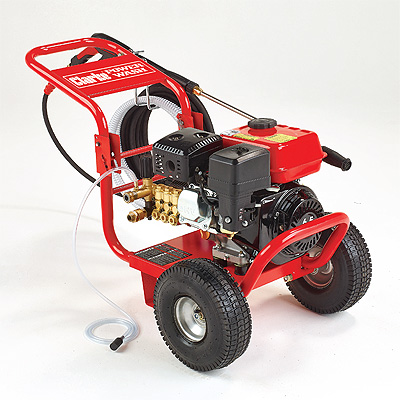 PLS265) are designed for tough daily use by garages, fleet operators, contractors and more. These models are built with a protective steel frame, folding handles for compact storage and big pneumatic tyres for easy mobility on uneven ground. Features include a professional style hose and lance with high/low/pencil adjustments, which deliver up to a powerful 260bar or 3771psi pressure, along with a detergent pick up hose with filter. A versatile new feature is that these models can now draw their own water from a water butt/ barrel – great for use in remote locations.
The new Clarke Inverter Generators are ideal for providing a ready source of electrical power for camping, caravanning, motor homes, market stalls and boats, etc. These models use 'Pure Sine Wave Technology' ensuring the delivery of clean and stable power, vital when running sensitive electrical/electronic equipment such as TVs, computers and laptops. Max power options available are 800W, 1200W and 2000W and all feature easy start, efficient four-stroke engines. They are compact, super light (from only 9.3kg) and housed in a stylish case with rubber feet designed for portability, with the added benefit of reducing noise levels to an absolute minimum.
Although its enviable portfolio of products plays an integral role in its ongoing success, Machine Mart is aware that its continuing success is also down to the talent, hard work and dedication of its personnel. Because of this, Machine Mart has established training and development programmes that enable employees to develop valuable skills and experiences. Once these skills have been honed, personnel will have the opportunity to progress in their career thanks to Machine Mart's policy of internal promotion whenever possible. This has resulted in a team that is proud to eat, sleep and breathe tools and equipment, as Machine Mart's passionate team of employees believe the delivery of exceptional customer service is key to ensuring clients return again and again.
This passion to serve is not only based on the shop floor, but is also readily available to customers seeking mail order or telesales services, where trained operators are ready to advise clients on the range of products available. Additionally, the company has an after sales team available six days a week who offer unrivalled support via its technical hotlines. Not only offering a diverse range of products at value for money and expert advice from friendly, efficient and knowledgeable staff at its 65 superstores, the company also has a dedicated mail order department and a 24 hour run website that offers quality branded items at competitive prices. Furthermore, Machine Mart produces a catalogue of its ever-growing product range twice a year; viewed as a must-have catalogue for professional and DIY users alike, it can be purchased in-store or online.
Following three decades in operation Machine Mart has over 6000 catalogue lines as well as the XTRA section of its website, which has been updated to include an additional 11,000 specialist hard–to-find range of tools for virtually any application. The products within the XTRA range include water pumps, metalworking, motorcycle gear; hand tools, gardening and leisure products, health & safety items and bike tools and accessories.
While it is renowned as the biggest specialist supplier of tools and machinery in the UK, the company is also a successful exporter of tools and machinery to customers across the globe. Benefiting from a knowledgeable and experienced export department that operates with a clear understanding of the special requirements of overseas customers, Machine Mart offers a comprehensive export service for its vast range of products.
Looking ahead, the company has ambitious plans for the future and will remain focused on increasing its product portfolio to ensure it can deliver the best possible solutions to customers. In line with this strategy, Machine Mart will seek out opportunities for potential acquisitions, which will boost its product offering and strengthen its competitiveness in the market.
Machine Mart
Services: Specialist supplier of tools and machinery