The unmatched offering
With one of the widest ranges of equipment available in one place, Machine Mart founds its success on the robust service it provides to customers
A prominent player on the UK market for over 30 years now, Machine Mart is arguably Britain's biggest specialist supplier of tools and machinery. With over 7000 products on display and a further 10,000 available online, the company prides itself on the extensive range and depth of its offering, which remains unmatched by any competitor. "We are considered the Aladdin's Cave of tools and machinery," says Advertising Manager, David Barnes. "We have a huge range of items out on display, not just in a storeroom or listed in a catalogue. So when a customer comes into one of our superstores they can see everything in front of them."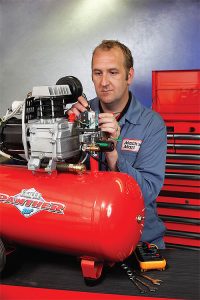 Headquartered in Nottingham, Machine Mart currently has stores in over 65 locations across the country, serving markets relating to everything from construction all the way through to the automotive sector, targeted to both the DIY enthusiast and industrial user alike. Mainstream brands supplied from the company include Clarke, DeWalt, Makita, Ryobi and Bosch amongst many more. "Unlike many of our competitors, who may only stock a selection of models from a particular category, we will have up to 10 or 20 models on display for the customer to select from," continues David. "We then have a very knowledgeable and dedicated workforce on hand to discuss the particular requirements of each individual and advise on the best and most appropriate product accordingly."
With such an extensive range on offer, well-trained and experienced staff are key to delivering the strong service Machine Mart has become known for. "We recruit on the basis that the person has experience and a particular interest in the products that we are providing," adds David. "Many of them will come from the industries we serve, or will be running their own DIY projects at home, so understand the types of challenges faced by customers and have developed a specialist knowledge of the best solutions available to them. Underlying all of this is a passion for the products and the industry, and this goes a long way in serving our customers."
With this in mind, it is clear that having such a large and wide-reaching product offering is not the sole focus of Machine Mart and that service is just as highly ranked. "We of course ensure that we provide this technical and support service during the sales process, but we also make sure to continue these well into the aftersales service," explains David. "We have a full range of spares and additional equipment in stock to support the products that we sell, something that is particularly celebrated considering some of the highly specialist and unique tools that we provide. We then have a team of fully trained engineers who can provide repairs and service products to prolong operational lifetimes on equipment that sees heavy use day-in and day-out."
Keen to offer as wide a range as possible, Machine Mart has established strong channels beyond its physical stores with a widely distributed and well-received catalogue, a thriving mail order department and successful website. "Our catalogue is updated and published twice a year with each product selection and page design crafted to suit the needs of our customers in the best way possible," explains David. "This is a valued and well received part of our business and is a great way to engage with the customer base – we become very busy over these catalogue launch periods."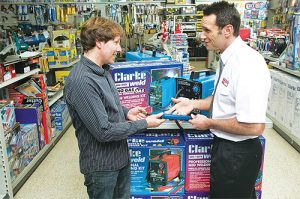 Whilst listing all equipment available in store, Machine Mart's website makes available a much wider range of highly specialised, and sometimes exclusive, products through its Machine Mart Xtra section. Displaying everything from material handling solutions and protective clothing, to industrial furniture and 3D printing systems, this website is an essential source of equipment for any construction or industrial need. The company's excellent reputation for service successfully crosses the bridge into this sphere as well, with a 24-hour order service and the ability to export worldwide. Illustrating this level of service, Machine Mart currently holds an independent Trust Pilot rating of 9.2 from a total of nearly 10,000 reviews.
"Combining all of these elements is where our core strength comes from," David says. "It's the vast range and depth of our products, including the specialist items, combined with an unrivalled service across all our channels that gives us an edge in the market." With such a solid foundation beneath it, Machine Mart is currently enjoying continued success from the UK's buoyant housing market, and is also experiencing positive trends in other markets such as classic car restoration.
Supported by strong and long-standing supplier relationships with many of the industry leaders and specialists, Machine Mart has successfully built up a robust and reputable position within the market over the last four decades. By continuing to remain committed to the core values of product range and customer service that have been key to earning such success, the company looks forward to a long future of further expansion and growth.
Machine Mart
Services: Leading UK supplier of power tools, machinery and workshop equipment