No challenge too great
Priding itself on its ability to tackle projects that others might find daunting, Mackley provides a comprehensive range of services, all delivered with a strong emphasis on client satisfaction
The history of the Mackley business can be traced back to 1927, when John Thomas Mackley established the company in Shoreham By Sea. Registered under the Companies Act in 1931 as J T Mackley & Co Ltd, it spent the years up to 1940 becoming acknowledged as being a pioneer and specialist in interlocking steel-piled construction for wharves and cofferdams. In subsequent decades, as the company passed down through three generations of the Mackley family, it would branch out into general civil engineering work, including water and sewage works construction, water treatment, flood defence, and fluvial schemes. In 2000, it would also find itself as part of a consortium being awarded with its first PFI contract for coastal protection works at Pevensey, covering a period of 25 years.
Over time, Mackley as a member of the Team Van Oord Ltd Joint Venture was involved in a number of high-profile, award-laden, projects for the Environment Agency, including the £20 million Broomhill Sands Coastal Defence Scheme, and the £28 million Medmerry Managed Realignment Scheme which won over 30 awards including the BCI award for Best Major Project and the Prime Ministers Award. The Medmerry scheme, completed in November 2013, was the largest realignment of open coast in the UK. Ultimately, the company would go on to become a member of the Van Oord
Group of Companies (Van Oord) in 2014, continuing to this day to provide innovative solutions, quality and expertise in niche construction markets across the South of the UK.
Today, Mackley has approximately 135 employees on its books, as well as a further 50-plus agency contract staff. Working in partnership with its clients – which include local governments and authorities, environment agencies, utility companies and other private businesses – Mackley endeavours to provide value engineering and service excellence to those challenging projects that others in its field might find too daunting to approach.
"We thrive on contracts and projects that call for innovative thinking," proclaims Mackley's Managing Director, Tony Camilleri. "We rely upon the quality of our engineering services and the unrivalled knowledge and experience of our people to deliver, what are at times, complex projects. Indeed, we have built our strong client base and excellent track record of delivery on the back of these characteristics, as well as through team work and a strong emphasis on complete client satisfaction."
Tony continues: "Our company has evolved over the years to add value throughout the entire process. We carry out a lot of early contractor involvement with our clients, getting together with them at the first step of a project whenever possible. By doing so we give ourselves the best chance of building a strong, lasting relationship with a client that values our input."
In the last several years in particular, the company has enjoyed exceptional rates of growth, driven by the sheer number of projects it is able to undertake at any given time. "In February 2020, for example, we found ourselves being called upon by our Environment Agency partners to respond to the damage caused by the significant storms that occurred along the south coast," Tony states. "In addition to the immediate emergency work that we provided, we also found ourselves contracted for the reconstruction efforts too. At the same time, we continue to partner with Van Oord on its marine and coastal framework, completing coastal defence and tidal wall projects, while also picking up additional work with companies in the water industry and with private developers."
At the time of our conversation with Tony – July 2021 – Mackley had just completed a seven-month project to lay the foundations of a new lifeboat house for the RNLI at Wells-next-the-Sea on the North Norfolk coast. As he reveals, however, things rarely ever stand still for a company that can have anywhere up to 20 contracts ongoing at a given moment. "Among the projects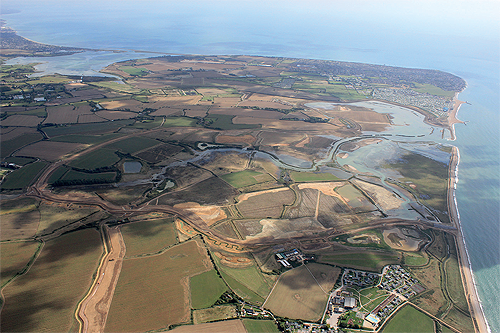 that we currently have underway include a framework agreement with East Surrey Water for the Sutton Water Treatment Works, a multi-year contract with Portsmouth City Council and Coastal Partners to work on its North Portsea Island Coastal Defence Scheme development, and we have just commenced with works on behalf of CEFAS in Weymouth, putting in new holding tanks and a new sea intake pipe."
This impressive collection of work goes a considerable way to explaining how Mackley enjoyed its best year ever in terms of turnover in 2020, bringing in circa £47 million. Maintaining this level of work is not without its challenges, however. "I think resourcing full stop is a major issue at the moment, whether that relates to materials, machines, or people, which has been exacerbated by the Covid-19 pandemic," Tony adds. "As such, managing the business – particularly in the last year or more – has been tricky, but it has been aided no end by having an incredible team around us.
"In spite of the circumstances we have found ourselves in since early 2020, everybody has worked extremely hard, put in a great deal of effort, and gone that extra mile for the good of the business. The people on the ground have also been absolutely fantastic, working to some very stringent rules and guidelines surrounding Covid-19 safety, and we couldn't be any prouder of their efforts!"
Said efforts mean that Mackley finds itself at the half-way point of 2021 well on course for hitting both its annual turnover and P&L targets.
The second half of the year will also be a particularly significant time for Tony too, as it will see him retiring from his role as Managing Director and passing on the reins of the business to his successor, Ben Hamer, who is a very experienced Coastal Engineer and well-known within the community. With this development, Tony's role in the coming months will increasingly evolve to include becoming something of a mentor. It gives him ample time too, to reflect on his time with the business, and his hopes for the future.
"I started with the business back in 1973, when I was one of a very small number of articled engineers employed by Mackley," Tony recalls. "I actually joined at a bit of crossroads for the industry, when things were changing all around us at pace. What we were back then was a small, innovative family business working in all manner of countries, from Canada to New Zealand and across the Middle East. In spite of that, we were only turning over around £7 million per annum in those early days. In fact, it was only around a decade ago that this figure was hovering around the £18 million, so we have experienced an awful lot of growth in a relatively short space of time, particularly since becoming part of Van Oord.
"Throughout all of this, however, what I think we have retained is our core ethos, values and standards – even improving upon these where possible – and we are indebted to the time, patience and investment made by both the Mackley and Van Oord families over a considerable period of time. We have also strived to remain on the front foot when it comes to technology, and our willingness to innovate remains one of our biggest strengths."
Tony concludes: "Lastly, going forward, I believe that Mackley will continue to grow organically, as well as geographically. I can definitely foresee a point in the not-too-distant-future where it will be in a position to open up several new offices in order to extend its reach further across the South of the UK. This, in turn, will likely lead to a further increase in turnover, but I do not believe this will ever be the type of business to simply chase things at all costs. It will always be about achieving the right kind of turnover, namely that which helps improve upon its margins."
Mackley
www.mackley.co.uk
Services: Civil engineering projects for flood defence and coastal services