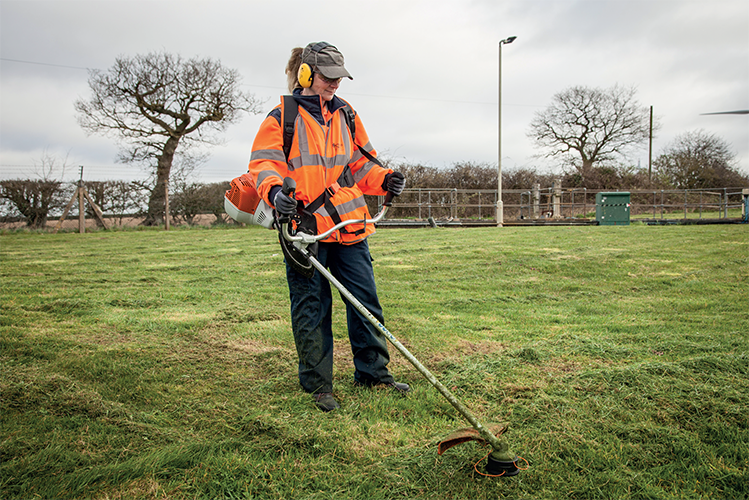 Like many other industries, the grounds maintenance sector has seen many of the issues it faces brought into much sharper focus by the Covid-19 crisis. Its response to these challenges has created an even more competitive landscape that has been intensified further due to clients demanding similar or higher levels of service at a lower cost.
When you add in an industry-wide recruitment crisis and weather conditions that have been driving incredible levels of vegetation growth over the last few months, it's little wonder companies in the sector are having to think differently to survive and thrive in this hugely volatile climate.
For many sectors, it's important grounds maintenance companies continue plying their trade, especially when premises are public-facing and image is an essential part of their overall offer. The retail industry is particularly reliant on grounds maintenance and is the sector that has the most frequent demand for such work too – they need an aesthetically pleasing landscape to attract customers and that means we need to stay on top of it more than we would if appearance was less of a factor. But other sectors count on the industry to keep their environments in trim too, notably utilities, public transport and local government.
Services we offer range from arboriculture and landscaping to pothole repair and pest control, but the bulk of the work involves grass cutting, shrub and hedge maintenance and weed control, which accounts for at least 80 per cent of our activities. But increasingly, the industry is branching out into other, more niche services – partly down to customer demand but also due to a general need among companies within the sector to diversify their offer to compete.
Among such new services are installing electric vehicle (EV) charging points not only on public highways for local government and on site at commercial properties but also at company employees' premises so they can charge their vehicles when at home. While we are yet to reach a 'tipping point' of widespread EV adoption, more and more companies are looking to transition their fleets or delivery vehicles over to electric as they look for ways of reducing their carbon footprint, so this is likely to become a significant area of growth.
Responding to the challenge of climate change in ways such as this will be a significant driver of change in the industry for years to come. Fuelled by increasingly unpredictable and mixed weather patterns, plant growth rates are soaring, which means we not only need more people to control it, we also need to think of new ways of dealing with it.
It's no secret the industry is in the middle of a recruitment crisis, struggling to compete for talent against other sectors and seeing a large decline in the number of available, willing candidates following the UK's exit from the EU. Companies in the sector recognise this and most have signed up to the Real Living Wage Foundation to make salaries more attractive and we're all increasingly looking to offer more apprenticeships, so potential candidates see there's a genuine career path they can follow in grounds maintenance. At Ground Control, we've taken that one step further, launching a scheme called Changing the Landscape that aims to reach agricultural and horticulture students and offering them a route to small business ownership.
Alongside this, the industry is turning to technology to tackle the crisis. Where possible, we are deploying cutting-edge solutions such as robotic, GPS-guided lawn mowers that free up our people to perform other activities and can cut grass 24 hours a day, seven days a week, 365 days a year. Advanced technology is also helping us respond to the sustainability challenges we face. The entire industry has acknowledged it needs to care more for the environment and, as a result, it is increasingly replacing petrol-powered tools with battery alternatives.
Innovation will also help the industry tackle one of its biggest challenges: huge downward pressure on price. Driven by the fallout from a hugely damaging Covid-19 crisis that saw many customers halt all activity and some go out of business, the industry has become incredibly competitive. What's more, all clients have become much more financially astute and aware they are able to demand – and achieve – lower prices for the services we provide. In almost all cases, clients are paying less than they did ten years ago but still expect the same levels of service. So adopting technology that allows us to make the best use of our resources and is cheaper for us to maintain is likely to be a big part of our focus in future.
As we begin to emerge from the pandemic and into a post-Covid world, the issues we face will be similar to those encountered by other industries and will be increasingly focused around using resources smarter and more efficiently and innovating where we can. Clearly, sustainability is going to be high on the agenda and we will all be seeking ways of reducing the impact of what we do on the environment. Automation will have a large part to play, but so will education. We need clients to see the value of investing properly in their environments and recognise how damaging the race to the bottom can be, not only for our industry but for their own businesses as well.

Marc Wilkinson is Ground Control's National Operations Director for Grounds. For almost 50 years, Ground Control has been caring for the UK's green spaces, delivering sustainable landscape management solutions for many of the country's most recognised public and private sector landowners in pursuit of its mission to care for our environment. The company services over 50,000 private and public sector sites, with a client list that includes three of the country's four biggest supermarkets, and directly employs 1,000 people and supplies work to over 5,000 contractors
For more information, please see: www.ground-control.co.uk