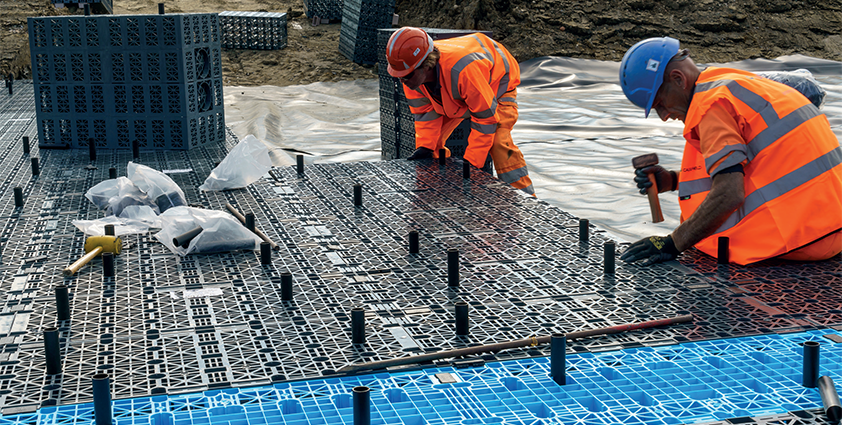 Necessity is the mother of invention'. This phrase has never been more relevant as we experience the growing impacts of climate change. Global temperatures are rising and as a result, intense rainfall is becoming more frequent and extreme. Without widespread intervention, the results may prove to be catastrophic, particularly for our urban infrastructure. Therefore, embracing innovations in stormwater management are crucial to the resilience of our towns and cities. Here, Martin Lambley looks at how sustainable drainage systems (SuDS) will help.
This country is building at an impressive pace. Latest ONS figures1 show that construction output rose in the three months to February 2022, but with that comes a need to ensure that the growth results in health, sustainable environments for everyone. That means renewed focus on rainwater management. In a country which is struggling to combat flash flooding, developers and civil engineers must give priority to SuDS, as they can help relieve the pressure from increased rainfall, while offering a host of other benefits.
The approach to integrating SuDS into urban environments has evolved over time and works at an optimum level when they combine naturally occurring filtration systems with artificial mass water systems. A holistic SuDS solution will recreate the process of soil percolation to keep negative environmental impacts to a minimum, and we would always suggest the most effective system is one which includes both natural and artificial elements.
SuDS: What you need to know
Traditional rainwater management solutions in the UK have historically consisted of a network of rigid pipes that channel large volumes of surface water from storms of floods into our rivers or sewers. While this might have worked at the point of installation, they are simply no longer fit for purpose – especially with the rapid growth our towns and cities have seen over the past two centuries, and the greater level of rainfall we're experiencing.
With more pressure on our ageing infrastructure and rapidly changing weather patterns, SuDS offer a lifeline for urban infrastructure. Natural landscaping, such as ponds, swales, and soakaways, offer a decent level of protection, but in order to make SuDS most effective, we advise installing below ground solutions as well, such as attenuation tanks. These innovative storage tanks release water back into the surrounding environment at a controlled rate and can work out of sight and out of mind, slotting nicely underneath the green landscape and wider infrastructure.
The nature of these below ground systems means they aren't just for new developments, they work well as retrofitted installations too. Space comes at a premium within our urban centres, but SuDS offer planners a way to effectively utilise space beneath the surface to help protect against flash flooding, as integrated systems can also sit below parks, pavements and even roads.
Permeable paving can be used alongside them to drain captured rainfall into the tanks below ground, and other innovations, tree tanks, can further control the flow of water into surrounding networks, whilst positively contributing to the local ecosystem.
Added benefits of SuDS
Recent findings from London's Natural History Museum suggest that up to 50 percent of the UK's biodiversity has been lost over the last 100 years. This is where SuDS can support, as a full holistic system with natural elements like ponds, basins and swales, help provide and enhance habitats that allow local ecosystems to flourish. It isn't just habitat creation where SuDS can lend a hand either, as their ability to improve water quality in the surrounding environment gives an added boost, and the green components can even help to support better air quality and combat urban heat, too. This is especially important in busy towns and cities where pollution is a real problem.
Ultimately, SuDS offer urban developments better stormwater management, that also help to improve the local environment, making them a must when addressing the growing impacts of climate change. Now is the time to act. Architects, engineers and contractors need to implement holistic SuDS systems where they can that will stand the test of time.
1 https://www.ons.gov.uk/businessindustryandtrade/ constructionindustry/bulletins/ constructionoutputingreatbritain/february2022
Martin Lambley is Wavin Product Manager for Stormwater Management, North West Europe, UK, and Ireland. Wavin is an innovative solution provider for the building and infrastructure industry across multiple continents. Backed up by 60+ years of expertise, it is geared up to tackle some of the world's biggest challenges around: water supply, sanitation, climate-resilient cities and building performance. Wavin is part of Orbia, a community of companies bound together by a shared purpose: to advance life around the world.
For more information please see: www.wavin.co.uk