Paving the way
The UK's leading hard landscaping manufacturer, Marshalls PLC is creating better spaces across the nation
Like the products it manufactures, Marshalls PLC is built to last. A complete external landscaping firm, the company has been supplying superior natural stone and innovative concrete products to the construction, home improvement and landscape markets since 1890. Established as a small family operation at a Yorkshire quarry, today Marshalls is a member of the FTSE 250, turning over close to £600 million, with a market cap of £1.6 billion.
Offering both domestic and commercial services, Marshalls has become known as a provider of a wide range of quality products, including block paving, patio slabs, pavements, kerbs, roundabouts, concrete bricks, concrete pipes and drainage solutions. In recent years, as demand has risen, the company has been heavily involved in the development of landscape protection designed to prevent vehicles accessing pathways or buildings, as well as the sale of ready-to-use mortar and aggregates.
Martyn Coffey, CEO of Marshalls, joined the business in September 2013, and has overseen over seven years of rapid growth at the firm. With the positive trajectory set to continue in 2021, Martyn outlines what he believes makes the business special.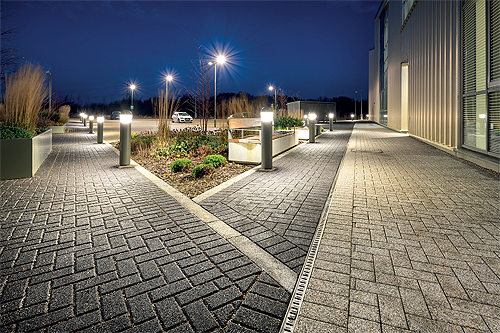 "I think what differentiates us at Marshalls is the size of our product range, the sophistication of our logistical services, and our dedication to delivering better spaces," he declares. "Whether it is a domestic or commercial project, we work really closely with our clients. We tend to get in early and support in the design and choice of materials in order to achieve the best results."
Though a broadened product range and strategic acquisitions have been key drivers behind Marshalls' recent expansion, the company's core focus has been on organic growth. Each year, the firm makes substantial investments in its factories and products. In 2021, Marshalls will be committing £30 million to the cause – its largest investment so far.
Focus on innovation
Historically pioneering, Marshalls' latest innovations include a new, versatile paving range called Conservation X, and a concrete drainage solution for driveways named Driveline Drain.
"Six years ago, we went to shareholders and tried to describe our vision," Martyn says. "New product development is critical to us, so we prioritise that. Driveline Drain, for example, is an integrated concrete solution that can replace metal grates. It is a much more efficient way of taking water away from a location and its popularity is going to grow and grow.
"On the commercial side of things, our development teams work on projects that are years in the making. We have been collaborating with architects and designers on major contracts like Crossrail and HS2 since the very beginning. We have two design spaces, one in London and one in Birmingham, where we invite architects and provide them with access to our product range, both digitally and in person. It's all about teaming up to create the best and most feasible looks and designs."
Business performance
Some of the busiest areas in UK cities bear evidence of Marshalls' handiwork. In 2020, the firm helped with the redesign of London's Bond Street, installing wider pavements to allow for more foot traffic. Similar work is set to be performed in and around Oxford Street as more urban hubs look towards added pedestrianisation.
"We are always getting involved with these kinds of projects. Not only does Marshalls have the experience, but we have our own fleet of vehicles, which deliver products direct to site," Martyn states. "We currently have 220 large articulated lorries with cranes. They run seven days a week and can deliver to anywhere in the country. Around 60 per cent of the products we sell with builders' merchants go directly from the factory to the jobsite, improving leading times and work flow. It's another advantage of doing business with us."
Though the company was not impacted as heavily as some other firms, Marshalls certainly felt the strain of the Covid-19 pandemic over the last twelve months and has only recently returned to its regular model of operation. As confusion reigned in the construction industry during the March 2020 lockdown, Marshalls saw its sales drop by 75 per cent when many builders' merchants were forced to close. In response, the company worked on cutting its costs and securing its finances.
"Back in March, we didn't know what the long-term forecast was going to be, so we rationalised the cost of one of our factories and took advantage of the Government's furlough scheme," Martyn explains. "However, from June onwards, the industry bounced back. The domestic market never really went away because, with so much time at home, people started working on more renovations. House building, which had stopped, benefited greatly when the stamp duty holiday was announced, and by Q3, most housebuilders were hitting pre-lockdown rates."
As regular sales volumes returned, Marshalls made the decision to repay the money used to cover furlough payments, despite profits being affected by the virus. Senior management figures, who had taken a 20 per cent pay cut at the beginning of the crisis, refused to have their lost wages repaid, and instead, unanimously agreed to donate the money to MacMillan Cancer Support – £120,000 in total.
The 2020 MacMillan donation is indicative of the culture at Marshalls, a company that has always cared for communities and worked towards achieving a positive societal impact. Environmental, social and corporate governance plays a significant role in the firm's modern decision making and has led to Marshalls earning an MSCI ESG rating of AAA.
"We have always been very active in ESG," Martyn reveals. "It's an important credential that everyone gets behind. For many years we have sourced product from overseas and we only use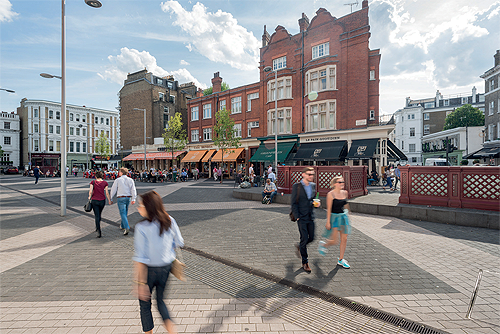 suppliers that are responsible, that believe in the safety of their workforce and that are opposed to slavery and child labour.
Green approach
"As the environment has become an increasingly important topic for investors, shareholders, employees and customers, we have lowered our plastic usage by 60 per cent and invested in solar power and water self-sufficiency at some of our factories. We are one of the first companies in the materials sector to design science-based targets on carbon reduction in our product range and carbon data is now disclosed on everything we produce. Our shareholders continue to be very supportive in this area. They are creating more ESG-related funds and we have signed up to make more carbon reductions in the future."
Seven years ago, Marshalls recorded less than £10 million profit before tax. In 2019, that number had risen to over £70 million and, through an approach that sees half the firm's profit designated to shareholders as dividends and half reinvested in the business, the company continues to grow.
Digital capabilities
In 2021, Marshalls' to-do list includes a sizeable investment in machinery at one of its factories. At present, the site manufactures 48 block paving slabs every ten seconds, but the introduction of state-of-the art technology could allow the business to double that production rate. Though the investment will cost around £20 million, Marshalls can look forward to more finishing options, better quality and reduced costs in the long-term.
"We have also been investing heavily in our digital capabilities," Martyn adds. "There's no doubt that things have been trending that way, but in the last 12 months, it seems like everybody has got the ability to digitally trade and we want to make sure our products are available digitally too. Ideally, we would like our customers to be able to upload a photo of their garden and apply our products to it to see what different options look like."
Having ridden out the worst of the Covid-19 pandemic, Marshalls can now focus on the five-year strategy it laid out in 2019. Through internal investment, organic growth and complementary acquisitions, the company hopes that the decade ahead can be as successful as the one previous.
"Going into 2021, the market is relatively strong and domestic housebuilding is picking up, so we'll wait and see what happens," Martyn remarks. "At present, the Government is talking about more infrastructure spending to come on rail and roads, which is keeping us optimistic. Over the next three to five years, I expect to see many more opportunities for Marshalls as we grow into new areas and expand our brand."
Marshalls PLC
www.marshalls.co.uk
Products / Services: Paving slabs, drainage solutions and other hard landscaping products